A Travelogue :
A
Jaapi
( colourful bamboo hat ) and a
Gamosa
( a thin cotton towel ) both unique to Assam, is always offered to outsiders in any event or function when in the state. It is also a way of showing welcome, hospitality and respect to guests.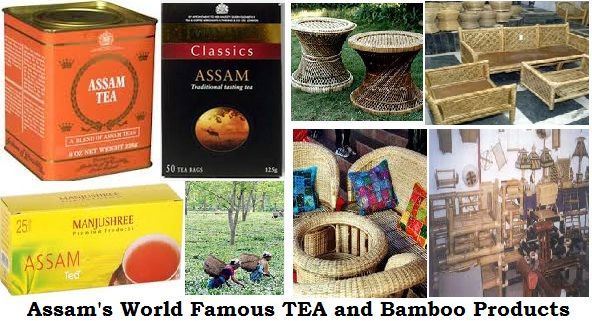 Assam
in the north-east, has its own culture, tradition, language and food. And like most places, it also has some unique products of its own, that one must check out during their visit.
Whether it is the rich flavoured Assam Tea that is exported world wide, or its exclusive handicrafts made from Bamboo and other timber related products, Assam has lot else to offer as well.
Assam also has 'bell-metal' made wares of various shapes and sizes, serving various purposes of which
Sarthebari
is the headquaters. These are utensils used for daily use as well as for decorative/gift purposes.
Assam's colourful traditional attire i.e the
'mekhala-chador'
made of rare 'muga' and 'pat' silk that is worn, is like no other place in this world. It is globally famous, so is its unique jewellery that is so unique to that place, and rarely found anywhere else.
Find More Ethnic Muga Silk Fabric of Assam ( pics ) -
Here
Read More About Ethnic Muga Silk Fabric of Assam -
Here
and
Here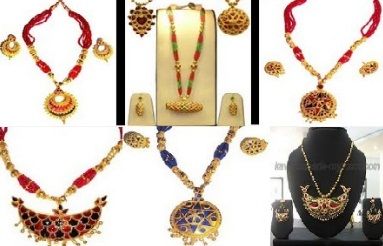 Find More Unique Variety of Assamese Jewellery -
Here
Assam has some unique food to offer as well. Its special festive snacks such as Til pitha, Til laadu, naarikol, khandoh are some that are mouth watering. Find More Unique Variety of Assamese Cuisine -
Here
During April month Assamese people celebrate
Rongali Bihu
welcoming Spring, during which lots of colourful cultural shows and events takes place all over the state. It is also celebrated by assamese people living outside Assam. Learn about all the different kinds of Bihu festival -
Here
Kaziranga National Park
in Assam is famous for its one-horned rhinocerous and other wildlife. Tourists travel from all corners of the world to see this unique species.
Assam also has the most precious product "Oil", with the first ever oil well drilled in India situated at
Digboi
town in Assam.
Most of Assam's products such as Oil, Silk, Tea and Timber are huge revenue earners for the country as they are exported to many countries. So, indeed it is a very rich state.
( Images : Google )
---