A couple of years ago, I was at the JW Marriot hotel, Juhu, for an interactive session for JW Marriot's Customer Memberships. I was just out of college then and looking for internship at hospitality
( though I took up another field altogether later on )
, as I had studied 'Travel & Tourism' as a vocational subject along with my B.Com. We had attended and had mini sessions where we discussed both individually as well as in a group. Anyhow, the discussions bored me and I breathed a sigh of relief when lunch break was announced. That time I didn't carry a phone, so I could not click pictures of the gorgeous & delicious food ( which included a variety of tasty starters/sandwiches/cookies etc spread to tempt us mortals ). It was all so yummy. We had a similar session at the Orchid hotel too, and more such yummy food. I simply loved both these hotels and still remember their pleasant decor and most importantly the food.
Recently, I was at another event at the JW Marriot, and naturally food played an important part. Take a look at the 'Yumminess' below that I captured, ranging from chicken tikka, lamb kebabs, salmon, chicken sandwiches, corn & cheese-balls, deserts, cheesecake, cookies, choco-mousse, rabri and various other starters as well as drinks/beverages.
I think, I was one of the few clicking the pictures of the irresistible food at the event :-)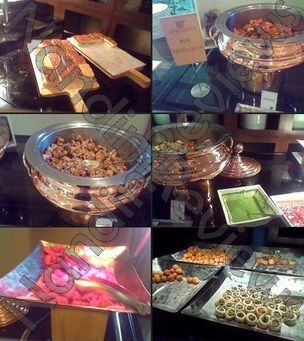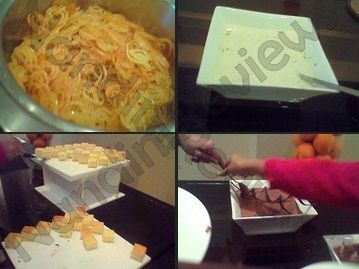 Our Rating Scale is : 1 to 5 = ◕◕◕◕◕ - It was Amazing!
For Restaurant/Hotel/Resort reviews use 'Contact Us' page above to drop an email with details.
( Images Courtesy : Mine! )
---