A Travelogue :
Situated on the banks of the Mighty
( male )
river
Brahmaputra
, in Assam, is the ancient city of
Pragjypotishpura
, now known as
Guwahati
- The city where I was born, went to school and spent much of my childhood days. Guwahati is surrounded by hills and lots of greenery. It is located at an earthquake
prone
zone, so once in a while, the earth does give a shake n twist. The city is divided into two halves - north and south, connected by the famous
Saraighat Bridge
.
Guwahati is the main hub, connecting India with rest of the 7 sister-states of the north-east.
As a child, we lived in several office quaters in various parts of the city before ultimately moving to our own house. So, from a secluded area like Santipur, to busy market areas like Silpukhri or Panbazar or even calm residential areas like Ulubari and Chenikuthi, I've experience life as a young girl in most parts of the city.
The people majorly speak Assamese here, followed by Bengali, Nepali etc When I was there people were generally of simple and humble natured, and even though times have really changed now, yet I believe it has still retained bit of its earlier innocence compared to cities like Bombay or Delhi. And even though I'm living in Bombay now far longer than I lived in Guwahati, at times I still miss it, especially the innocence of the people which lacks in big Metros, sadly.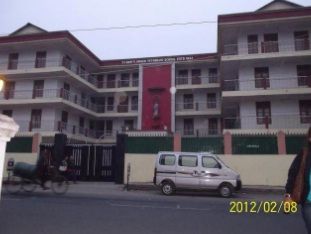 My old school. It looked bit different though then, lol.

I do go back to this cute city often as my mother and other relatives still live there.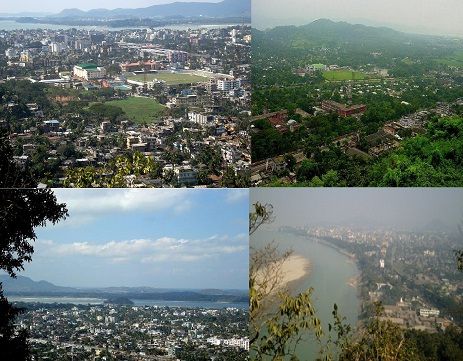 Bird's eye view of the City
Guwahati is the largest city in Assam and a major Tourist destination.
Some famous places to visit while in Guwahati are Kamakhya and Iskcon Temple both situated atop two different hills giving breathtaking views of the city, ancient Umananda and Ugratara temples are also worth a visit as well as Vashistha Ashram, Srimanta Sankardev Kalakshetra - a cultural institution for art and culture, Assam State Museum that stores the rich cultural and traditional history also visited by many archaeologists and researchers, Assam State Zoo and Botanical Garden that preserves wide range of flora and fauna that attracts a large number of tourists, students etc, Guwahati Planetarium and Regional Science Centre frequented by both Scientists as well as students of science.
This beautiful picturesque city ( IATA CODE : GAU ) is served by the Lokopriya Gopinath Bordoloi International Airport, which is located at about 20 km far from the city at a place named Borjhar, with regular bus/auto/taxis plying and connecting to the city regularly. There are various flights that are operated from the Guwahati airport. Flights to Guwahati are available from all the cities in India and flight booking can be done in advance via many online travel portals too.
Our Rating Scale is : 1 to 5 = ◕◕◕◕◕ - It was Amazing!
( Images Courtesy : Google )
---