Beautiful skin begins with healthy skin. Neutrogena works in partnership with dermatologists in developing products that offer gentle and effective care and ensures a healthy, beautiful skin always. Neutrogena recommends a 3 step regime that is simple and effective for skin year round.

1. Clean - Only completely clean skin is healthy skin. Your skin accumulates impurities in the form of dust, pollution and oil throughout the day, Such impurities may clog your pores making your skin dull and lead to blackheads, acne and other skin problems. Clean your skin with an appropriate cleanser twice a day. Deep clean it to make sure that the pores are free of clogged oil and dirt. Use a toner as it helps to remove any residual cleanser left behind in your skin pores. Also, regular exfoliation removes dead cells and increases blood circulation in your skin. Use a scrub regularly to exfoliate your skin, preferably one which prevents blackheads and other signs of unhealthy skin.
For normal to oily skin - use Deep Clean Facial Cleanser
For normal to dry skin - use Liquid Neutrogena, Deep Blackhead Eliminating Scrub and Deep Clean Blackhead Eliminating Toner.
For Acne skin - use Oil free Acne Wash and For Sensitive skin use Extra gentle cleanser.

2. Moisturize - Well moisturized and hydrated skin is healthy skin. Exposure to environmental elements may lead to loss of moisture from skin, which weakens the protective barrier of skin, making it dull, dry, flaky, lifeless and vulnerable to skin problems. Moisturizers maintain the right oil-moisture balance and also form a protective shield against external elements. Use a good dermatologist recommended moisturizer so your skin stays soft, supple, glowing and healthy.
Base Moisturizer - Oil free ( spf15 )
Fairness - Fine fairness cream ( spf 30 )
Anti-aging - Rapid wrinkle repair ( day/night )

3. Protect - Sun protection is essential to keep your skin healthy. Any dermatologist will tell you, the harmful UVA and UVB rays of the sun can cause long term damages like age spots, pigmentation, wrinkles and uneven tone. Thats why sun protection all year round is a critical element of a healthy skin regime. Regularly use a broad spectrum sunscreen that doesnt break down and protects against both UVA and UVB rays.
Normal to oily use UltraSheer Dry Touch ( spf50 )
Normal to dry use UltraSheer complete UV Moisturize ( spf50 )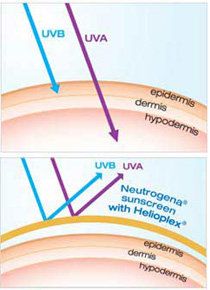 Indians have a certain type of skin that contains Melanin. Melanin causes
'tanning'
when we are out in
the Sun
. More Melanin means more tanning
( less melanin means more burning )
. And the creams that we buy from the market can never give us full-proof protection. Neutrogena Ultra Sheer on the other hand, can! Because it contains the supreme advanced 'Helioplex' technology
( along with Dry Touch )
which avoids breakage upon exposure to the sun, unlike other creams that breaks into invisible holes, thus becoming ineffective.
Neutrogena Ultra Sheer is specially designed and dermatologically tested to tackle both UVA ( that penetrates deep causing fast aging, tanning, alergies, rashes ) & UVB ( burns, spf ) harmful rays. One should not just use sunscreen and forget it for the day, but re-apply every two hours, and if you go swimming, re-apply sunscreens with spf15+ every 40 minutes. Also a kid only above 3yrs should use sunscreens. Sunscreens are a necessity for protection against more serious diseases like skin cancers, and it prevents wrinkles too.
The Neutrogena brand is world's Number.1 brand for skin protection with specialized dermatologists, scientists and researchers working & researching behind it. And in India, Johnson and Johnson is the famous trusted brand, who is bringing us this magic.
The complete kit of Neutrogena Ultra Sheer consists of :
1.
Dry-touch Sunblock –
(50+ SPF) Daily Sunscreen ( Rs. 499/- 88ml | Rs. 150 for 30ml )
• Micronized silica powder absorbs extra sunscreen oils
• Waterproof, sweat-proof, resists rub-off, non-comedogenic
• Light fresh scent, oil-free, PABA-free
2.
Body Mist –
(30 SPF) Sunblock Spray ( Rs.600/- 141gm )
3.
UV moisture –
(50+ SPF) Moisturizer ( Rs.349/- 30ml )
I got the kit recently and have used it a couple of times. My skin gets tanned easily and I generally carry my umbrella along with me whenever I step out in the Bombay sun
( often getting weird looks because of that )
, but thanks to Neutrogena I've gathered some guts now at last to discard the umbrella. As its a matter of skin, I'd however apply it generously to provide full protection and re-apply every few hours. The sunblock is bit thick and takes a while to absorb in
( as its more suited for dry skins )
, but once its done you are all set. Good thing is none of the products are greasy/oily,
although is a bit shiny
, which is a welcome sign in the summer heat.
Only one factor I had problems with, and that's the price of the products
( though I had recieved my kit for free ).
Our Rating Scale is : 1 to 5 = ◕◕◕ - I liked it!
---