Title :
ALCHEMY : THE TRANQUEBAR BOOK OF EROTIC STORIES II
Language :
English
Editor :
Sheba Karim
Genre :
Fiction/Anthology
Publisher :
Tranquebar ( 2012 )
ISBN-13 :
9789382618034
ISBN-10 :
9382618031
Binding :
Paperback
Price :
Rs. 295 (
Buy from Flipkart.com
for Rs. 228/- ( 22% Off )
Pages : 246
The Book Summary :
So many elements of ourselves come together in the act of sex: skin and bodily fluids, desire, fear, greed, joy, stigma, pride, affection, guilt, often in the hopes of creating something more beautiful, our personal elixirs of life, however temporary, however permanent. In Alchemy, Tranquebar's second anthology of erotic short stories, editor Sheba Karim has brought together thirteen diverse works about the pains and pleasures of sex including an unapologetic account of a postmodern man's attraction to his maid, a futuristic tale of a four gendered orgy, a poignant narrative of a boy's sexual awakening in a cinema bathroom, and a lyrical meditation on a mysterious woman's carnal lessons to an imprisoned monk. The anthology's vivid, well-crafted stories move across genres, orientations, continents and genders, taking the reader on an intimate journey through the complex alchemies of sex, desire and love.
My Point of View ( P.O.V ) :
So, far I have read and reviewed books of many genres, but this time my hands fell on the Erotica genre. So, it is for the very first time that I'm reviewing this genre. Now, this is one genre people might feel little uncomfortable with, but I decided to go ahead and have a read, since I already had the book with me. The book cover is a dark one, and if looked closely you can see the shape of someone's hips and upper legs shot from behind, on the upper-left side. It gives a fairly cool idea of what awaits inside. The book, I must mention here, is an anthology of sorts comprising several shorter stories
( 13)
, all wrapped within its pages. That surely becomes a great package
( especially for those who loves to read multiple short stories )
, and I could hardly wait to go through them.
The book, I found, is definitely one of a kind and is quite fresh,
( for this kinda genre )
. Reading 'erotic authors' is not something we come across often, that too Indian now, do we? And I must say, they've done a good job of it, doing total justice to the topic at hand without becoming too inhibited, closed, diplomatic or trying to cover up. However, its not cheap or vulgar either. It's all there bare naked, more like a piece of art. And 'art' looks best when bold! Take it or leave it.
All the stories in the book, explores different levels of intimacies occurring in different relations. For example, the first story has the man lusting
( 'desiring for' sounds better perhaps? )
after the maid but loses her, before he gets telling her about his feelings. Another story goes about how the two protagonists go making out in abandoned buildings and is insatiated. But one day suddenly something happens. Yet another involves greed, fear etc while having submissive orgies with the masters
( in a foursome )
. There is a story about a gay and also another one about an immigrant and his fantasies. These are only a handful I picked up, from the thirteen of them.
Set in different settings, with different characters, each of the stories offers varied human emotions like love, desires, sex, lust, guilt, fear etc and all their complexities, and the twists and turns that follows, in this rather engrossing book. Every story is guaranteed to bring out different emotions in us as well, while reading them. Some can be fun, some sensual, some dark and some downright scary too. To sum it up, every story is different, exciting and exploring the myriad human relations. It is totally worth a read, as it is an enjoyable and entertaining book. While some of the stories fully satisfies the 'erotic' quotient and is a sheer pleasure, there are a few others that have not fully exploited their potential. But in all, all are very interesting and you won't regret reading
( provided you are comfortable with this genre in the first place, and is open about it )
The editor has done a remarkable job of bringing in 13 different piece of works by some very talented authors. This book quite literally takes you places.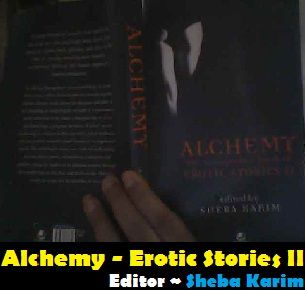 Positives :
Written in a fluid and easy manner, the book is quite a reading experience. Highly recommended. Must caution here though, that some readers might feel uncomfortable at the vivid descriptions in some of the stories and can get overwhelmed. So, know what it is about fully before buying it.
Negatives :
None.
Who will enjoy this? -
Everyone!
( esp those who are open to this particular genre )
Buy or Don't Buy? –
A Must Buy!
About the Author :
Sheba Karim's fiction has appeared in 580 Split, Asia Literary Review, Barn Owl Review, Femina, Kartika Review, Shenandoah, South Asian Review, Time Out Delhi, the erotica anthologies Electric Feather: The Tranquebar Book of Erotic Stories and the forthcoming Venus Fly Trap: The Zubaan Anthology of Women's Erotica and the young adult anthologies Love Like That and Other Stories and Cornered: 14 Stories of Bullying and Defiance. Two of her short stories have been nominated for a Pushcart Prize. Her young adult novel, Skunk Girl, has been published in five countries.. She is a former lawyer and Fulbright- Nehru Scholar, has an MFA in fiction from the Iowa Writers' Workshop, is working on her second novel and spends a lot of her time in the 13th century. Find out more at shebakarim.com.
Our Rating Scale is : 1 to 5 = ◕◕◕ - I liked it!
---