Title :
LAND OF THE SEVEN RIVERS
Language :
English
Author :
Sanjeev Sanyal
Genre :
Non-Fiction
Publisher :
Viking/Penguin( 2012/13 )
ISBN-13 :
9780143420934
ISBN-10 :
0143420933
Binding :
Paperback
Price :
Rs. 399 (
Buy from Flipkart.com
for Rs.308/- ( 38% Off )
Pages : 352
The Book Summary :
Moving from the geological beginnings of the subcontinent to present day Gurgaon: from the Stone Age to the Information Age, this is a riveting and wry book, full of surprises! Did the Great Flood of Indian legend actually happen? Why did the Buddha walk to Sarnath to give his first sermon? How did the Europeans map India? The history of any country begins with its geography. With sparkling wit and intelligence, Sanjeev Sanyal sets off to explore India and look at how the country's history was shaped by, among other things, its rivers, mountains and cities. Traversing remote mountain passes, visiting ancient archaeological sites, crossing rivers in shaky boats and immersing himself in old records and manuscripts, he considers questions about Indian history that we rarely ask: Why do Indians call their country Bharat? How did the British build the railways across the subcontinent? What was it like to sail on an Indian Ocean merchant ship in the fifth century AD? Why was the world's highest mountain named after George Everest?
My Point of View ( P.O.V ) :
Slept through geography classes at school? Then this is the perfect time to brush up your knowledge again with this book, which will not just refresh you with the geography of our vast country, but will also add bits of its history too
( i.e history of its geography )
, which will surely pep you up with lots of knowledge. The book goes far into Vedas, Mahabharata, Ramayana and Harappan times, then travels to the Mughal, British and Partition times and finally reaches right up to the modern techno times in New India of present times, eg the hob-nob of the call-centre industry Gurgaon, with its impressive new architectures and logistics. From Gondwana to Gurgaon it says - where Gondwana is the super continent of which India was part of millions years ago – along with Africa, South America, Antarctica and Australia. And the Aravallis of India that still exists, are part of that Gondwana. Interesting right?
There is also an interesting genetics analysis
( though not a very serious one that would include scientific DNA study and so on )
where Sanyal has dismissed off the theory of Aryan invasions, saying rather that, although there may be inherent linkages between the European and the north Indian population, there have been variants of the genes found in both places which points to the two populations that split from common ancestors somewhere around Persian gulf region at least 8,000 years ago
( i.e much before the suggested Aryan invasion )
. The author suggests that the vedic people were very much part of the Harappan civilization which was a multi-ethnic society and though first humans might have entered India originally via the Persian gulf route, they were however not the aryans who supposedly invaded.
Though the book claims to give history of the geography of the land of the seven rivers i.e India, after having read it, may I make it clear that it only briefly touches upon those and donot go into much details. Many content which are non-geographic in nature are also added in the book. Also, though he might have written about Mughal or British times, the author however doesn't paint a clear picture of those lived times as we'd hope to find in regular history books. There are certain important aspects of Indian history which the author has missed as well, which were very crucial part of that era. However, written in the light-manner that it is, the book certainly is interesting to flip through the pages and makes for a good read. I must warn that this book only lightly touches upon a wide range of topics, but can't be taken as authority on the subject.
( even the history texts that we read may not be necessarily 100% accurate either )
. Delhi and contemporary India has been covered in this book too, giving a glimpse of certain things a reader might not be aware of, thus removing the general cliches. Be prepared to come across some interesting, unknown and astonishing facts through its many anecdotes and trivia in the book.
There is part of the book that gives the historical insight of extended India too, which I found quite informative. Such as expanding to countries like Thailand, Vietnam and far South-east Asia, where culture was spread through initial trade links and some even by minor invasions e.g Chola raids. And the eventual settlements of Indians in many of these regions, many of who still reside there, till this day. Sanyal attributes modern India's contribution in global trade upsurge and revival
( mainly the Indian diaspora who have traveled and settled in US/other countries )
, to some of these past characteristics it always had. The author also raises some interesting questions in the book, that will surely make the readers think.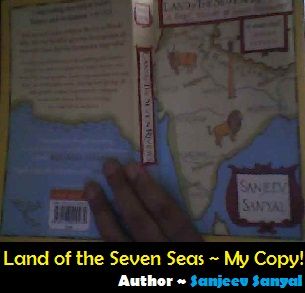 Positives :
A very interesting book for general reading purpose and not to be taken as complete authority on the subject. The book gives fleeting glimpses of history of the geography of India, without going into deep or serious details/analysis. However, written in simple language in easy lucid style, flowing and captivating manner, the book can be understood easily by the layman too and anyone who needs a general brush up knowledge of India's rich past. The book doesn't jump topics, rather all topic are woven into each other in a seamless logical manner, which make the book appealing and elegant
( a huge plus point )
. Ideal read for a traveller who needs some basic information about India.
Negatives :
None. Though I'd love another edition with more details.
Who will enjoy this? -
Everyone!
Buy or Don't Buy? –
A Must Buy!
About the Author :
Currently the Global Strategist of one of the world's largest banks, Sanjeev Sanyal is a prolific writer who divides his time between India and Singapore. An Eisenhower Fellow, he was named Young Global Leader for 2010 by the World Economic Forum. Sanjeev is a prolific writer who divides his time between Delhi and Singapore. His last book was The Indian Renaissance: India's Rise after a Thousand Years of Decline, published by Penguin in 2008.
Our Rating Scale is : 1 to 5 = ◕◕◕ - I liked it!
---