Title :
BARAMULLA BOMBER
Language :
English
Author :
Clark Prasad
Genre :
Fiction/Sci-Fi
Publisher :
Niyogi Books ( 2013 )
ISBN-13 :
9789381523971
ISBN-10 :
9381523975
Binding :
Paperback
Price :
Rs. 395 (
Buy from Flipkart.com
@Rs.299/- ( 24%Off! )
Pages : 316
The Book Summary :
Baramulla Bomber : Science Fiction Espionage Thriller : Fight your destiny, Build Hope and Make it HAPPEN! More than a billion people are praying for India's new fast pace bowler Mansur Haider from Kashmir to succeed. One politician is making sure the Indian subcontinent is at peace while another is trying to get forgiveness from his nation. One Swedish intelligence officer is trying to decode a puzzle by a fanatic who is making one last ditch attempt to bring chaos to the world. And all of them are connected to Mansur Haider and Kashmir. As a result a secret will be revealed. With a plot that revolves around Kashmir, Pakistan, China, cricket, ancient secret societies, and espionage? Baramulla Bomber is one heady cocktail that will make for page turning reading and introspection.Baramulla Bomber is book eka (one) of Svastik Trilogy, a trilogy which looks into the origins of universe, Vedas and the destiny of human race.

An Ancient Weapon from the Vedas & Bible
Once Hunted by the Nazis
Powered by the Sound of the Universe
Reborn with the Help of Quantum Physics
Going to be Unleashed onto the World
And Kashmir Holds its Secret
The only way : Multiple intelligence agencies are tracking Mansur Haider, a god-fearing aspiring cricketer from Kashmir. His girlfriend, Aahana Yajurvedi, is trying to locate her missing mountaineering team, which vanished after a mysterious earthquake struck Shaksgam Valley. Investigating Mansur and the Shaksgam Valley incident is Swedish intelligence officer, Adolf Silfverskiold, whose only relationship to God consists of escorting his girlfriend to Church.
To save the world : A dual China-Pakistan battlefront scenario facing the Indian Home Minister, Agastya Rathore, whose ancestors carry a prehistoric secret linked to the stars. He is faced with the challenge of finding a lasting solution to the Kashmir crisis. Is to challenge one's faith : Which biblical weapon was tested in Shaksgam valley? Why is Mansur Haider important? Is there a solution to the Kashmir crisis? Can destiny be controlled? Does a cosmic religion exist?
My Point of View ( P.O.V ) :
Let me start with the cover. It is definitely an impressive one and with an equally intriguing title, you definitely get curious enough to know whats behind those penetrating eyes that stare back at you from the book cover. The design gets my full marks. The book, as you flip through its pages simply blows away your mind. It has action no doubt
( note its name )
, but whole lot more as well.
The book has in its first pages itself 'a warning' for reviewers, not to disclose/give away any part of the story, hence respecting that I'll simply write my observations reading this book.
The story is a mixture of some facts and some fiction, weaved intricately that'll leave you totally engrossed and craving for more. It is a modern day action-packed techno spy-thriller, that mixes subtly with mythology/religion quoting from the Vedas and Bible, quantum physics and a dash of cricket, history, politics, sci-fi along with a cosmic angle too. There are some cool illustrations/maps within the pages of the book that takes the story further, and also helps the readers visualize the story as it progresses.
The book set in India
( also touching Sweden )
is the story of Mansur Haider
( an aspiring cricketer from the valley )
who plots the stage of 'baramulla bomber'. Other characters are Aahana Yajurvedi, girl-friend of Mansur who is trying to find her team who vanished mysteriously in an earthquake incident
( suspected to be caused by testing of the sonic weapon termed 'biblical' )
, Adolf Silfverskiold
( Swedish CIA officer - very interesting character )
who is investigating the Saksham bombing incident as well as Mansur himself, Indian Home Minister Agastya Rathore, whose ancestors has a prehistoric hidden secret and who has the responsibility to find a permanent solution for Kashmir. He is faced with a war-kinda situation with India's neighbours. There are also few other interesting characters that fills up the story making it an awesome read.
The story very interestingly starts in the year 1947, in a remote location - a meeting of the 'Chos Skyong' - which is a secret group of Royalties carried on over thousands of years. 12 royal descendants, hailing from different corners of the world sits to discuss worldly affairs, when a blast rips the secret cave apart, killing everyone except Abhimanyu Kashyapa, a teenager who survives with a secret and who becomes a very important part
( as the Defence Minister of India later )
, of the plot that covers many countries such as - India, Norway, Sweden, China, Pakistan, and the USA.
Even though the story has quite many things/characters happening in starting of the book itself, it nevertheless is a well researched subject that is quite believable too. I'd definitely love to read more from the author. Looking forward to the next two sequels of this Swastik Triology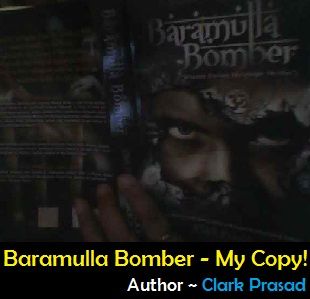 Positives :
A well paced, witty and gripping thriller full of twists and turns, the story is written in an uncomplicated lucid style. For a first time author, he has done justice, hence I'd highly recommend it. So hop on for a suspense-filled thrilling ride via this intense page turner.
Negatives :
It is jumpy at few places
( including few typos here and there )
, but since it is supposedly a Triology, I feel certain loopholes can and will be better explained in the sequels.
Who will enjoy this? -
Everyone!
Buy or Don't Buy? –
A Must Buy!
About the Author :
Clark Prasad, alter ego of Suraj Prasad, could be called a mixed citizen. Born in a leap year ( year of Rocky, All the President's Men, Omen, Hera Pheri and Kalicharan ) in Lagos, Nigeria he lived most of his life in New Delhi and had his education in Lagos, Delhi, Mangalore and Kozhikode. His family background is from the town where George Orwell, author of 1984 ( a dystopian fiction ) was born, and where Mahatma Gandhi had re-ignited India's freedom movement - Motihari.
A pharmacist with a management degree who believes in conspiracy theories, Baramulla Bomber is his first book. His first education on the mysteries of the universe came via Carl Sagans Cosmos, and since then he never looked back on reading, watching and discussing about the universe. He grew up during the cold war days with BBC radio was one of his mysterious companions as a kid, when his father played the news regularly every day. World War II news and documentaries on CIA-KGB tussle kept him engaged that time. As a kid he wanted to be an archaeologist or an astronaut, but fate had its own road and he got involved with Mr. Carbon akaChemistry. Currently he is a healthcare management consultant, based out of Bengaluru, Planet Earth
Our Rating Scale is : 1 to 5 = ◕◕◕ - I liked it!
---