Title :
THE BAD TOUCH -
The True Story of Harish Iyer and Other Thrivers of Child Sex
Language :
English
Author :
Payal Shah Karwa
Genre :
Non-Fiction
Publisher :
Hay House
ISBN-13 :
9789381398487
ISBN-10 :
9381398488
Binding :
Paperback
Price :
Rs. 299 (
Buy from Flipkart.com
for Rs.231/- ( 22% Off )
Pages :
208
The Book Summary :
On an innocent child's mind and body are drawn sketches of sexual abuse. The Bad Touch : The True Story of Harish Iyer and other Thrivers of Child Sex Abuse is a compilation of various true child sex abuse stories put together.
Call them thrivers not survivors. Most of us recall fond memories when we think about our childhood. But for some, childhood is associated with feelings of pain, guilt and abuse. Harish Iyer, an award winning social activist shared his disturbing story of sexual abuse on Satyamev Jayate, a television show. Harish's story will leave you in tears and astonishment, as he was abused by his own uncle from the age of seven. Harish in not the only thriver, there are others. Anurag Khashyap, Jai who is now a 34 year old mother and many such thrivers. These true stories will leave you shocked, frozen and saddened. But lurking behind all this is the responsibility of the immediate family to take signals given out by children seriously. The book is just not a book for the purpose of reading and keeping aside, instead it is a mission to help the survivors and turn them into thrivers. The Bad Touch : The True Story of Harish Iyer and other Thrivers of Child Sex Abuse helps create awareness about child sex abuse.
My Point of View ( P.O.V ) :
I couldn't attend the recent IB meet that was held for the preview of this particular book. The topic was a serious one - regarding 'child sexual abuse'. Hence, I wanted to read the book and spread awareness in my own way. So, I ended up buying it. The cover of the book has two hands - assumedly, one being of the predator's and the other - the victim's
( my interpretation only )
.
During the first season of Aamir Khan's Satyamev Jayate, I was shocked and appalled to see a story on child abuse featuring: Harish Iyer. Gone was the myth instantly that only girl-child were abused. His story was horrific and to imagine him experiencing the trauma for such a long time, must've been like living in a hell. The book 'The Bad Touch' has that story too. It was more horrifying reading it in so much graphic-details, this time around. I felt disgusted that such lecherous human beings exists, who treats young kids as mere preys and pounces upon them mercilessly. The child not only bears the torture, but over a period of time his entire personality changes
impacting his whole life
. I felt very uneasy, but read it anyway. The book has few other equally disturbing stories, including a brief one of Anurag Kashyap
( movie producer/director )
who faced similar abuse as a child. Other than these two famous names, the other victim's identities are not disclosed. They are all victims of CSA/incest who overcame their ordeal as 'thrivers'.
Another myth busted in the book is that, these incidents do not occur in well to do or affluent well educated families. Truth is, it happens in all strata of the society. Therefore, one must read such books to know and understand the evil that exists in our midst. Many cases of child abuse never gets reported or the parents/elders are totally clueless what their children are going through - often at the hands of known or close people. So, this book shall surely lift that veil of ignorance and make people more aware and alert.
There are several guidelines/tips after each story, that helps understand each case better i.e the various myths of CSA, the type of abuses these are etc. Yes, there are different kinds of child abuse. And it is important for parents/elders to believe a child, if they complain of slightest abuse and always keep a look out for tell-tale 'signs', in their over-all behaviour. This is a must read book to spread awareness in the society and make our children safe.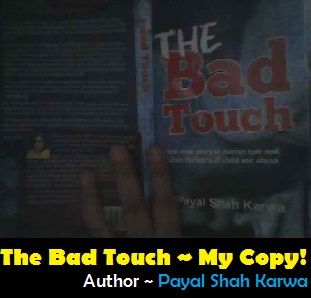 Positives :
Written in simple to understand and easy language, the book has not just the stories but many useful hints and guidelines regarding CSA. It'll be helpful, for those seeking to know the glaring truth, prevention and also the help available ( related NGO's ).
Negatives :
None.
Who will enjoy this? -
Everyone!
Buy or Don't Buy? –
A Must Buy!
About the Author :
Payal Shah Karwa is an Indian author and used to previously work in the field of marketing communications and has over 6 years of experience. Payal Shah Karwa ventured into the field of content and simultaneously pursued her mission of being actively involved in social causes through her writing. In 2009, she quit the rigour of a regular job and started out as an independent communications consultant for new media, under the brand name The Word Jockey Content Studio. She has worked for several reputed publications eg Femina, Outlook, DNA, Live It, Essel Group, Web18. She blogs about brand communications and loves cinema. Karwa has authored the book The Bad Touch : The True Story of Harish Iyer and other Thrivers of Child Sex Abuse. This is her first book.

Our Rating Scale is : 1 to 5 = ◕◕◕ - I liked it!
Read This~
---