Title :
THE MOUSE CHARMERS - Digital Pioneers of India
Language :
English
Author :
Anuradha Goyal
Foreword :
Sam Pitroda
Genre :
Non-Fiction
Publisher :
Random House India ( April 2014 )
ISBN-13 :
9788184004922
ISBN-10 :
8184004923
Binding :
Paperback
Price :
Rs. 299 (
Buy from Flipkart.com
@Rs.257/- ( 14% Off! )
Pages :
344
The Book Summary :
The advent of Internet has been a significant game changer for our generation. Mouse Charmers are a new breed of entrepreneurs in emerging India powered by the Internet and the opportunities that it offers to create new markets and to cater to old markets in new ways. Some of them have already achieved success where they can be called iconic and inspiring while others have powerful ideas that put them on the same path. Anuradha Goyal tells the stories of twelve digital entrepreneurs ( Flipkart, Zomato, ImagesBazaar, IndiBlogger etc ) in three key areas: commerce, content and connectors. She examines how they started out, the innovations and technologies involved, their business models, and unique marketing strategies. Inspiring and insightful, The Mouse Charmers is an essential guide for aspiring digital entrepreneurs.
My Point of View ( P.O.V ) :
I love reading success stories and so was looking forward to this book. Its main theme being digital success stories! It had piqued my interest more because it features the success story of a blogging community portal too
( of which I am a member )
, along with other popular ones. And myself being a blogger is obviously curious. I was quite intrigued by its Title as well, it makes you wonder what the meaning would be! And speaking of the cover, the genre that the book is 'Business success studies/stories' - I think it is quite apt and interesting. It is a no-nonsense book, technical and quite detailed and though I'm not too fond of reading non-fiction stuff much, I found myself flipping through its pages eagerly. The book delves into the rising impact of online sites related to commerce, content or simply connecting, on our day to day lives. Indeed, over past few years, our own functioning of lives has changed so much. Internet has taken over our lives in a big way. We are dependent on it not only for information, but so much more. For example. In past one year or so, I've bought more things from online sites, than offline retail ones - yes, that's how much it has impacted my life. Being a blogger, I've noticed how brands are seeking more collaborations for wider social influence, and that's where a blogging community like IB plays such a big role. All this is fascinating, and more fascinating is learning the behind-the-scenes stories of these start-ups - mainly the first generation, B2B, India specific ones, that has made the most impact on public ~ and that explains the name of the book too.
I liked the fact that the book uses simple language and not much technical jargon, that would otherwise go over my head. And divided into 3 broad sections, it takes a peek into those categories in greater details, though, I'd have loved a more personalized information on the actual people behind those success stories as well. Nonetheless, the book focuses on the start-ups, and it is interesting as well. How they began, their inspirations, the challenges - initial problems they faced, the risky decisions they took, the innovations - the different methods or strategies they used for growth and success, and the journey - how they are maintaining the same, their future plans, handling of customers
( incase of ecommerce sites )
etc. The book begins with how the author herself went about gathering and curating the information in phase by phase manner.
The 12 companies covered in the book are :
Commerce : Flipkart, Make My Trip, BigBasket, CaratLane
Content : Zomato, Games2Win, ImagesBazaar, Chai with Lakshmi
Connectors : Shaadi.com, Rang De, CommonFloor, IndiBlogger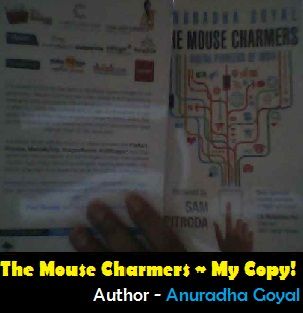 Positives :
Well researched with meticulous detailing, this book written in easy style, simple language is a great one for keeps
especially
for those seeking entrepreneural success, guidance or perhaps inspiration. Highly Recommended.
Negatives :
None.
Who will enjoy this? -
Everyone!
Buy or Don't Buy? –
A Must Buy!
About the Author :
Anuradha Goyal wears many hats to pursue her three prime passions - innovation, travel and books. She studies business innovation, especially business models and blogs about them. She has earlier co-authored the India Innovates Series published by CII showcasing innovations from across the country. She was a jury member for Economic Times Power of Ideas Contest in 2010. Her papers on business innovation have appeared in various journals and forums. She is one of India's leading travel bloggers, writing a popular travel blog for a decade now. Her travel story has been published as part of an anthology Celebrating India and her paper on in-city travel appeared in travel journal Earth. Her stories regularly appear in various print and online publications. She has close to 400 book reviews to her credit on her book reviews blog. She is a keen student of Indian art history. She regularly speaks on these topics at various conferences and institutes.In her earlier avatar she worked in the IT industry for over a decade. She studied computer applications for her masters degree and physics for her graduate degree at Panjab University.

---