Title :
MANAN
Language :
English
Authors :
Mohit Parikh
Genre :
Fiction
Publisher :
Harpercollins Publishers ( 2014 )
ISBN-13 :
9789351363156
ISBN-10 :
9351363155
Binding :
Paperpack
Price :
Rs. 199 (
Buy from Flipkart.com
@Rs.167/- ( 16% Off! )
Pages :
160
The Book Summary :
Manan is the story of a young boy who has just hit puberty. No one around him realizes the problems that follow and he is left to deal with them by himself. It was the 23rd of April and the year was 1998. Manan, a young boy, has acquired his first official signs of puberty on this day. This is during a time when India was just entering the age of information. No one around him makes an effort to realize the magnitude of the moment. He is being teased by all sorts of temptations and does not know how to handle all of it on his own. His friends are taller than him and this is a very serious issue for him. His parents are always fighting and his sister does not have time for him anymore. So, family is out of the question. It gets worse because the person that Manan loves seems to not realize that he exists. This book will give you colorful glimpses of the middle-class India and the problems that occur in family relationships.
My Point of View ( P.O.V ) :
Good thing about this book is, it is short
thus
finishes quickly. It hardly took me a day. After reading quite thick ones recently, this one was refreshing. The cover and blurb does give ample hints that its a story about a young boy. The story has illustrations too in its pages, thus, is interesting and a nice add-on to enhance the story. At a certain age, esp teenage years when we achieve first puberty we are at the most hormonal high, boys more particularly so - in this story Manan hits puberty and what all he hopes, dreams, imagines ( lots of it ) and does - the story is about that. Like any other young boy, he has a crush on someone who barely acknowledges his presence, has parents with discord among them, a busy sister who is otherwise close to him and friends with impressive physiques who give him a complex
( reason - he hit puberty late as it happens in the story )
. The story takes you to your own past, when perhaps you faced similar situations. It is vivid, realistic and kept very simple. It is set in 1998, when Manan was a 10th student. I like the ending, where Manan matures up and takes his own decision and voices his opinions; and is not as confused/hesitant as he was in the beginning. It is a fun enjoyable book. Manan's character has been built quite well - the complexities and excitement he goes through at that very important stage of life. The author has done justice with the other characters too, that brings the story to life.
[ P.S : This story actually reminded me of a girl in my class at school. She apparently hadn't 'bloomed' yet, and everyone used to gossip behind her that would make her nervous/short-tempered. She often used to retort back annoyingly when anybody used to mention that fact. Reading Manan, I can understand how she might have felt those days. Hope she is doing well. ]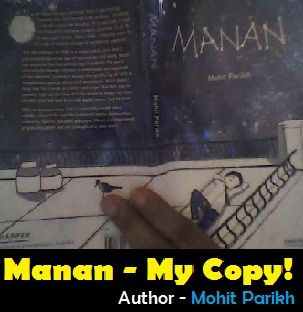 Positives :
Easy language, smooth flow, nice book that'll take you on a nostalgic trip of your own childhood.
Negatives :
None, except perhaps the script needs a better grip, as it tends to drag at times, some parts can be done away with!
Who will enjoy this? -
Everyone!
Buy or Don't Buy? –
A Must Buy!
About the Author :
Mohit Parikh's works have been published in Identity Theory, Specs Journal of Arts and Culture, Out of Print Magazine, and the Bombay Literary Magazine. He was shortlisted for Toto Awards 2014 for Creative Writing in English. Manan is his first book.

Our Rating Scale is : 1 to 5 = ◕◕◕ - I liked it!
---