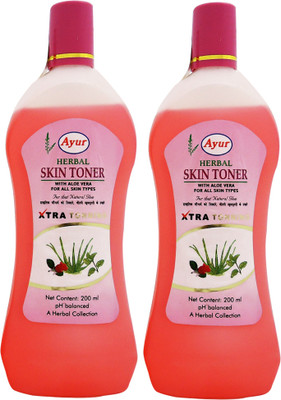 Product Name :
AYUR HERBAL SKIN TONER with EXTRA TONNING
Type :
Liquid
Colours :
Rose Pink
Quantity :
Pack of 2, 400 ml ( 200ml each )
Price :
Rs. 150 (
Buy from Flipkart.com
)
Product Summary :
Enriched with aloe vera, rose water and natural moisturizers it hydrate, minimize pores size and balance pH level of skin. Keeps your skin firm and fresh. A must after cleansing. For the trimness of youth, for that natural skin. pH Balanced.
What does it contain?
Ayur Skin Toner is a herbal preparation which ( in the pack ) :
Contains Aloe Vera, Rose Water and natural moisturizers.

Safeguards the skin against acne, atmospheric microbes and harsh effects of the sun-rays.

Reduces the pore size temporarily, tightens the skin muscles which makes your skin feel refreshed and invigorated.

Direction to use : Dab a generous amount in a cotton ball and wipe your face & neck with it.

My Review ( P.O.V ) : I'm a very heavy user of this product and for many years now. You can see, I've almost emptied the bottle below ;-) I love the cooling effect it has on my skin ( maybe because of it's mint presence ) and since it is herbal, it is guaranteed safe on skin. Suiting all skin types, for both men and women ( unisex ), with the composition of goodness of Aloe Vera and Rose Water, it comes in a plastic bottle container with good double capping ( to keep contents secure and prevent leaking ). This product is a must for all. It cleans your skin of all the dirt and grime, tightens it and leaves you feeling fresh. At times, I just use this and nothing else on my skin. I love its rosy fragrance.

Ingredients : Water, Isopropanol, Glycerin, Aloe Barbadenses Leaf Extract, Rose Petals Extract, Mint ( pudina ) Extract, Allantoin, Borax, Menthol, Methyl Paraben, Propyl Paraben, Colour, Fragrance.



Old and new Packages of same product.


Positives : Does what it says. Highly Recommended.
Negatives : None.
Who will enjoy this? - Everyone.
Buy or Don't Buy? – A Must Buy!




Our Rating Scale is : 1 to 5 = ◕◕◕ - I liked it!

---