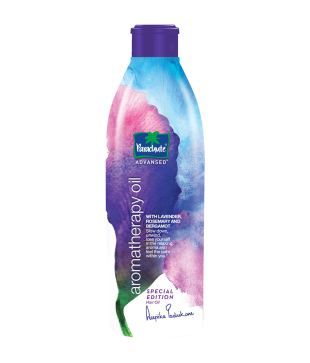 Product Name :
PARACHUTE ADVANSED AROMATHERAPY HAIR OIL
Texture :
Oil
Quantity :
175ml
Price :
Rs. 99 (
Buy from Flipkart.com
or
Snapdeal.com
)
Product Summary :
One of the most challenging tasks today is to slow down in our lives, take a moment out for ourselves and relax. We cannot shun our erratic schedules and the emotional ups and downs. However, the pause button isn't too far away. With Parachute Advansed Aromatherapy Oil, take a pause. Slow down. Unwind using the sensational aromatic fragrances. Close your eyes and relax as the combination of 3 essential oils – Lavender, Rosemary & Bergamot calm and soothe your mind, and relieve your stress. Indulge in a rejuvenating experience. Experience the #ArtOfOiling to let your body and soul completely unwind.
My Review ( P.O.V ) :
Slow down, unwind, lose yourself in the relaxing aroma and feel the calm within you. This special edition hair oil, specially signed and endorsed by Deepika Padukone herself, landed in my hands recently. The soothing words on the outside tempted me instantly. In these jet-age days of super-stress, who wouldn't want to be welcomed into the exotic aroma of calmness and relaxation? The bottle is pleasant to look at
especially
the colour combination of floral motives ~ the over all vibe it gives, of purple, pink, blue and lavender. This oil is specially created with the sole purpose of de-stressing and relaxation. Its suitable to hair type of normal composition, and applied in the hair area of both men and women
( unisex )
. Let me confess here, I'm not into oiling my hair at all. Last time perhaps I oiled, was when I was in my early teens and very rarely afterwards. But since, this oil's motive was to de-stress, I couldn't help but try it once. And I loved it. But I must say, go slow .....very slow, to enjoy it thoroughly. Better still, ask someone in the family to give the massage or you give one to someone ~ you're gonna love it for sure. It'll really pamper you. Take my word for it. You don't need to go to the spa for a relaxation. The spa will come to you with Parachute Advansed Aromatherapy Oil. Happy Pampering ;-)
How to use :
Apply the Parachute Advansed Aromatherapy Oil following the Art of Complete Relaxation, which is a 10 minute do-it-yourself massage technique, that will transport you into a state of ultimate relaxation. Art of Complete Relaxation is one of the massages from the signature line of the Parachute Advansed Art of Oiling. Store the bottle in a cool and dry place, protected from direct sunlight, and use it before 12 months from the date of manufacture.
Ingredients :
Mineral oil ( 59% v/v ), Vegetable Oil
( including Coconut oil and Sunflower oil ) ( 40% v/v )
, Vitamin E Acelate, Phytrantriol, Perfume ( containing essential oils of Lavender, Rosemary & Bergamot ), Butylated Hydroxy Toulene. Type of Material : Type3 Perfumed Hair Oil.
Positives :
Lovely perfume, its a great product at great price. Highly recommended.
Negatives :
None.
Who will enjoy this? -
Everyone esp Ladies.
Buy or Don't Buy? –
A Must Buy!

Our Rating Scale is : 1 to 5 = ◕◕◕ - I liked it!
---