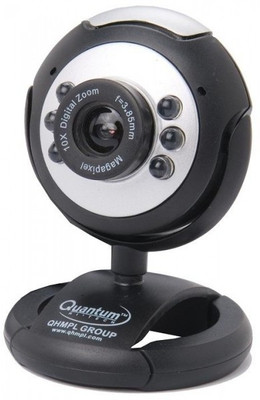 Product Name :
QUANTAM QHM495LM NIGHT VISION WEBCAM
Colour :
Black
Model :
QHM495LM Night Vision
Quantity :
1
Price :
Rs. 495 (
Buy from Flipkart.com
@Rs. 295/- ( 40% Off! )
Product Summary :
Built-in mic with noise reduction, Interpolated to 25 Mega Pixels, 10 Level Zoom on live Motion Picture, Special Visual Effects, True Motion Picture, Night Vision, 6 Bright light switch ON through switch and potentiometer, Inbuilt Sensitive Microphone, Background Changeable of Live Motion Picture, UP TO 30% Better Exposure To Give better Picture Even in dark Auto Exposure, Special Face Effects, Resolution Hardware : 500K pixels, Image Quality
RGB24 or I420, Exposure Auto or manual, Angle of View 58 o, Interface USB2.0, Frame Rate
30 fps (MAX), Lens f=6.0 F=2.0, Focus Range 4cm to infinity.
My Review ( P.O.V ) :
I've known about webcams for more than a decade now. And I've known and used them primarily as a gadget used for video chatting. Which is cool by the way. However, today I'm reviewing this product more as a tool that can be used as a CCTV surveillance camera too, although, it is essentially a webcam that is normally attached to USB2.0 port of your desktop or lappy. This camera had several LED lights around it, that are manually adjustable
( from off, dim to full bright )
and
thus
making it possible to use it even in the dark. The Night vision, however, is not the Infra-red night vision that more sophisticated CCTVs has, where lights are not visible to naked eye. In this camera, lights are visible. I already have another webcam that I'm currently using as a CCTV
( see pic below )
. Good thing about this webcam is ~ it is plug and play - thus, installs instantly
( although, it also has a CD that comes along with it )
. The product comes with a 1 year manufacturer warranty and has a built in microphone. You can choose other variants of
webcams
and try the DIY
given below
on them as well.
DIY - How to make your webcam a CCTV Surveillance Camera
: If you can afford a professional CCTV camera set up, its well and good. A good quality set will cost above 10k and that much investment is a must. However, if you don't want to spend so much and want a cheaper but reliable option, then follow this DIY to make your webcam into a CCTV. You'll need a webcam
( obviously )
, a 5 metre USB cable and your laptop, that's it! My laptop has about 110GB free space, so it roughly gives me about 3 days worth of footage
( using small resolution output )
, on a single recording. So, it depends how much space your PC has to store the footage. Normal CCTVs give more than a month - but hey, we are talking DIY cheaper option here! So, take the USB cable, attach one end to the webcam and the other to your laptop - how easy is that? Fix the webcam on your door or above it and focus on the area you want covered. In my case, it focuses on the corridor, so I can see whoever comes and goes by my door. You can also attach a microphone, although, the webcam too has got one, recording voice. When you want to record video, simply start the webcam and go to the 'start capture' option and click it, pronto!
Security is very important in this day and age. With the camera installed, you know in advance who is outside your door even before opening it or what happened during your absence too
( if you record ).
So, go for it and make you and your family more secure.
Positives :
A Good value for money product.
Negatives :
None, except the field of view which is bit small so a person need to stand bit far.
Who will enjoy this? -
Everyone.
Buy or Don't Buy? –
A Must Buy!

Our Rating Scale is : 1 to 5 = ◕◕◕ - I liked it!
---