Just before I left for my trip to the Himalayas, I received a very tempting invitation to review Sangrias and Seafood at the Shanghai Club, ITC Grand Central, Parel by FBAI. Being the foodie that I am, I really could not refuse such a mouth-watering invite now, could I? However, I was a little apprehensive about this review activity as I'm not really a big fan of Sea Food. Lets find out if #SangriasAndSeafood eventually changed my mind. ALERT - Lots of Food pics ahead!
The Venue...


Shanghai Club, ITC Grand Central, Parel from 7.30 pm onwards.
The place was familiar to me as I had been there few times in the past, but the restaurant 'Shanghai Club' was new for me. Its located on the ground floor itself. On entering I found the decor and ambiance soothing. And the staff quite attentive
too
as I was soon going to find out.
The Mocktails ( Sangrias ) and Starters...

When I entered the premises, there were just a handful of people; but soon, the place began filling up
fast
. And within no time all the foodies from different corners of the city had assembled to try out the Sea-Food cuisine specially set up by the ITC Team. As the name suggests, it was the evening of the Sangrias. I got to taste not just one but four of them
( Classic Spanish, Cherry & Plum, Very Berry, Water Melon & Basil - any guesses which was my favourite of all? )
. To keep the Sangrias company were the small bites of spicy peanuts and crispy veggies tossed in sauce. The main Appetizers were Prawns & Asparagus, Steam Scambi with Hotbean and Mango, Crispy Promfret tossed in Chinese Barbeque Sauce, Prawn Bamboo Shoot and Waterchestnut Shumai. The tastes of each were unique and my favourite were the Promfret! Can you spot it?
The Crab and Soup...

The crabs ( Singapore Chilli with egg white ), I must say, is an elaborate course in itself. However, they vanished as fast as they appeared; obviously, into our tummies! It was nice to get our hands dirty too in such a prim and proper place for a change. Did I see some people use scissors to cut into the crab - they are hard man! But it was really the most fun part, of course.
Some people didn't like the Seafood Chilli Butter Soup that followed next, because of the overwhelming coriander flavour in it. But for me, it was a little piece of heaven itself. After all that sea food, my mouth needed a change of taste and the soup just provided that ~ to enable me again to continue on the amazing seafood journey.
The Main Course...

That should feed an army, right? The main course was an interesting mix of Stir fried Lobster with guzion sauce, Steam river sole in Ginger Soya, Stir Fried Asian Greens and Lotus Stems with burnt Garlic, Wok tossed Hakka noodles with Pokchoy, Mix vegetable fried rice, Steam Lotus leaf wrapped rice with shitake. You either mix the lobster gravy with the rice or noodles, or add in the soya sauce, or mix everything together - I had a great time playing around with this completely new palate and of course relishing it thoroughly.
The Desserts...

After a hefty meal, the desserts came and we were simply bowled over by the New World Star Anise Torte, the very unique Jasmine flavoured Tiramisu and Vanilla & Red Bean ice cream. And as though it wasn't enough already
with our tummies threatening to bulge out anytime
, we had a fresh fruit plate laid out before us as well, laden with some exotic fruits like Kiwifruit, Thai dragon, Water Melons and Plums. Oh...What a feast it was. BUUURRP! So, if you want to taste some authentic Sea Food you know where to go! Head over to the Shanghai Club @ITC Grand Central.
The ITC Team and Bloggers...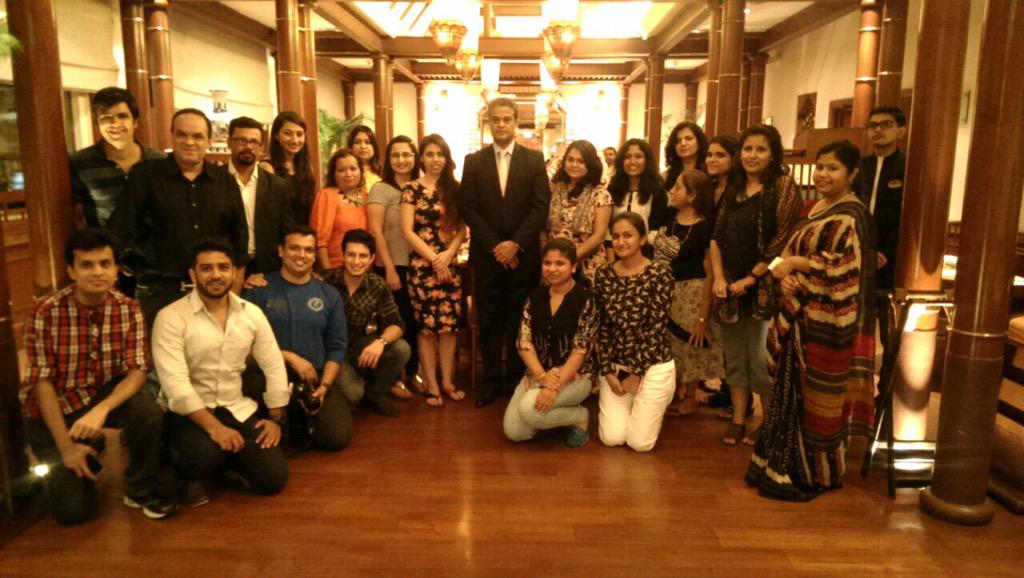 It was packed - houseful!!
The ITC Team, along with their chefs who prepared this delicious Sea Food cuisine appeared before us, as well as interacted with us, answered queries/concerns etc before finally clicking some pics with us and bidding goodnight. In all of these, winners of the on-going twitter contest was also announced with some bloggers winning some really enviable prizes.
The Surprise Gift...

Finally, the evening came to an end and we all took leave. Well...not before the ITC Team sending us home with this basket of happiness :-)
The PR...
The Seafood menu that was served had some of the specials from Ala carte menu. Apart from the Ala Carte menu, Chef Jia and Chef Shrey curated three Sangria special menus:

The menu priced at INR 1500 plus taxes is a 5 course one that offers unlimited pours of Sangria with Chili tossed crispy vegetables with coriander & onions Guiyang style, Crispy spicy chicken tossed with red chili and Sichuan pepper, Crispy Basa tossed with Hunan sauce, Chinese clear soup with burnt garlic, Crispy honey drizzled noodles with vanilla ice-cream amongst otheres. This menu is available only during lunch.

Apart from this there are two other menus with unlimited pours of Sangria. This is available only during dinner. The one priced at INR 2300 plus taxes is also a 5 course one which has Sweet water chestnut and baby corn tossed in Chinese barbeque sauce, Crispy Shrimps Sichuan mala sauce, Crispy fried chili lamb Sichuan style, Steam open headed chicken dimsum, Stir fried eggplant soya garlic, Braised chicken Xingjiang home style (Served in Chinese clay pot), Red bean crusted cheese cake served with sour cherry, roasted almond ice cream and wild berry compote amongst others.

The other menu priced at INR 2700 plus taxes includes Crispy sweetcorn kennels with onions and chilies, Crispy red snapper tossed with hot basil sauce, Mapu tofu ( stir fried tofu in spicy chili bean sauce), Steam Baby lobster in Chef's special sauce, Sliced lamb Huangmen sauce, Chili garlic mix vegetables fried rice, Shanghai Dessert Symphony amongst others. Please note, these are only few of the dishes from the menu. This, again, is a five course menu.
( Images - ©Mine. All Rights Reserved )
Address: Shanghai Club, Ground Floor, ITC Grand Central, Parel-E, Mumbai-13
For Restaurant/Hotel/Resort reviews use 'Contact Us' page above to drop an email with details.
---