A Food Travelogue :
When you are on a visit to India, the first thing to hit you is its wide variety of spicy foods, all unique to their own native corners. But it doesn't stop at that. You get the even more spicier street-side food which doesn't really fill your tummy, but they do set your mouth watering. And they'd be found in just about all over India.
There's a whole lot of it, but here I'm picking just a few. Well, reason being I clicked these pics myself. I hope to click more and showcase the whole wide variety some day soon.
Caution : While eating these kinda street-food, please make sure you eat from a hygienic place only!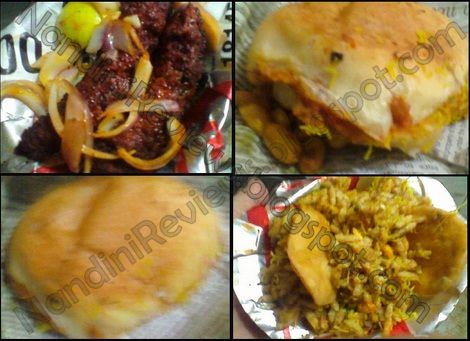 Clockwise : 1. Mutton Kebabs 2&3. Dabelis with Shing-Danas 4. Bhel Puri
Check out more Street Foods from India ( Pics ) -
Here
&
Here
Read about more of Street Foods from India -
Here
&
Here
See the overwhelming crowd below and the neighbouring Pani-Puri guy performing his everyday show :-)
Our Rating Scale is : 1 to 5 = ◕◕◕◕ - I really liked it!
---