A Travelogue :
How it all started - Part 1
When I was in college FY.B.Com, a new vocational subject was introduced, Travel and Tourism. Being a commerce student with our brains totally submerged in boring subjects like accountancy, economics etc all the time, this course was like a breath of fresh air.
Travel and Tourism, for me, meant that we'd definitely get a chance to travel some place at least. And I was excited about that.
Our first study tour scheduled on the 1st year itself was to my delight "The Golden Triangle" in the north which is the most frequented tourist destination in India.
Much as I was excited about going on my first trip, my parents, especially my father had put his foot down and didn't allow me permission at all nor gave the money it required for the tour ( which was a discounted amount for students btw ). They didn't like the idea at all about me choosing a vocational subject in the first place!
( I had dabbled a bit in fashion designing just after my HS but had left it, so my parents thought this was also some mumbo-jumbo course I had enrolled into just to waste their money, lol )
No... meant a strict No! And no further arguments entertained. According to my parents all these trips and study tours were useless.
There was still few weeks left for the tour and I had already entered my name, but wasn't able to pay my share of the trip yet. Well, we hardly got any pocket money those days, so I was on the verge of cancelling my name.
I was angry and upset, wondering if I'd ever be able to collect the required sum. It was then, that a plan came to my mind on 'how to milk out the money from my parents'.
And it sure as hell was a very tricky and elaborate plan.
( Oh! the things children have to do because of their super strict parents, lol )
. It needed meticulous plotting and planning. But I, so wanted to go ( as all my friends were going ) that I decided to put my plan into action without any further hesitation. I just did not want to miss out on the fun.
So, here was my plan...
One day, I told my father after he had come from office, that I had great difficulty understanding the accounts and other commerce subjects in my college class. Hence, I wanted to join a coaching centre. Moreover, since my classes started early morning around 7.30 am itself, by the time I reached my college in Churchgate ( all the way from Prabhadevi ) I missed out on most of the classes. So, a coaching centre would help me a lot.
Meanwhile, I had found out a coaching centre in Dadar area ( near our place ), whose admission fees was exactly the same amount required for my college trip. I even made sure while enquiring that if for some reason I would not be able to join classes after the admission would I be given a refund? The office clerk of that centre had said that within the 1st week of cancellation they would gave a refund but not afterwards.
So, putting my plan into action swiftly I brought the form, prospectus etc and showed them to my parents. Seeing that I so eager to study ( lol ) and was asking money for the coaching class, my father did give me the admission amount. And yes, like a good girl I took the admission too and came home, showed my parents the payment receipt as well
( Ah! Only if they knew what was in my mind then! )
All was good. They were happy thinking that I was so serious about my studies. But I was already planning part two of my master plan.
I went to the coaching centre and made an argument, that, why they had misled me about the course. They were a coaching centre of Bombay university syllabus and it didn't quite match with the syllabus of SNDT where I was studying. I wanted my money back I demanded, full refund else I'd report them for misleading me. ( heheh )
( To be honest, for a long time even I was confused whether both the universities courses were same or not :-O )
Nonetheless, I was least interested in the course. I simply wanted that deposited amount back because I wouldnot be joining that coaching centre anyways. I had no intention of joining ever! Atlast, they did give me the refund
( maybe they realised I would not let them live in peace until they did )
Now stage three of my master plan was about to start. What to tell my parents!
I told them about the differences in syllabus and hence my joining that coaching centre would be totally useless. I also lied, ( yes lied :p ) that they had refused to refund the admission fees ( lol )
Now, had my father gone to the coaching centre that day to enquire about it, maybe my plan would have been busted right then. But he didn't and had believed my explanation - so my plan was a grand success! \YAY!/
( thank God for little mercies ! )
The next day I paid the required amount to my tourism teacher and was ready to join my friends in the Golden Triangle trip. wOOhOO!
( I think none of my friends had to do what I had to, because their parents were not that strict, Sigh. )
Anyhow, soon the trip date came and we all assembled early morning at the Bombay Central station. It was a huge troupe that comprised of students from Arts and Science sections as well ours i.e Commerce, and we also had the cooks travelling with us. So, whether it was on the train or at the hotel, in all the places that we visited, we were served food by the cooks who traveled along with us.
( Only God knows how they managed! :-O )
And the food was delicious and of different variety all the time, so hats off to those travelling cooks.
We had quick introductions on the platform, with as many students as we could. Three tourism teachers were travelling with us and it was quite a headache for them to look out for so many of us. The train journey ( via Pachim Express ) was hollarious, with the whole student troupe filling up the compartments, singing antakshari loudly and having way too much fun. The other passengers were simply overwhelmed at the noise we all made.
Soon, early the next morning we reached Delhi and checked into our hotel near Paharganj area that was priorly booked. And those super efficient cooks immediately served us our breakfast meal on the terrace of the hotel which was fully occupied by us.
In this journey, I had stayed with two other girls, hence our room was much more spacious than the others which had 4-5 girls in each. We had become quite close and would not let anyone else have space in our room. And we stuck on that way till the end of our journey. Our mischievous activities started from the first day itself which was super fun.
We did everything in the name of fun. We teased guys while travelling, from our bus ( we'd always sit on the seats at the back of the bus ), collected phone numbers from random Delhite bikers/people from our moving bus itself, and would give them prank calls later from the hotel reception, smoked ciggis at midnight, and once had even got a bottle of desi Gin at midnight ( in jaipur ). While the rest of the group followed the teachers obediently, we had our own little excursions and expeditions midway which made the rest of the group very worried and anxious. Some other students also joined us at our mischievous activities and in the end our teachers got fed up and rebuked us severely. But then, it was all these mischief that we did, which made our trip so much more memorable.
So, after breakfast we were all set to tour the historic places of Delhi. We had two special buses that would carry the whole group all across the Golden Triangle. Our trip to Golden Triangle besides the usual hot-spots of Delhi, Agra or Jaipur ( all having grandeur, glory & history ) also included short visits to Fatehpur-sikri, Mathura, Bharatpur making the journey a rich experience.
The Golden Triangle Trip - Part 2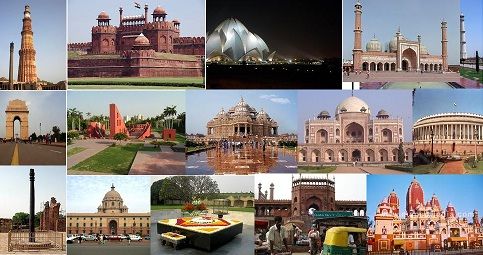 The Golden Triangle trip is a visit to the icons of India. From the capital of Delhi, with its bustling markets, magnificent monuments and colonial past to Agra to view its well preserved Agra Fort and the stunning Taj Mahal, truly one of the wonders of the world, as described by Rabindranath Tagore a 'teardrop on the face of eternity'. And then Jaipur, the capital of Rajasthan, discovering why it is known as the Pink City and exploring its incredible Amber Fort.
I had been to Delhi few times on personal visit ( mainly a trip to my aunt's house when I was a kid and later on during a relative of mine's admission to a Delhi hospital for some treatment ), but as a tourist Delhi has so much story and breathtaking sights to offer. So, it felt like it was my first time.
Delhi, The political capital of India, is the main base of the Golden Triangle in the country's north. Delhi has its history right from the days of the great Indian epic the Mahabharata, when it was known as Indraprastha, the Capital of the Pandava princes. Today however the city has transformed itself into a new incarnation which reflects the many colors and flavors that makes up India's overall identity. Contemporary Delhi is one which leaves you inspired, amazed, fascinated, impressed and mesmerized at every turn, every nook and every corner. It is an exciting, busy, and often chaotic city but certainly one of the most interesting. And it will somewhere definitely leave a deep impact on you.
The city is the perfect mix of the old and the new. From the colonial pillars of Connaught Place to the lanes of Chandni Chowk and the malls of South Extension, you will find, discover a whole range of experiences here. Delhi comprises of conspicuously contrasting Old and New Delhi. Old Delhi was the capital of Muslim India between the 12th and 19th centuries and one can find mosques, monuments and forts related to this Muslim history. New Delhi is the imperial city created as India's capital by the British, intricately planned and comprises of imposing buildings displaying various modern styles of architecture. Delhi is also a paradise for shopping, eating and sight-seeing -
Read More Here
On the 1st phase of our trip i.e Delhi, our itinery covered
The India Gate
,
Raj Ghat
,
Red Fort
,
Jama Masjid
,
Chandni Chowk
,
Kutub Minar
,
Feroz Shah Kotla
,
Jantar-Mantar
,
Laxmi Narayan/Birla Temple
,
Akshardham Temple
,
Bahai Temple
,
Humayun's tomb
,
Rashtrapati Bhawan
,
Parliament house
and a few others, some of them with us visiting the actual location whereas some others, a fleeting glance ( for the lack of time ) from inside the bus as the tour guide pointed them to us.
Of them, the most memorable ones were the Bahai temple, the Jantar Mantar, the Qutub Minar and the Red Fort.
During our visit to
the Bahai
, I was quite impressed with the peaceful and serene surroundings. From entrance to main temple is a long walk, with strict security parameters in place. The beautiful lotus shaped temple has a huge empty hall inside with benches. I don't know much about the religion but it is said to be inspired by different faiths and is good for spirituality & mediation because of its pyramid type structure that draws in positive energy. The lotus itself is considered a sacred flower. It had various writings framed on its wall for the visitors as well as the followers to read. There was no special alter as such in the temple to offer prayers. I loved spending my time there walking around the gardens. As with other temples, one is not allowed to wear footwear inside.
The Jantar-Mantar
was quite an interesting place as well with different types of architectural astronomy instrument structures in its vicinity built specially to observe and study astronomy. It was quite interesting to note how curious and advanced thinking the people of by gone eras were, who pioneered astronomy research.
Most of the time we spent near
the Qutub Minar
was to try out the famous
Iron pillar
that had stood the test of times, where we needed to grab it from behind and stretch ourselves till both our hands touched. Of course none of us succeeded. It was surprising to learn that the iron of the pillar had not rusted even after so many years. It is apparently not allowed for the visitors to touch the iron pillar anymore with a barricade having being built around it.
Entry into the Qutub Minar tower however was discontinued hence we had to satisfy ourselves by looking at it and admiring from outside.
( The Qutab Minar has walls inscribed with intricately carved quotations from the Koran and is one of the most perfect towers of the Persian world )
Our
Red Fort
visit was quite an exquisite one. During the day time we toured the entire fort area ( which is rather huge ) for hours and later in the evening after dinner we were back in the place for a special 'sound and light' show depicting the mughal era which was quite enthralling with us literally transported back to those historic times. The colourful visual effects a.k.a lights display is indeed a sight not to be missed. The other things not to be missed while at Red fort are obviously its Diwan-i-Aam ( with the marble throne ), Diwan-i-Khas, Sheesh Mahal, Khas Mahal, Rang Mahal, Naubat Khana, Jahangir's Palace ( you'll find a temple too in it ), Jahan Ara Begum's room, Samman Burj etc with all their splendor and intricate interior designs that'll leave you spellbound.
( Red Fort. Designed by the builder of the Taj Mahal, Shah Jehan, the fort is famous for its delicate carvings and Royal Chambers )
Delhi Tourism now has special sight-seeing tours plying in the city via its HoHo tours -
www.hohodelhi.com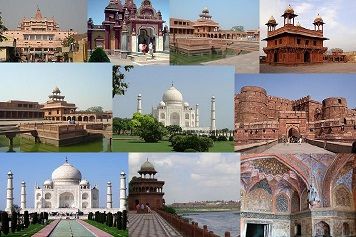 Early the next morning, we were headed for
Agra
- Our 2nd Phase of the Golden Triangle tour!
We stopped in between at Fatehpur Sikri and Mathura as well.
Agra
is a must visit place for every tourist. It is a medieval city on the banks of Yamuna River which was founded by Sultan Sikandar Lodi in 1956. It achieved fame as the capital of the Mughal emperors from 1526 to 1658 and remains a major tourist destination because of its many splendid Mughal-era buildings, most notably the Taj Mahal, Agra Fort and Fatehpur Sikri, all three of which are UNESCO World Heritage Sites -
Read More Here
Also notable in Agra is
Sikandra
.
The walk up the majestic steps of
Fatehpur Sikri ( ghost city )
will always be a memorable one for me. We were awed at the sight of the huge entrance gate. We spent quite some time walking around the premises and clicking pictures.
Fatehpur Sikri is a city and a municipal board in Agra district in the state of Uttar Pradesh, India. The city was founded in 1569 by the Mughal emperor Akbar, and served as the capital of the Mughal Empire from 1571 to 1585.It is at Fatehpur Sikri that the legends of Akbar and his famed courtiers, the nine jewels or Navaratnas, were born. Fatehpur Sikri is one of the best preserved collection of Mughal architecture in India -
Read More Here
( It was Built in red sandstone but deserted 14 years later because its water supply failed. It has glorious courtyards and palaces. There's the imperial Jami Masjid, the tomb of Shaik Salim Chisti who predicted the birth of Akbar's son Jehangir, the Panch Mahal, a strange building which resembles a Buddhist Temple, a cloistered courtyard which was the Hall of Public Audience and the Pachchisi paved with black and white where the Emperor played chess using slave girls as figurines )
Mathura
was our next short stop. We visited a famous temple there ( Krishna Janma Bhoomi temple ) after walking a short distance in the sun from our buses, but our visit was rather short and we quickly exited but not before buying whole lot of sweet '
pethas
'. There's also the famous Vishram Ghat in Mathura, going to where one passes by several other smaller temples notable being the Dwarkadeesh Temple opposite it. All temples here have interesting art/paintings in them.
Mathura is a city in the North Indian state of Uttar Pradesh. It is located approximately 50 km north of Agra, and 145 km south-east of Delhi. Mathura is the birthplace of the Hindu mythological character Lord Krishna at the centre of Braj or Brij-bhoomi, called Shri Krishna Janma-Bhoomi, literally: 'Lord Krishna's birthplace' -
Read More Here
Finally, we were headed to
the Taj Mahal
. I was there once when I was a kid and all I remember was standing on top of a bench with my sister, raising our hands and touching the tip of our thumbs together and viola our photographs showed us as though we were touching the top of the Taj Mahal. Imagine that!
So, this time I was very excited to see one of the greatest wonders of this world. I had heard so much about it, read so much about it. I was very eager to view it with my own eyes.
We had to wait for our entry tickets outside and soon were led inside to the entrance gate. Just as we entered the gate, the majestic view of the Taj Mahal greeted us. You just have to experience this in a sequence to feel its real magnificence. Outside the gate there is one environment ( the usual poor dusty and dirty India ) and inside the entrance another, totally opposite, a grand, mindblowing and spellbounding one of the Taj Mahal!
The Taj Mahal
looks so much prettier in real. The white marble shining in the sun is an awesome, jaw-dropping sight. It is indeed a sight that will remain forever etched in our memories once we see it. I had never seen anything like it anywhere before and I'm sure there's none like it anywhere either.
The walk up to the Taj via its beautiful, well manicured breezy gardens was an experience in itself. Though I had visited it in the past as a kid, the visit this time was more memorable.
We had to remove our shoes as we entered the monument.
The only thing that I did not like about the Taj is that it is a grave. I wish that it was a more happy and positive place rather than a place of death.
Nonetheless, inspite of the many -
controversies
surrounding it, fact remains that, it is indeed one of the world's most exotic monuments and indeed the pride of India.
After the tour, all of us bought miniature 'taj mahals' from the road side souvenir shops outside the premises, as a memory to carry back home.
( Built by Shah Jahan as a mausoleum for his wife Mumtaz Mahal, the beauty of this structure is unmatched. On the death of his beloved wife, in wild extravagance, Shah Jahan built her this memorial. 20,000 men laboured for over 17 years to build this wealth of white marble and precious stone, and as the story goes, all of them had their hands chopped off after the monument was complete so that none like it can be ever built again
-
Read More Here
After a certain time in the evening, visitors are not allowed in anymore without special permissions. Also vehicles are not allowed to park near its vicinity as it is a special eco-protected zone known as Taj Trapezium Zone. )
We also visited the
Agra Fort
-
Its grand courtyards, royal pavilions and palaces speaks a lot about its grand times during the mughal rule of – Akbar, Jahangir and Shah Jahan – during which Agra was the capital. When inside the fort you are sure not to miss the the Dewan-e-Am, where the Emperor sat on his throne to dispense to his subjects, and the Dewan-e-Khas where he received foreign dignitaries.
We stayed the night at a large hotel in Agra before setting off again the next morning. Our next destination was the third corner of the Golden Triangle - Jaipur! Our 3rd and final phase of the Golden Triangle Tour!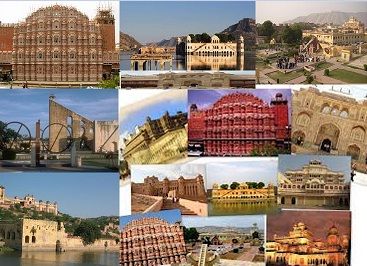 The first thing to hit us, that we were finally in the pink city was the pretty pink coloured dwellings that started to greet us after we entered the city's main entrance. All the buildings, whether small or big were all painted pink, hence the name - Pink City.
The other thing which hit us, that we were near the desert was the sandy water that we got to drink in our hotel.
Our hotel, like all the previous ones was pre-booked. It was near the busy market area and we were allowed to visit in groups the entire area. We spent our time window shopping as well as buying souvenirs. I think of all the places we visited, I shopped the most in Jaipur. Besides decorative artifacts I bought a nice traditional dress, bangles etc. And yes it was here that we also tasted the desi Daru ( Gin ).
Jaipur
, the picturesque capital of Rajasthan also known as the Pink city was founded in 1727 by Maharaja Sawai Jai Sing II. It was the first planned city in India worthy of admiration with beautifully laid out gardens and parks, attractive monuments and marvelous heritage hotels, which were once the residence of the Maharajas. Visit to Amber fort, City Palace, Jantar-Mantar, Hawa Mahal, the ambling camels and cheerful people in multi-hued costumes makes the trip to the pink city a memorable and complete one -
Read More Here
We thus visited the city's hot spots i.e the
Amber Fort
,
City Palace
and
Hawa Mahal
, all the royalty at their very best. Walking through the palaces and gardens where the royal blue blooded kings and queens of the past also walked was something you'll never forget in this lifetime. It is an experience to cherish.
The
Amber fort
, a yellow/honey coloured fortress-palace atop the Aravalli Hills is piece of fabulous architecture that stands tall with a breathtaking view of the valley below. The tour guide took us around showing its various intricate corridors, chambers and along with it the stories followed too of the various kings/queens who resided there
once upon a time
, making it a delightful and nostalgic time spent.
The
Hawa Mahal ( Palace of Winds )
is an elaborate building encrusted with delicate honeycomb screens and carved balconies from which the royal ladies, confined to their quarters, could view the world outside. The guide told us that during those days many games were also held on the couryard below ( presently a busy road ) which the ladies used to watch from the various window screens of the Hawa Mahal.
Near it is the Jaipur
Jantar-Mantar
which was also worth a visit.
We also visited
the City Palace
, which is now a museum that contains fine Rajput and Moghul paintings, rare manuscripts and an armory, old carpets, and amazingly embroidered clothes of the then Maharajas and the Maharanis.
Whilst in Jaipur, we had also visited the
Albert Hall Museum
for some history lessons and
Jaigarh Fort
for glimpse of the giant 'tope' - fire cannon ( largest in India ). We even went to a late night cinema show at the famous
Raj Mandir Cinema Hall
in Jaipur. The movie was 'Hum Aapke Hai Kaun' and since we were a large group, we all got tickets in the stalls that too the first benches. It was really a strain on our necks watching the movie from such a short distance. Anyways, we had seen the movie before, so we just sat and gossiped away much to the discomfort of the other audience.
At night when we returned, we saw a open liquor shop near our hotel. Me and my friends sneaked and we bought a bottle of Desi Daru. When we tried it at our room later, it tasted yuck.
Before winding up our tour, we had a brief halt at the
Bharatpur Bird Sanctuary
also known as Keoladeo National Part, and played Ornithologists for a while. It is a swampy place but lovely too. Close to nature. We spotted some colourful birds and mild wildlife. And took lots of pictures.
Thus, our trip finally ended with us not wanting to come back at all. We had a whale of an experience.
Finally though, we did have to head back home. Next, our tourism teachers had already planned another study tour, this time to some of the the gulf countries, but alas I could not make it as I would have to make a much bigger master plan than the last one, lol ( cos the air travel expenses would be too high )
So, sadly I had to be satisfied with my Golden Triangle trip only.
The Gulf, maybe some other time eh!
( And yeah! Only after I came back from the tour did I tell my parents about my master plan, but by then, they were already convinced that I was a rebel-in-the-making ;-)
Some more important info about India's Golden Triangle for the tourists :
It is a primary tourist circuit which includes the three most historically significant cities - Delhi, Agra (including the Taj Mahal), and Jaipur. These trips usually last 7 or 8 days and it is recommended to do the trip as a circuit starting and ending in Delhi. Flights and hotels are often included in the price by the travel agents in their packages, and it is normally possible to do the trip by coach or private journey through most tour operators. The Golden Triangle is now a well travelled route, hosting many of India's great cultural gems, and providing a good spectrum of the country's different landscapes. The trip will fulfill all your expectations that built after mystifying stories of Indian culture and tradition.
The Golden Triangle is formed by the locations of New Delhi, Agra and Rajasthan on a map which resembles a triangle, but is also occasionally expanded to include the wider geographical area of North India, most frequented by tourists. Most tourists fly from Delhi, travel southwards to the site of the famous Taj Mahal at Agra, then west, to the desert landscapes of Rajasthan, including the city of Jaipur. These three cities are extremely popular as tourist destinations among the foreign tourists visiting India as well as among the natives.
The circuit is about 1000 km by road. Each leg is about 4 to 6 hours of drive. The fast Shatabdi train now runs on all the legs of the Golden triangle tour.
Golden Triangle tours can also be clubbed with wildlife safari's in Ranthambore, visit to Khajuraho famous for its ancient sculptures and Goa beach tours etc.
If you want to Experience Golden Triangle Tour in King's Style, you can opt for Luxury train itineraries such as Palace on wheels and Royal Rajasthan on wheels.
Our Rating Scale is : 1 to 5 = ◕◕◕◕◕ - It was Amazing!
( Ref/Images Courtesy : Google & Wiki )
---