The invite was so tempting that I couldn't resist. What more can a foodie love or want, than a meet related to food, food and more food. Well... not exactly that, it was more related to the 'cookware' where the delicious food is cooked and served. But then who's complaining, hah ;-) I had seen the brand ambassador Sakshi Tanwar's advt on the same and was naturally curious. The meet was also backed by FBAI
( my 1st with them )
and made it so worth attending.

The Venue...
Out of the Blue, Le Sutra, Khar - W from 12.30 pm onwards.
The Products Demo...

When I first reached, I saw all bloggers seated in rows, hogging starters and gulping mock-tails. As soon as I joined them, the organizers whisked everyone to another room for the product demonstration, during which I came to know many interesting facets of the product(s), that they are mostly made of steel and their bottoms are of one single-sheet metal, instead of multiple layers - which cooks the food evenly and in less time and best of all doesn't need too much oil.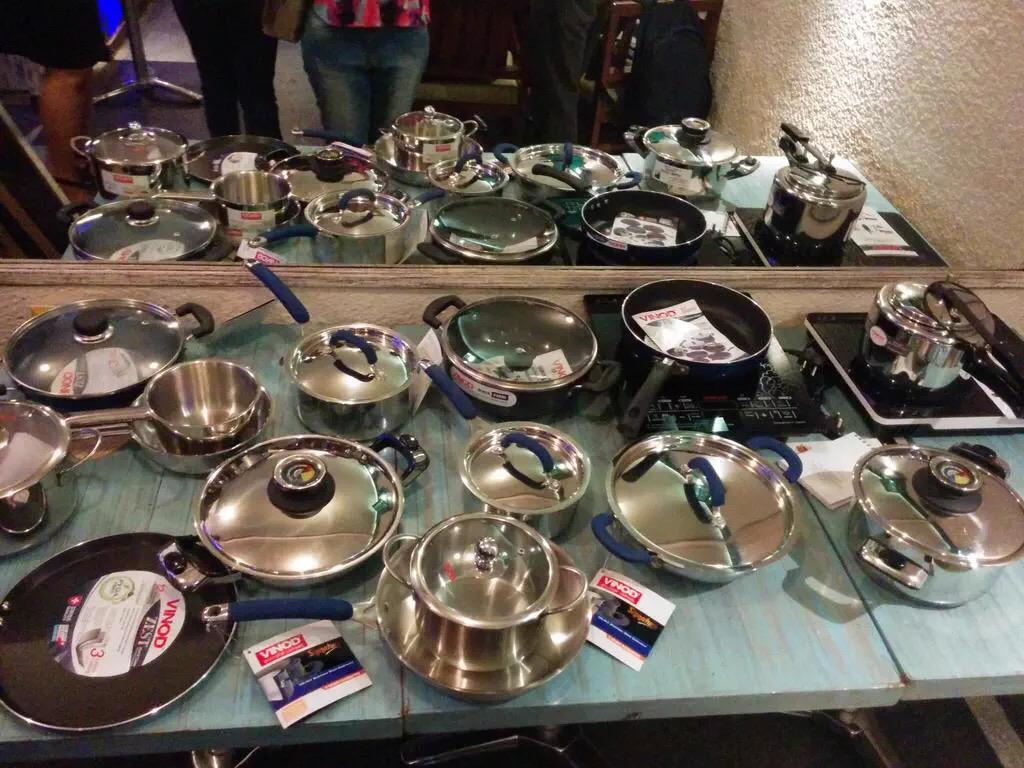 Stylish Black Pearl, Tuscany Range, Tri-Ply, Zest Inducto, Vito Health, Sicily Casserole built with the ergonomic handles that stay cool 24*7, InnerLid Pressure Cooker made with high quality stainless steel and many more; some with mirror finish and some with visual thermometer knob
ideal in controlling or measuring temperature
, thus, not losing the nutritional value of the food by being over or under-cooked - thereby, being the truly 'Intelligent Cookware' it claims to be. Vinod Cookware also has Induction Cooktop in its range of products. We were given more interesting information on how the utensils
where food is cooked
matters the most - both in terms of health and taste. The cookware were passed around for each one present to get an idea about them. However, I'd have loved to see a 'live-cooking' as well, using the cookware at the event. But that was not to be, because there was a Big-Surprise in store ahead
( scroll below )
.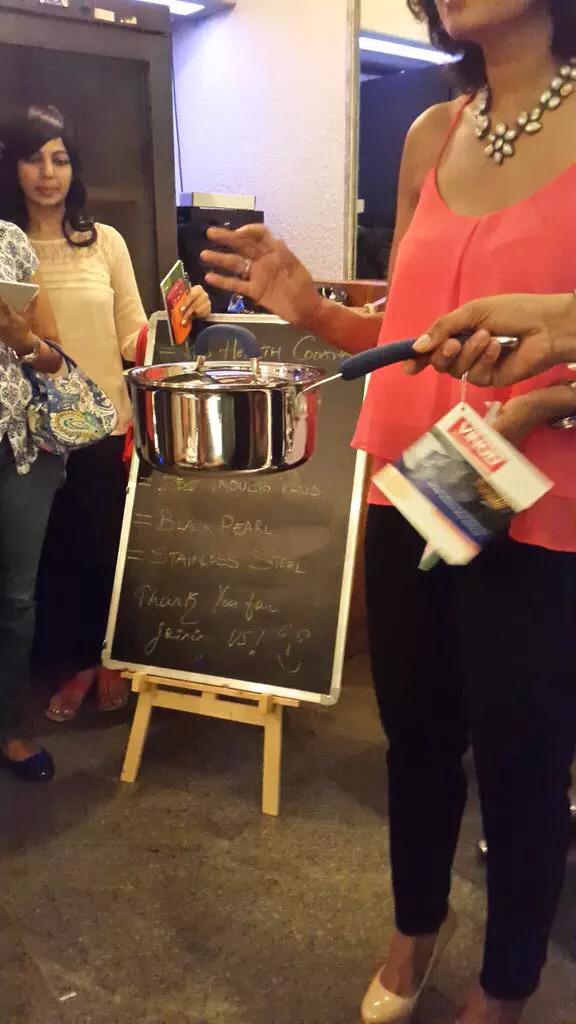 After the product(s) reveal, there was a fun quiz on food, where obviously the bloggers won!
The Bloggers...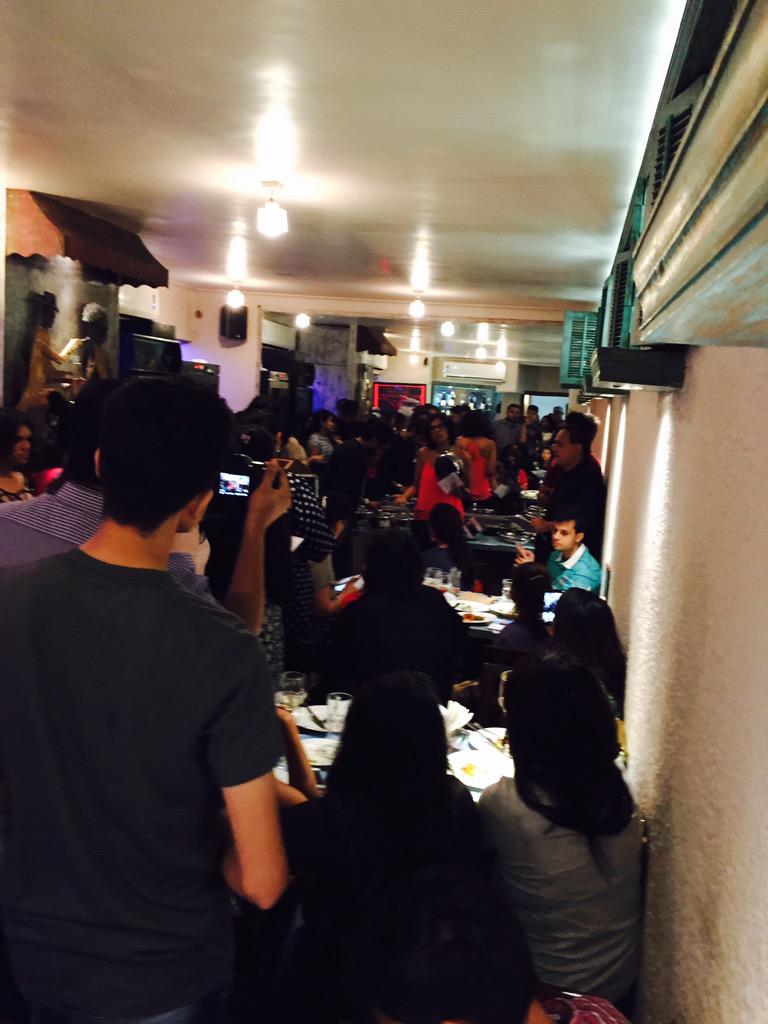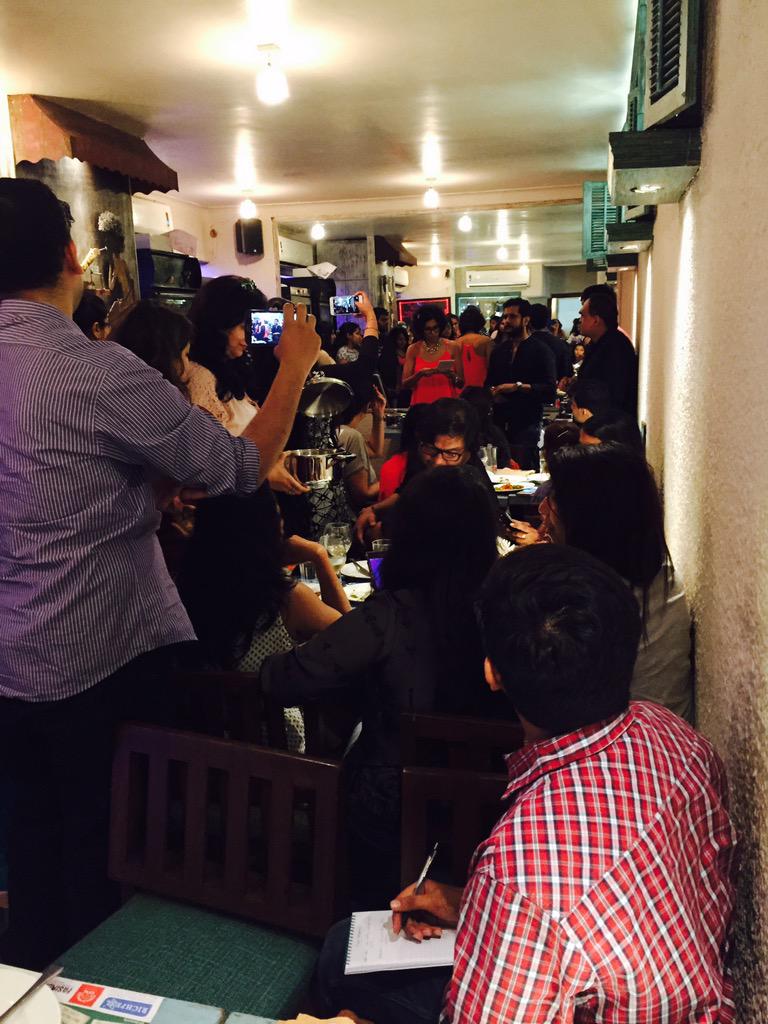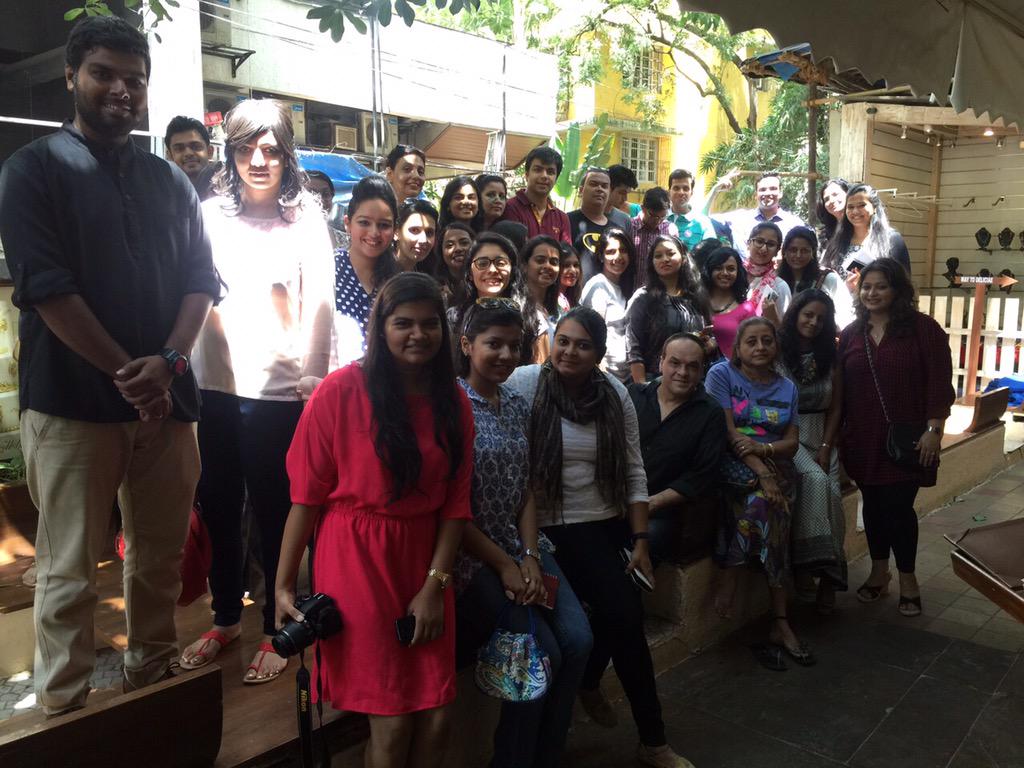 It was packed - houseful!! A Super-Hit Meet with yummilicious food!
The Surprise Gift...

As we bid bye, we were sent off with a huge hamper that contained some of the products. And Yes! That was the 'surprise'
( mentioned above )
- to try the cooking part for ourselves using the products. Isn't that so thoughtful of them? Mine had a 3 pcs set of the very stylish Black Pearl nonstick range. Hard anodised set that consists of a Deep Fry Pan, a Deep Kadai with Lid and a Tawa ~ all worth Rs. 2,500/-
( with 5 yrs guarantee )
. They look so elegant that my neighbour got envious as soon as she saw them. I must confess here, I'm more into eating than cooking, but these superbly designed cookware has definitely tempted me to try cooking as well. Will put up a review on that experience as well...
stay tuned
!
The PR...
About : Vinod Cookware "Jo bhi ho khana, Vinod mein hi pakana"
Vinod Cookware established in 1986, manifested the launch of 'Sandwich bottom' in the history of Indian kitchens. Today, after a decade experience and repertoire of over 400 products spread across multiplecategories, Vinod Cookware is one of the most preferred name in Indian as well as global markets. With the complete understanding of the Indian kitchens and using premium quality stainless steel, Vinod Cookware builds an instant connect with homemakers of all ages. The company's insistence on research and development gets for its products the edge of convenience and durability. Visit them at - www.vinodcookware.com
Vinod Cookware one of the most accepted and well-loved cookware name offers an extensive portfolio; Vinod's range has expanded to also include state-of-the-art cooking technologies such as non-stick cookware, hard anodised cookware and more. The first to introduce the concept of sandwich bottoms in pressure cookers, Vinod Cookware has consistently innovated and refined its product range to offer the best solutions to the Indian Kitchens. Additional to the regular product range Vinod Cookware also extends to the Health rangewith the very popular "VitoHealth" designed for the health conscious needs of Indian consumers.
Explore and buy the whole Vinod Intelligent Cookware range from
Flipkart
!
( Images - Vinod Cookware & ©Mine. All Rights Reserved )
---