Product Name :
PHILIPS HR1351/C 250 W HAND BLENDER
Quantity :
4 pieces ( motor, hand blender, beaker, chopper attachment )
Price :
Rs. 1895 (
Buy from Flipkart.com
@Rs.1615/- ( 15% Off! )
Product Summary :
Key Features of Philips HR1351/C 250 W Hand Blender : 250 W Power motor which runs on 220-240 volts, Blending Function, Chopping Function, PP and Rubber Body, Stainless Steel Blade. Philips HR1351/C Hand Blender is a great kitchen companion. It has a powerful motor which makes the process of grinding and blending very easy.The hand blender works on a single speed and the housing material is made up of Polypropylene and rubber. The jars are constructed from Styrene Acrylonitrile (SAN) material and the stainless steel blades are sharp and durable. It has a detachable plastic bar. The blender is dishwasher safe. The wall bracket is easy to clean. The hand blender has a beaker with a lid and a chopper with stainless steel blades.
My Review ( P.O.V ) :
I've been planning to buy a blender for ages since my previous mini one broke. But somehow I kept forgetting. Recently, I bought a couple of kitchen appliances with some vouchers that I had won, so made it a point to remember the all so important blender too this time. Great thing is, it comes with the chopper too - thus is very handy. And did I mention it all looks very cute too. The whole thing came within 2-3 days of ordering. Since I've used it few times, I've not faced any problems and it is running smoothly *touchwood*. The chopper could've been a bit larger though, cos' it can hold only few stuff at a time. I tried chopping all my palaks at one go, but realized had to put little by little to get good results. Stuffing it fully will make the motor choke and growl. The blender is portable and easy to carry around, thus another plus point. If you are looking to chop, blend, make puree, mix etc this is the right choice baby. A-ha! The company gives a 2 years warranty, so you are at peace with your purchase, knowing if something goes wrong you can get it repaired at your nearest philips service center. Light weight, it is easy to handle, clean and maintain.
The beaker however didn't come as shown in picture; its handle is missing so is the lid. Otherwise, no complaints.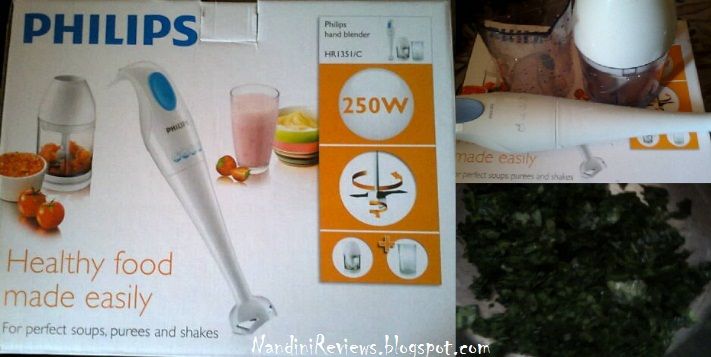 Positives :
It does what it promises. And comes at a cool affordable price too.
Negatives :
None, except the missing handle/lid.
Who will enjoy this? -
Buy or Don't Buy? –
A Must Buy!

Our Rating Scale is : 1 to 5 = ◕◕◕ - I liked it!
---