Title :
SORTING OUT SID
Language :
English
Author :
Yashodhara Lal
Genre :
Fiction
Publisher :
HarperCollins ( 2014 January )
ISBN-13 :
9789350296912
ISBN-10 :
9350296918
Binding :
Paperback
Price :
Rs. 250 (
Buy from Flipkart.com
for Rs.210/- ( 16% Off )
Pages :
320
The Book Summary :
A thirty-six year old finds his life breaking apart in front of him with his marriage failing, his parents demeaning him and his friends backstabbing him. Yashodhara Lal's Sorting Out Sid is the story of how one single mom arrives into his life, and perhaps lends it light once again.Siddharth Aggarwal's life was good. He had been married for fifteen years now, his friends loved him and he was about to become the company's youngest Vice President ever. But behind the calm front, his life is actually falling apart. His marriage is on the verge of failing disastrously, his parents think he is still a teenager and his friends are backstabbing him continuously. Add a machiavellian HR to the recipe and his life becomes a live volcano waiting to erupt. Enter Neha, a sprightly single mom who seems to be everything Sid has been missing in his life. Of course, she could also be the one reactant this mixture has been missing to let everything explode in Sid's face. Sorting Out Sid is a tale of wit, humour and life's finest details.
My Point of View ( P.O.V ) :
Let me start with the obvious i.e the cover - it impresses, no doubt. One can instantly make out that much thought has been gone into its design, and it has worked. It makes the book look stylish and the readers
curious
.
I liked the author's previous book, so was curious what she'd come up with next. I didn't expect her to keep a male protagonist in her 2nd book and narrate the story largely from a man's P.O.V. But I'm glad she did - because that's what makes the book bit 'haatke' compared to all the recent books that I've read. Indeed, there is nothing out-of-this-world kinda unexpected stuff, because most of the story you relate to
instantly
. It is perhaps the story of many people out there; the mess they might be in, behind those fake plastic smiles - flashing the 'all iz well' kinda look 24x7. But told very interestingly, it makes the experience of reading the story very unique. The author keeps the readers engaged throughout the book and you donot loose interest at any point. So, hats off to the author for managing that for today's generations of fast and fickle minded readers.
The protagonist is 'Sid' as the book's title must've already revealed. It is his story
no doubt
. His life, his world, the people around him and of course the girls too
( there are quite a few of them giving him company )
. Sid is the average guy in his mid-thirties, but with lot of shades of grey in him. And though everything seems to be going smooth on the surface; inside, everything in his life is actually falling apart. His marriage, job - both highly unsatisfactory, add to his other short-comings, love life and back-stabbing set of friends. His 15year old marriage with Mandira is crumbling while his job satisfaction with a lousy boss at the helm of affairs, is, at an all time low
( although, he might have seen corporate success )
. Well, with a job in a toilet-cleaner company as the Chief Toilet officer ( C.T.O ), you somewhat understand the malady. In all this, a single-mom Neha walks into his life and what happens next is the crux of the story. Would Neha help in sorting out Sid's life or will his relationship with her make him land in an even deeper mess? Who will sort Sid out? Would he do it himself, after his many faux-pas? Or will the readers sort him out by going through every page in the book, as Sid goes on with his eccentricities and encounters his demons? Well, he does get sorted in the book
( that's assured )
- bit by bit and page by page.
I totally loved Neha's character. It is not a mushy-mushy romantic tale, yet has its own subtle spice which makes the book so enjoyable. The characters are well built, thus, making the story engrossing, though the story is not much descriptive as such - which makes it quick paced. I quite liked the various hats Sid wore throughout, with suiting adjectives to boot; describing the various personas he portrayed in the book. Read the book to find out ;-)
All in all, with wit and adequate doses of humour, amidst all the seriousness of various problems/incidents that Sid goes through and the pleasant climax at the end; the book will surely leave the readers with a smile in their faces after reading it. I'm still smiling away :-) The book has bit of Hinglish stuff in it too, so watch out ~ although fortunately, it is kept at a minimum
( unlike the author's previous book )
.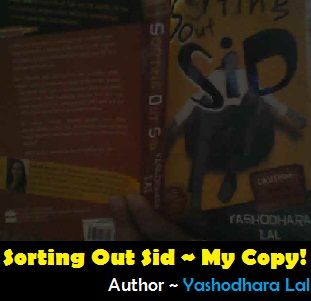 Positives :
Smooth flowing, lucid style and easy writing that is a refreshing light read, the book has more positives than negatives. Extremely entertaining, it is sure to keep the readers hooked till the last page. Highly recommended if you're not expecting too much literature stuff.
Negatives :
None.
Who will enjoy this? -
Everyone!
Buy or Don't Buy? –
A Must Buy!
About the Author :
Yashodhara Lal is an Indian marketing professional turned writer. She has also written Just Married, Please Excuse. An IIM graduate, Ms. Lal lives in Gurgaon with her family.

Our Rating Scale is : 1 to 5 = ◕◕◕ - I liked it!
Book Source :
HarperCollins & IB
---