Title :
PRISONER JAILOR PRIME MINISTER
Language :
English
Author :
Tabrik Currimbhoy
Genre :
Fiction
Publisher :
Hachette India ( Jan 2014 )
ISBN-13 :
9789350096703
ISBN-10 :
9350096706
Binding :
Paperback
Price :
Rs. 350 (
Buy from Flipkart.com
@Rs.294/- ( 16%Off )
Pages :
323
The Book Summary :
A political thriller set in present day India, Tabrik C.'s Prisoner, Jailor, Prime Minister follows a brilliant man as he faces conflict both inside and outside his mind in his journey to govern the largest democracy in the world. Siddhartha Tagore's life is a result of conflict. He has worn many faces, been different men. He finds himself named the Prime Minister of India after explosive events put India on the verge of another terror assault and its very constitution stands to face revolt. A musical genius, and a prodigal son, Tagore's views on China and Pakistan make him a very dangerous candidate for the job. But before his own inner conflicts can be resolved, he begins to find skeletons in the proverbial closet as terrible secrets unfold before him. This is a story of deceit, lust and politics of the very worst sort.
My Point of View ( P.O.V ) :
Politics is not really my cup of tea, and political books - I generally avoid. When someone says Political fiction, I become very wary. However, when elections are nearing and someone
( blogadda )
gives me a political fiction book for review, I must admit, I do become a bit curious. Maybe the timing and all. That's what happened with this particular book too. And thankfully, its been quite an interesting read - so, no regrets!
The cover of the book actually gives a grey haunted feeling, with a lone man walking by a lonely lane, with tall silhouetted trees on both the sides. Maybe because even the main character goes through an intriguing time in the book, the cover somewhat justifies it. And you do find the actual meaning of the cover, as you complete reading the story and it does fit so well.
I'm glad the book out-ran my expectations, unlike its claim that 'you can't outrun fate', because it didn't turn out to be a dull, boring political book which I had expected at first. The story was completely unexpected and took me by surprise, with loads of twists, turns, thrills and suspense in it - making it a totally engrossing read.
Well described and vivid, the plot is exceptional and you get drawn into a very complex world that is sketched
( tense, sexual-love+lust, politics, drama, thrill, psychological and what not! )
along with its main protagonist Siddhartha Tagore - whose journey from the hallowed halls of Havard to Delhi's hot seat
( i.e PMO's residence )
is covered. And set in between 80's till 2017 is essentially what the book is all about - his journey. Yes, there's a lot of prediction, speculation going on how Indian politics will be in near future
( it delves into the idea of a Vedic India too )
. The character of Siddhartha is quite fascinating - he is both weird as well as a genius at the same time, pretty smart and unpredictable as well. That he is a musician too, makes me an instant fan of his
( just kidding )
. He can make you feel his emotions throughout the book; and that's quite applaudable on the part of the author, to make his character so convincing that you actually get so involved with the characters you are reading. In fact all the characters
( Ruby/Rubaya, Karisma, Gregory/Greg, Rukmani Devi, Thor, and Akbar etc few others )
are very relatable and grows on you. I was instantly drawn in and kept flipping the pages as to what happens next, as the story paced ahead. The story goes back and forth between the past and future, so better get your seat-belts on. I totally loved the climax. If you want a peek into the mind-boggling world of politics, and have a thrilling roller coaster ride, you wouldn't wanna miss this book.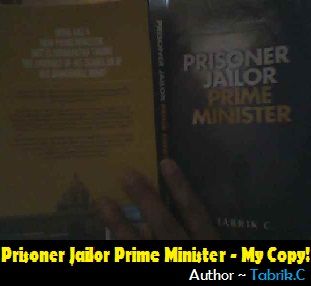 Positives :
A very relevant story in the current scenario, narrated well, and written in an easy smooth flowing language. A page-turner, it grips you and keeps you hooked till its last page. For a debut, the author has done a remarkable job.
Negatives :
None! except certain gaps here and there in the book, that had me wondering for a while.
Who will enjoy this? -
Everyone!
Buy or Don't Buy? –
A Must Buy!
About the Author :
Tabrik C. is a political enthusiast, entrepreneur and perfumer. Prisoner, Jailor, Prime Minister is his first book. A graduate in History, he enjoys observing and debating the fate of political figures and the nations that believe in them. "The BJP is controlled by the RSS, while Congress is run by a single family. The coming Government, whoever finds it, will be that of a Vedic democracy," says Tabrik.
Our Rating Scale is : 1 to 5 = ◕◕◕ - I liked it!
---