Photo Travelogue :
Read first part -
Here
!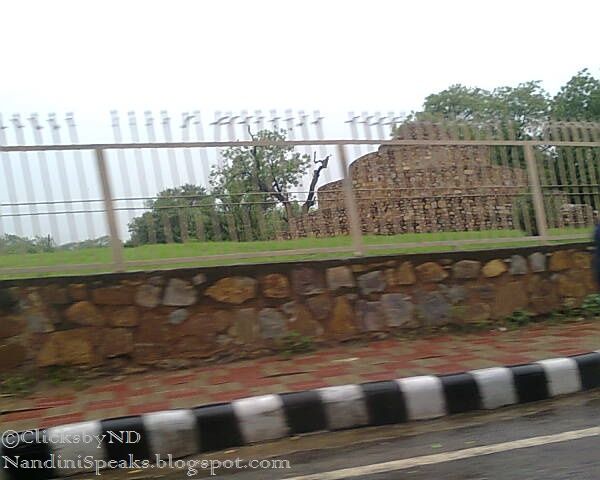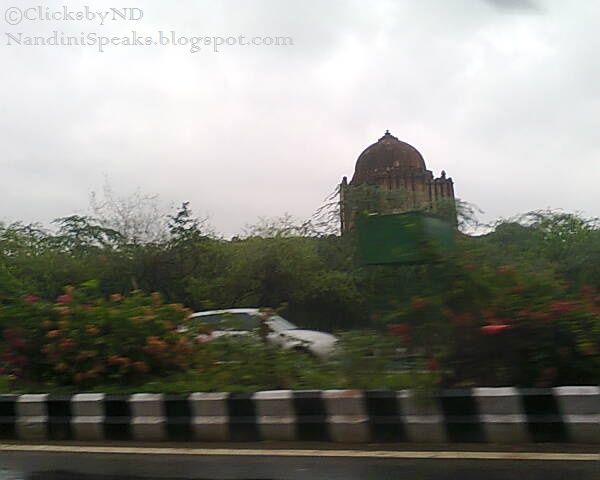 We got out of the Qutab Minar site; but on asking around, no body seemed to know where exactly the Jamali Kamali Tombs were located. We saw a small road that went straight past the Qutab Complex, and someone suggested to take that road. But since, we were not sure, we went everywhere but there. As per my research, the tombs were behind or near the Qutab Minar, so, we decided to ask a few more locals. Even the people who sold us the tickets for Qutab Minar didn't have any idea, go figure that. And then, as fate would have it, we met a person who was going exactly there. He was chatting with a guard whom we were enquiring about the place. He hopped into our auto. However, since we were in the wrong lane, we had to take a huge u-turn
( no road dividers you see )
, so, had to go to the end of the busy road, before coming all the way back, and yes, to the same road which we were hesitating to take earlier. The man who was accompanying us, told he worked there and pointed at a black iron-gate on the left to take.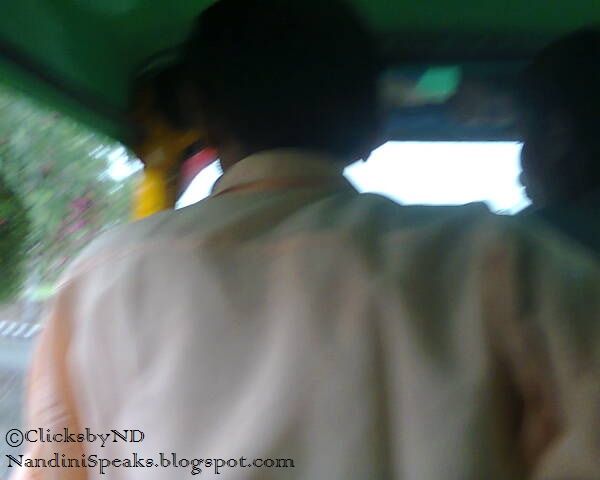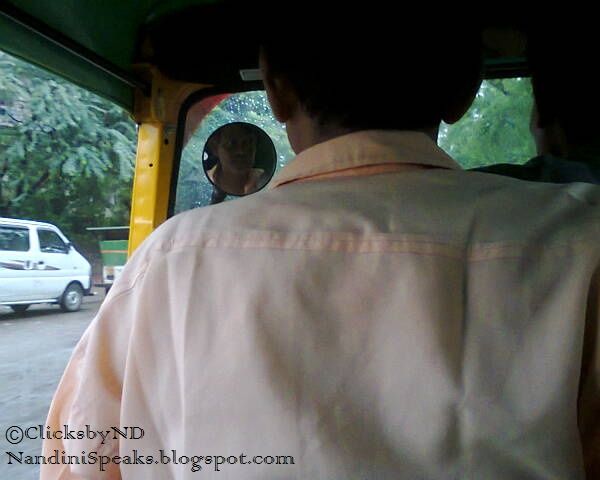 the ASI man who took us there.
He kept passing glances at me ( in the mirror ), seeing me travelling all alone.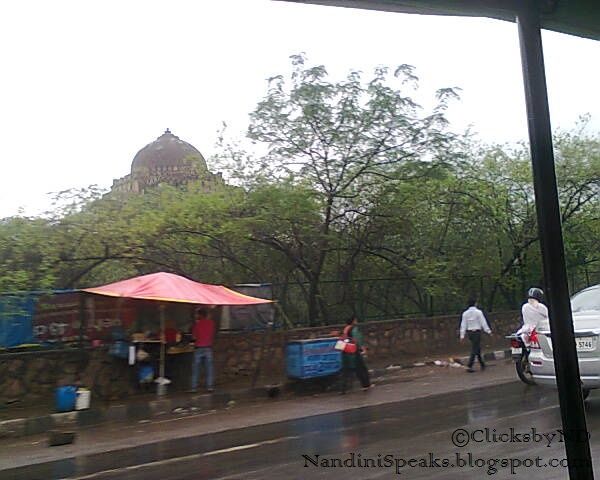 Till now, I have traveled over a dozen most-haunted locations in India, but Jamali Kamali was my 2nd that time. So, I was pretty excited, nervous, scared too as well as feeling brave. A mixed bundle of emotions,
really
:D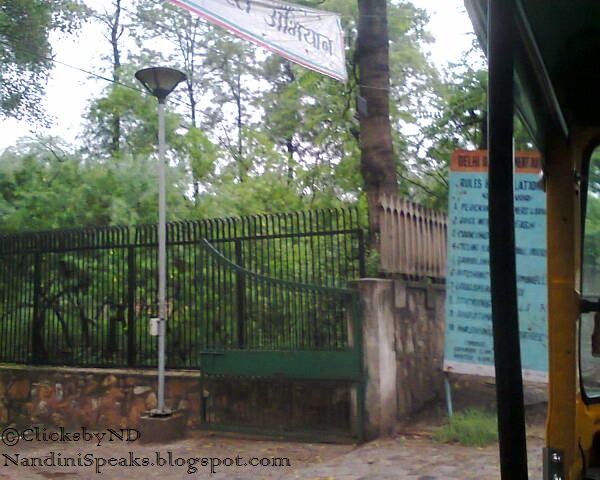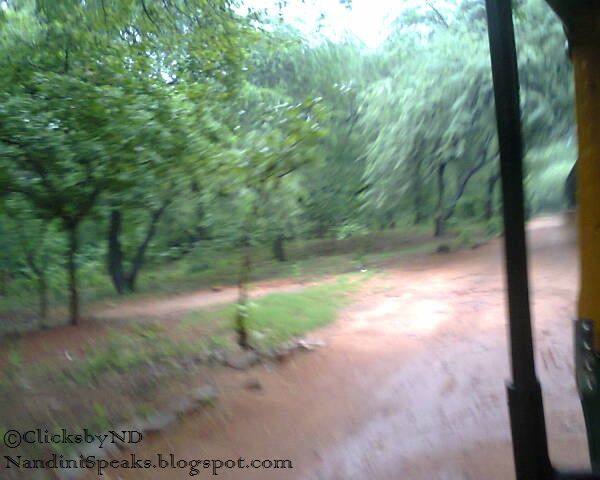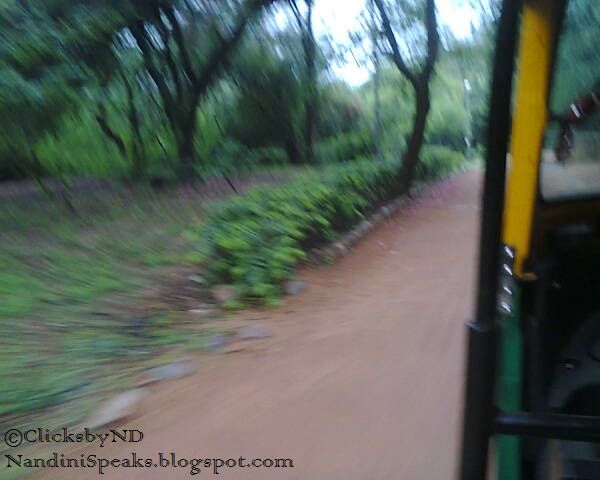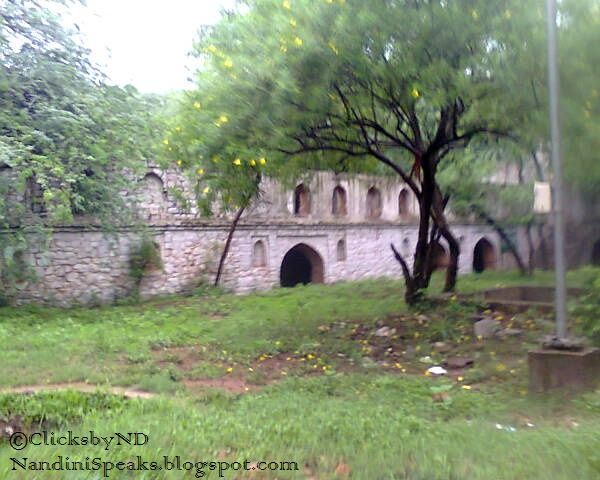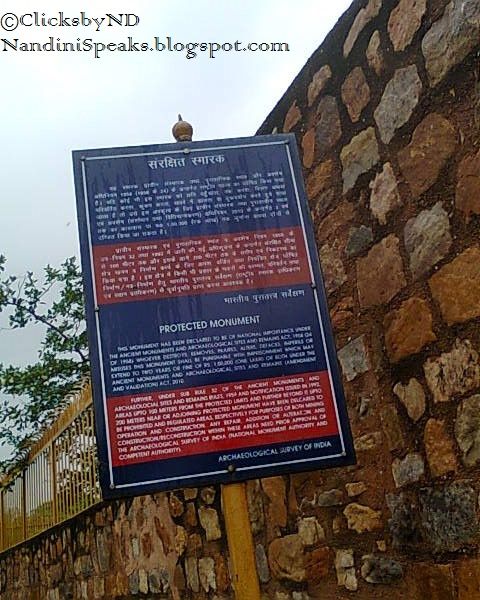 Once you enter the gate, wind comes to a complete stand-still. Its quite unnerving how
isolated
you suddenly feel, given that, there was roaring traffic outside the black gate just a few moments ago. All sounds seem to disappear. We went deep inside, and I must say, my hairs went straight up on my neck. The whole atmosphere becomes bit spooky. Its like a forest for few metres, then after a quick turn we see the gates to the grand Mosque. I had heard that the mosque was an abode to Djinns, but instead, found one watch-man sharing his tiffin with another man
( staff perhaps )
. And they recognised the man who took us there as well, and everyone got chatting.
the Mosque...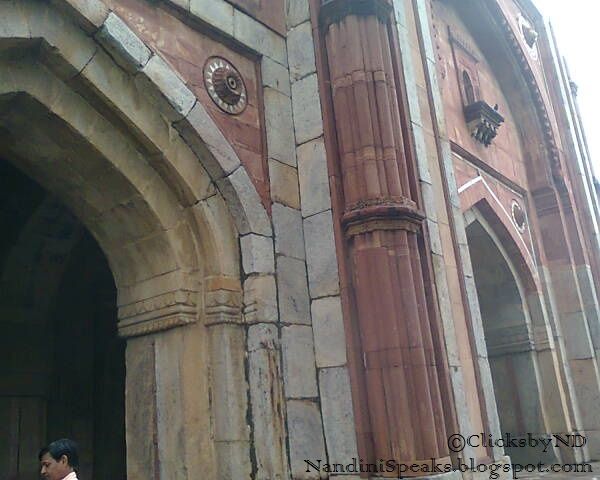 We were given a tour of the complex, which definitely needs little maintenance. One of the most earliest mosques ever built in India, it is built in red sandstone with marble embellishments. The prayer hall has five arches with the central arch only having a dome. There's a large courtyard in the front. However, no prayers are held in this mosques as it is classified under the category of "non-living heritage structures".
( The fakirs call upon Jinns on every Thursday as the place is believed to be haunted. People have noted to have been slapped by invisible forces and have heard various voices coming from adjoining graves )
. I did ask the ASI man who gave the tour, about the rumours that I had heard. He gave me a strange look before saying, "Humare parents bhi yaha barson se kaam karte the. Hum log bachpan se yaha khelke bade huwe hai. Sab afwa hai, kuch sachai nahi hai in baaton ka...log bas internet mei stories phaila ke rakhe hai. Kuch nahi hai yaha."
Well, I'm not sure if thats the entire truth, because, the way he looked at me told me a different story, so did the spook feeling that accompanied me back home.
Encountering #Spook at #JamaliKamali got 2 b one of my best #DelhiInSpotlight moments!#travelblogger #ttot #lp #trip pic.twitter.com/iQ3pBR0zUA

— ☆ ♪ NandiniDéka ♫ ♡ (@NandiniDeka) November 23, 2015
the Tombs...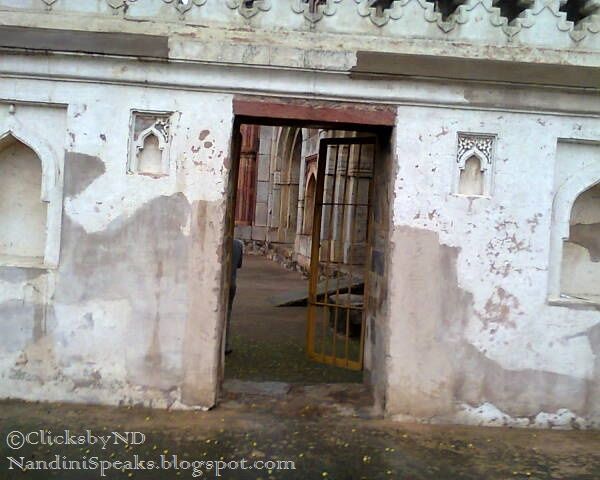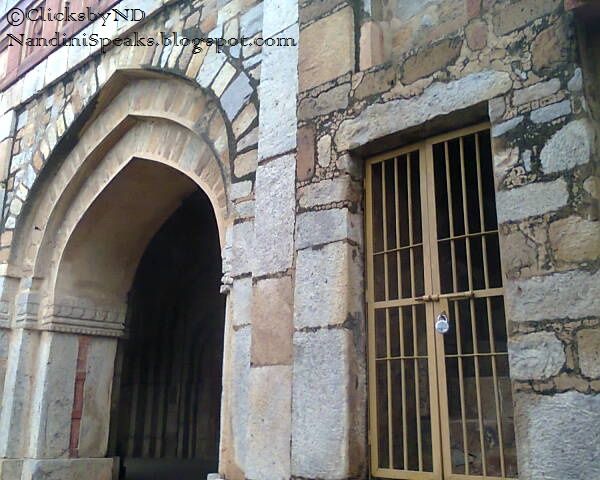 He then, took us to the tombs area
( which is normally locked - he had the keys )
, where the renowned sufi saint Jamali
( Shaikh Fazlu'llah/Shaikh Jamali Kamboh or Jalal Khan )
is buried along side his companion Kamali. Their's is an interesting story.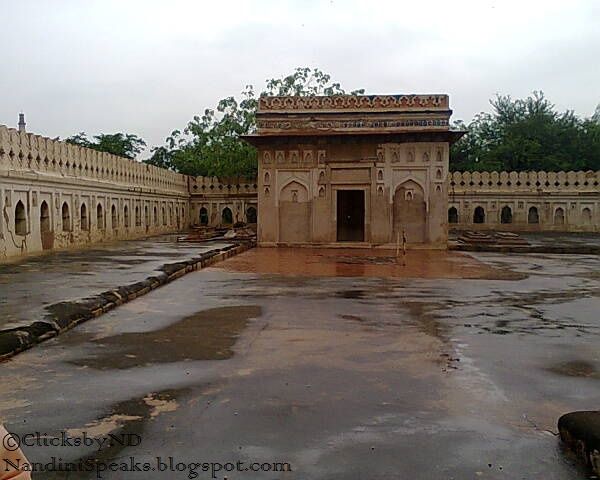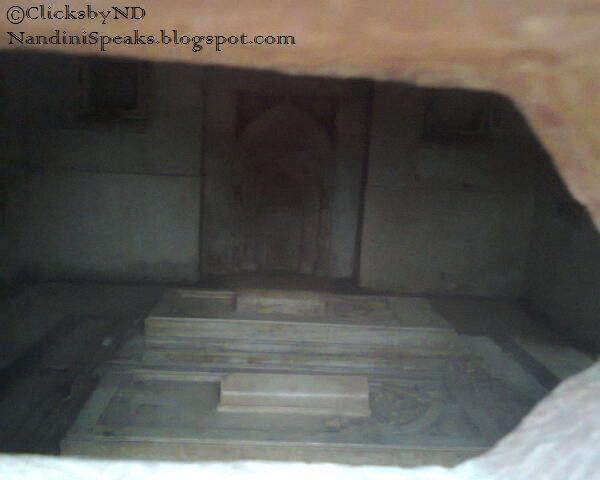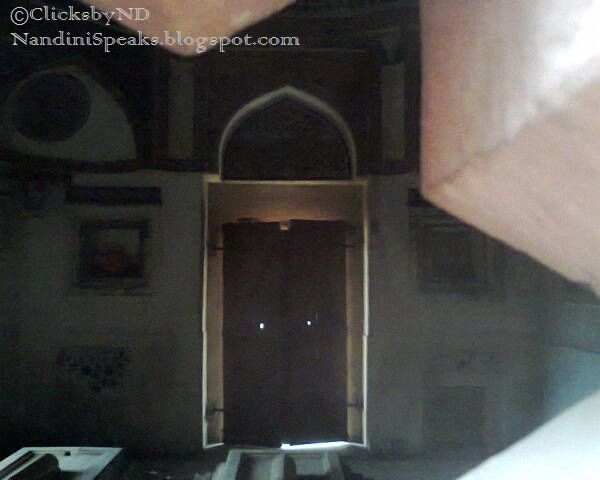 peeking inside... There's beautiful carvings on the ceiling, bedazzled with gems & stones ( like a jewel box )
The ceiling is painted in red and blue with some Koranic inscriptions, and the walls are adorned with inlaid coloured tiles inscribed with Jamali's poems.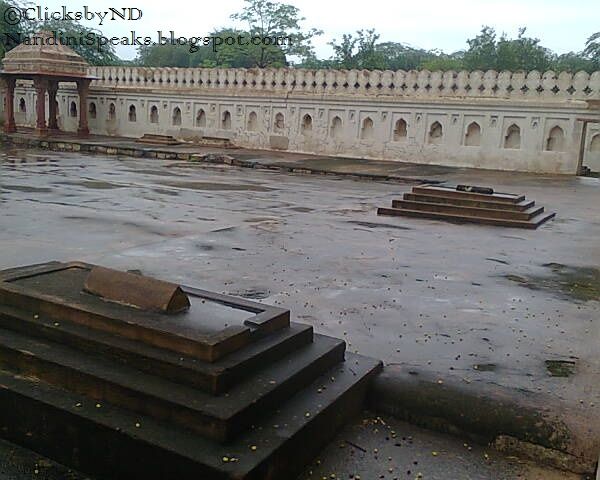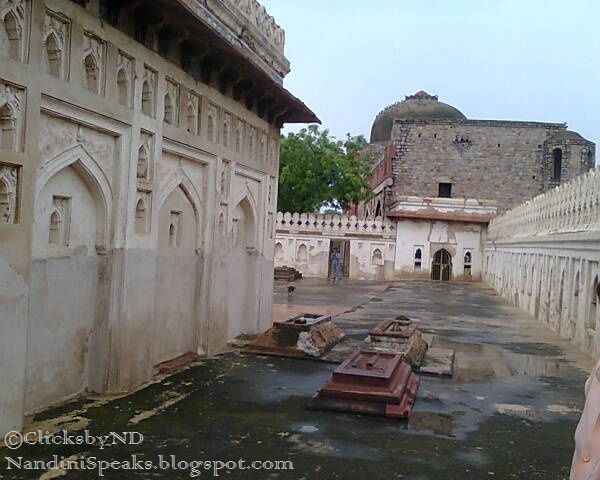 watch your foot, the places is littered with graves all around.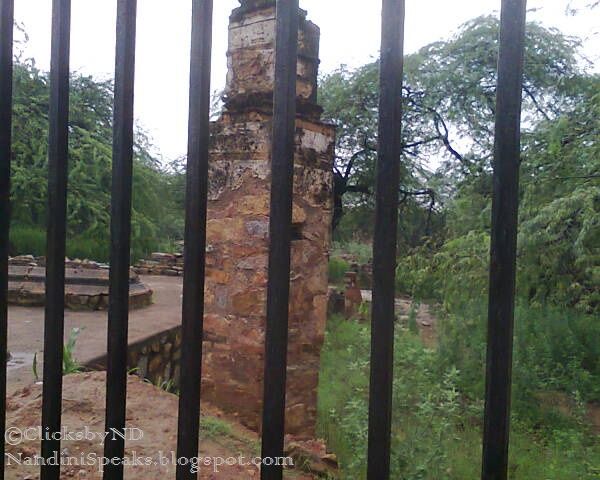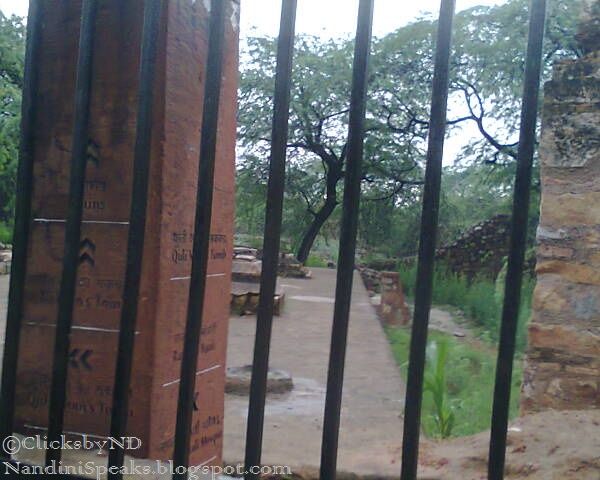 graves outside...infact, there's one area outside the mosque complex that has countless graves.

BTW, this is interesting...recognize the film?

Jamali Kamali Mosque and Tomb, located in the Archaeological Village complex in Mehrauli, Delhi, India, comprise two monuments adjacent to each other; one is the mosque and the other is the tomb of two persons with the names Jamali and Kamali. The mosque and the tomb were constructed in 1528-1529, and Jamali was buried in the tomb after his death in 1535 ( wiki )
Address : Mehrauli Archeological Park Trail, Christian Colony, Mehrauli
Read next part - Here! Stay tuned for all my road, rail, flight, cruise & walk trips.
( Images - ©Mine. All rights reserved. )
Our Rating Scale is : 1 to 5 = ◕◕◕◕◕ - It was Awesome!
---