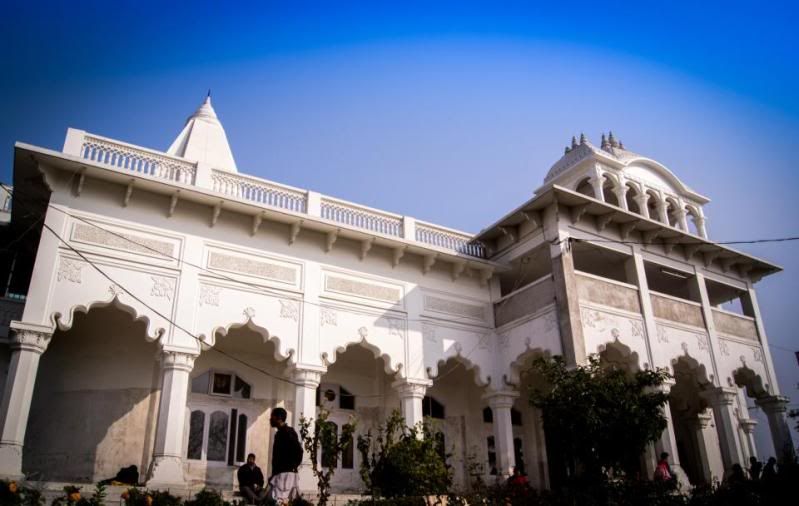 Located at the heart of the city, 2 Kms from the main Railway station, perched up in a small hillock with soft, scenic and soothing surroundings and abundance of greenery, is the beautiful ISKCON temple in Guwahati, Assam. Over the years it has become one of the most important landmarks of the city and a must visit tourist destination if you are in Guwahati.
Iskcon was first established by Srila Prabhupada ( who has also written his own version of the Bhagwad Gita that is specially taught at Iskcon ) and has a global presence with its temples and spiritual centres scattered all across various countries in the 7 continents.
The Iskcon temple in Guwahati is approachable by two routes. One is a short cut, right off from the main G.S.Road and the other being the South Sarania route which is essentially a residential area. Once you reach up there, you can see the city below which is truly an enchanting sight.
The structure of the temple is stark white with elegant steps and marble flooring. And inside is the beautiful idol of Sri.Krsna ( with a flute in his hands ) with his wife Rukmini both dressed in beautiful attires and adorned in lovely precious jewels. While most of the other Krishna temples in India glorify 'Radha', Iskcon is one unique temple which specifically promotes the 'Rukmini-Krsna' symbol, with Rukmini being his wife and the God's name spelt as KRSNA.
I'm not really religious kind of person, however having observed the Iskcon from close quarters it does mesmerizes me seeing the faith of the devotees who throng the place. People of other faiths also visit this place often. Everyone is welcome in its abode.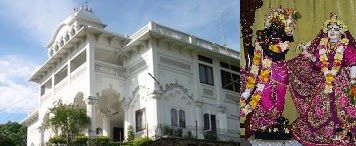 Sri.Krsna Janmashtami ( around early-mid August every year ) is the time when the temple really parties, quite literally so! With lots of programes and competitions held throughout the 1 whole week ( from early morning to late evening every day ), it is an event not to be missed. That is one time when the streets near the temple is filled with vendors/hawkers and becomes a mini-mela of sorts. With constant heavy traffic it also becomes a high security zone during that time with several big VIPS and dignitaries making an appearance.
On other days too, it conducts a wide range of programes which comprises of Arti, Chanting, Bhajans, Dancing and several other discourses on Bhagawad Gita and other philosophies including Personality development, stress management etc which anyone seeking spirituality or knowledge will highly treasure and of course the mid-day meal ( 1.30pm ) Mahaprasadam being its great attraction.
It has a small souvenir shop within the temple premises, where visitors can buy Iskcon related badges, tulsi malas or chanting beads/rosaries, bhajan CDS, books, apparels etc )
Iskcon also has guest house accommodation arrangements for the overnight travellers ( For Guest House booking #2464645. For alternate home-stay booking drop in a message via the 'Contact' page above ).
Anyone can visit the Iskcon temple, however due to its location on a hill top and having a flight of steps to climb, older people in general as well as those having physical disabilities may find it difficult to go right up to the temple premises.



The Iskcon way of Life : One unique thing I have noticed is that, if you become a Iskcon disciple ( anyone can become a disciple ) you'll be automatically given a new surname, "Das" ( "Dasi" for females ). It is a derived from the Sanskrit word Dasa (Sanskrit: दास) meaning servant of God, "devotee," or "votary.
Not surprising that, all of the Iskcon monks have this unique surname after their names ( they have to forgo their original surname ). They have to be strictly vegetarian and also have to put an elaborate sandal wood motive on their forhead and wear their own unique yellow/orange Iskcon robes along with a hand pounch that carries the chanting beads! Incidently, unlike monks of other religions, Iskcon monks are allowed to marry. However, once married they can only wear the white Iskcon attire.
The Iskcon monks start as early as 4am with their daily bhajans etc and from time to time they go around the locality to the houses nearby and sing holy songs to cleanse the house and spread positivity.
Of course, one can also become a member without necessarily becoming a disciple. Members have to deposit a certain fee if they want to avail discounts at the various Iskcon locations around the world.

The Iskcon has its own special bus that moves around the city and parks itself in various places or corners selling Iskcon stuff. It also keeps donation boxes in majority of the city shops ( with the understanding of the shop owners ) and comes to collect regularly when the boxes gets filled.

Full Address of Iskcon@Guwahati is : Sri Sri Rukmini Krishna Temple, Mount Hare Krishna, South Sarania, Ulubari Chariali ,Guwahati (ASSAM) - 781007 | India ( View Maps )

Our Rating Scale is : 1 to 5 = ◕◕◕◕◕ - It was Awesome!
( Images Courtesy : Google )
---