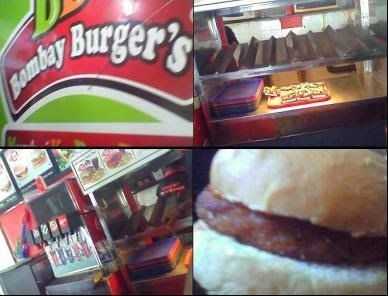 I admire these guys.Really I do!
Being a big time foodie I have an insatiable passion for food. And this passion makes me go crazy restaurant and fast food joints hunting and scanning all the time. Till recently, I've been a loyal fan to Mc.Donalds with their Mc.Grill Chicken & Mc.Spicy being my undisputed favourites. I must've eaten hundreds of them by now, as delicious as they are. Until I discovered this new kid on the block and decided to dump the old Mc.Donalds for good. Yeah! Its the Bombay Burgers ( BB as I call them ). And I simply love them!
So, move over the Mc.Donalds and the KFCs 'cos the BBs is here. Why do I love them so much?
Cos' Firstly they are simply Desi! Yo! Its the tasty Indian burger ( apna desi kamaal no foreign maal ).
Secondly, they have bravely named it as the Bombay Burger! I simply love them for it because till now they have not succumbed and given in to thackrey's regional politics demand of re-naming everything as Mumbai. They have so far retained the old gigantic name of 'Bombay'! So my salute to them. I've always loved the name Bombay because it has always been Bombay city for me ( it still is ) from the time I was born. I grew up loving Bombay so if someone suddenly changes it to Mumbai would I readily accept? Hell!No!!! So,thank you Bombay Burgers for naming it as the 'Bombay' first - the name that really gave the city its identity over last few centuries. To hell with opportunistic regional politics and their politicians who brainwashes gullible minds by playing with emotions of people just to serve their own selfish motives and to garner votes.
Although below the big 'Bombay Burgers' tag they have smartly added another tag in small,'Mumbai ka best burger'. Still having the guts to use name 'Bombay' boldly is certainly praiseworthy and more so if the brand/company is owned by a marathi ( not verified yet )
Thirdly, the food! Simply yummy. Infact, having thoroughly scanned and tasted both the menus at Mc.Donalds as well as at KFC's at great lengths, I can safely say that Bombay Burgers tastes the yummiest of them all! The chicken drumsticks and strips being my hot favourite, not to mention the crowds love it too. The place is always crowded and very popular.
Fourthly, what makes Bombay Burgers the best from its contemporaries is the prices listed on its menu. The price is decidedly by far the most reasonable which makes the burger or drumstick so much more attractive to the customer. If a chicken burger cost me 50+bucks at the Macs and the same thing comes at half the price at BBs, which would I prefer? BBs of course without a shred of doubt. The veg burger starts at 15bucks which is yummy, both on the mouth as well as on the pocket. So one would definitely choose BBs over the pricey Mac's that comes in double that price. So its BBs all the way as they happily send their burgers flying off the shelf only next to the speed of light ( pun intended )
So, it is only BB for me. Hats off to the desis! I have made my choice,have you?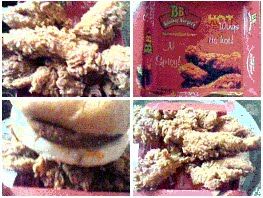 Note : BBs have not paid ND for this review. It's purely ND's addiction to the delicious mouthwatering BB's drumsticks that have prompted her to write this piece.
UPDATE : The restaurant has shifted to a smaller unit, near it previous location - but the taste is as awesome as before :-)
Our Rating Scale is : 1 to 5 = ◕◕◕◕ - I really liked it!
For restaurant/hotel reviews use 'Contact Us' page above to drop an email with details.
---