Title :
CHANAKYA'S NEW MANIFESTO
Language :
English
Author :
Pavan K Varma
Genre :
Non-Fiction
Publisher :
Aleph Book Company ( 2013 )
ISBN-13 :
9789382277095
ISBN-10 :
9382277099
Binding :
Paperback
Price :
Rs. 295 (
Buy from Flipkart.com
for Rs.99/- ( 66% Off )
Pages : 248
The Book Summary :
Chanakya (c. 270-380 BCE) was classical India's greatest thinker and teacher. Through his unparalleled ability to devise result-oriented military, political, and administrative strategy, he overthrew one king, crowned another and paved the way for the establishment of India's first great empire. His seminal work, the Arthashashtra, arguably the world's first comprehensive treatise on statecraft and governance, was written approximately two thousand years before Machiavelli's The Prince.
What would Chanakya do if confronted with the various crises that beset contemporary India? Using this question as the starting point for his new book, celebrated writer and thinker Pavan K. Varma has drawn up a practical and detailed plan, modelled on the Arthashashtra, to bring about reform and change in five key areas that require urgent attention governance, democracy, corruption, security, and the building of an inclusive society. Whether it is laying the foundation for an independent and effective Lokpal, or decriminalizing politics and successfully weeding out the corrupt, the solutions he proposes are substantive, well within the constitutional framework, and can make all the difference between intent and action.
Chanakya's New Manifesto is both a call to action as well as a deeply insightful account of the challenges facing the country today. It is a book that should be attentively read by everybody with a stake in India's future.
My Point of View ( P.O.V ) :
When I first got the book in my hands I was quite elated. Here was a no-nonsense, non-fiction, hard-hitting kinda book that not just categorically states out all the shortcomings and flaws facing this great country India at present times boldly, all thanks to the unscrupulous corrupt politicians over the decades that have eaten away into the system and made it so rotten, but also provides a comprehensive and realistic agenda - a blueprint ( as the author calls is ) to eventually come out of the mess and re-contruct the country. The book speaks positively for a better India with practical step-by-step solutions for a definite change.
The book
CHANAKYA'S NEW MANIFESTO : To Resolve Crisis Within India
takes us back briefly into the era when India was at its glorious and prosperous best thanks to the shrewd political guru of those times 'Chanakya' ( the author of Arthashashtra which is a renowed treatise on governance, strategy and statecraft ) who single handedly changed the entire political and economic scenario by guiding ChandraGupta Maurya and thus influenced the foundation and eventual expansion of the mighty Maurya Empire.
Likewise, here in this book, the author while trying to draw inspiration from the past, seeks the same advice from the political mastermind and classical India's greatest thinker Chanakya to bring that lost glory back. India of that time was more vibrant, more gutsy and capable of new ideas and innovative thoughts, hence the author seeks the same in present day India as well. The book dwells on how Chanakya would have dealt with issues such as LokPal or decriminalizing of politics that exists staying within the parameters of our constitution in an all inclusive democratic format and instal a sense of security to all Indians which is currently a major concern.
The serious thinking and concerned author has outlined in the voice of Chanakya, several guidelines for creating a New India. Such as, all major coalitions should publicly announce a common governance agenda before the elections of what they would deliver to the public within a specific time frame of comming to power. He has also recommended setting up an independent 5 member committee ( from distinguished, qualified backgrounds of different fields ) that will monitor the governance and performance of the ruling party and submit an annual report to the President.
The author blatantly asks the politicians to stop looking blindly towards the west,and instead maintain a cohesive balanced policy by accepting western concepts infused with the essense of Chanakya. The author also hits out at the current acceptance of dynastic politics terming it as a very dangerous and 'cancerous' type democracy. Anybody who truely believes in democracy, he says, should be appalled at such behaviour and practice of promoting their progenies to succeed them.Political succession should be by merit, experience and not merely by birth.
There are certain key areas to be concentrated on - which have been described in details by the author to fully eradicate corruption.
'Dandyaniti' ( originally endorsed by Chanakya ) needs to be established in the society – i.e suitable punishments in accordance to gravity of the crimes, be it small or big to keep the inviolable connection between crime and punishment intact!
Finally, an important point he stresses upon is that, the nation must rise above narrow partisanship to come together collectively and meet the challenges.
This is a one-of a-kind book that should be read attentively by everybody ( including all the politicians ) and can also be refered to as an academic guidebook.
I'd rate the book 4 out of 5 stars.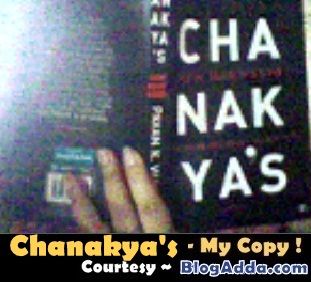 Positives :
Written in a very simple, lucid and easy manner mainly targetting the young readers ( who believe in redressal and redemption ) to bring them closer to the real functioning of the country and join in the massive clean-up operation against the accumulated rot.
Negatives :
None!
Who will enjoy this? -
Everyone.
Buy or Don't Buy? –
A Must Buy especially if you want the change!
About the Author :
Pavan K. Varma, a writer-diplomat, studied history at St. Stephen's College, Delhi and took a degree in law from Delhi University. As a member of the Indian Foreign Service he has held many key positions in the Government of India.He has been press secretary to the president of India, official spokesman of the Foreign Office, director general of the Indian Council for Cultural Relations and currently, he is India's Ambassador to Bhutan.Having taken premature retirement from the Indian Foreign Service, he now seeks to be actively involved in public life. He has written over a dozen books including The Book of Krishna, Krishna: The Playful Divine, Ghalib: The Man, The Times and the Havelis of Old Delhi, The Great Indian Middle Class, Being Indian - The Truth about Why the 21st Century Will Be India's and Mansions at Dusk: The Havelis of Old Delhi.He has also translated Gulzar (Selected Poems), Kaifi Azmi (Selected Poems), and Atal Bihari Vajpayee (21 Poems) into English. His latest book is Becoming Indian: The Unfinished Revolution of Culture and Identity.
"We have become intellectually inert. Ideas are orphans and books are destitutes till people read them. My book presents a blueprint for possible change," Varma says. ( www.pavankvarma.com )
Our Rating Scale is : 1 to 5 = ◕◕◕◕ - I really liked it!
---