I'm bit late in writing this post. But then, its better late than never, right? Moreover, its about a very interesting event I attended recently; so, just couldn't skip it now, could I? First however, let me confess here - I'm a very basic person - a wild-child totally :D
( ok..ok a wild-woman, duh )
! I live on my own whims, so, table manners and etiquette are things totally alien to me. I've always believed those are artificial baggages men has dumped upon themselves, just so to look advanced in the society. How I eat my food is my business after all. And I'll choose the most comfortable way possible. For me, Indian way is always the best :-) Our fingers are the natural 'fork' God has gifted us with and our palms ~ the perfect 'spoon' to scoop things up. So, why get entangled in unnecessary metallic tools that we called cutlery and waste our resources?
Even though my thoughts are that rustic, another side of my brain urges me to learn new things. What do I have to lose anyways, it pokes at my brain-cells. After all, when dining in groups or at very high-level gathering we can't afford to look like apes just out of the jungle now, can we or we can't have our food flying either, into someone's else's plate or head for the lack of proper knowledge on dining etiquette!! That would be really embarrassing, trust me. So, let me just check out what the rest of the advanced humanity has invented now, I thought. If I like it I'll adopt it, else, I'll go my own old-ways. So, with that resolve I made my way to the venue.
The Venue...HAKKASAN!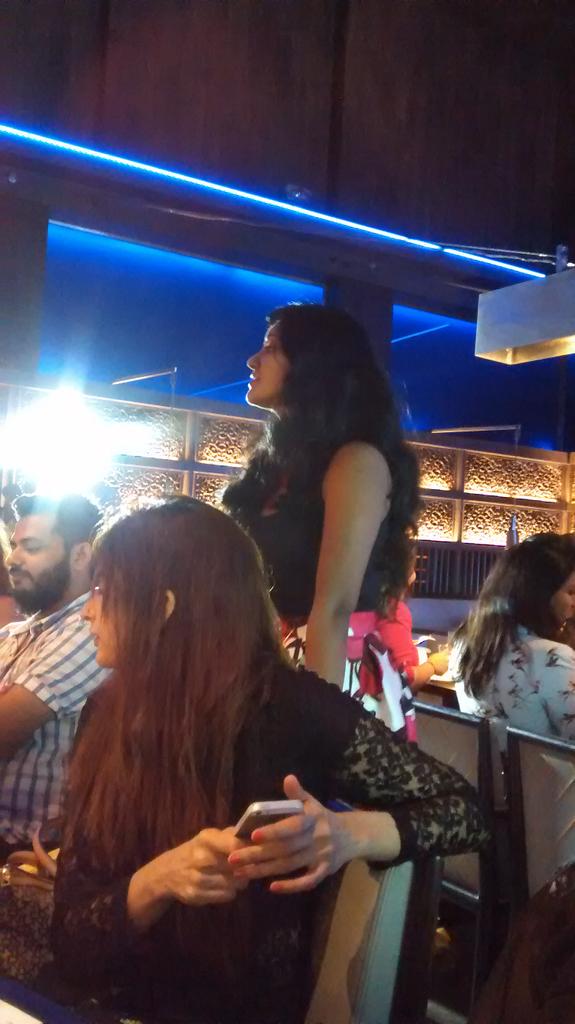 Filled with hordes of beautiful bloggers...

The Fine Dining Workshop...


bit.ly/1CqC3bk
The meet was organized superbly by
FeminaBelieve
, who left no stone unturned to make this day a memorable one for the bloggers. Right from entering the venue, there was FUN written all over. Be it, being treated to some cool and relaxing Sangrias or clicking selfies galore at the Photo Booth with a variety of props; the event got on to a great start with the Etiquette expert
Greeshma Thampi
taking over and guiding us through some dining-table techniques from all over the world. Yes, there are different etiquettes followed in different parts of the world. In USA, for example, one is expected to pay their own part - a separate individual bill is given to all; while the Dutch
( known for their stinginess )
simply splits the bill into two - you pay, I pay kinda; whereas, the French may not go either way at all - only one person will pay for the whole meal. And the Japanese may even take offence if 'tips' are given, while its alright to do so in the west. Then, there's all the table-layout procedure as well which is very complex yet interesting
( if we get it right, that is )
.
A BMW technique of left-to-right arrangement of the cutlery is applied
( see pic )
.
B
read kinda stuff is on the left, the
M
ain course in the middle and
W
ater or any other liquid is on the right. For the full guide head over to FeminaBelieve.com website.
Well, that was not all. The invite to this event was titled - '
If Chopstick Baffles you, this is a Brunch you cannot miss.
' So, Chopsticks were indeed an integral part of the whole set up. And we learnt how to use it too, with our expert scrutinizing at every table to check if we got it right. To test what we learnt, we even had a chopstick-contest, wherein, we had to pick peanuts with the chop-sticks. Whoa! Can you imagine that. While the winners picked over 50, with 17, I guess we were pretty good too. In all of these, we tasted some amazing Cantonese cuisine hosted by Hakkasan which I'll review in details in my next
post
.
The PR...
Femina Believe Personality Development Workshops conducts short intensive workshops in a variety of subjects. Unrivalled curriculum, best in class Femina Believe trainers, warm and conducive learning environment make these workshops a unique learning experience. Femina Believe launches a selection of short thorough workshops in subjects like:
Makeup | Styling | Dining etiquette | Communication skills & body language.
Femina Believe workshops are currently conducted in Mumbai, Pune and Delhi NCR.
( Images - FeminaBelieve hashtag & ©Mine. All Rights Reserved )
---