A Travelogue :
My Romance with Bombay's Marine Drive started over 20 years ago when I was a school kid on vacation. I had come down all the way from Assam ( a landlocked state ) and was really amazed to see a place surrounded by sea. Though the waves roared at high tide smashing across the rocks mercilessly, seeing the view was extremely and unbelievably peaceful for my mind. I could keep watching those waves forever and I knew instantly that, this was where I wanted to be for the rest of my life. Near the Seas...
In fact, I can clearly state here that Marine Drive was one of the prime reasons why I lingered on in Bombay for so many years and still love it so much. ( Of course Juhu Beach, Worli Sea Face and Bandra Bandstand also played a major role in deciding my mind - since I love the sea , but Marine Drive rules the roost )
I am in love with the sea, and for a person who had only seen hills all around in her native place during her childhood, marine drive was a respite of sorts, a welcome bliss.
I've been there many times with friends and family but to be honest whenever I've been there alone was when I enjoyed it the most. When you are with others you are constantly distracted with a lot of things, but when you sit alone on its elevated sidewalk, facing the sea and taking in the breeze, it is simply magic. I forget all my worries, infact I forget everything and my head becomes so light. I simply love that feeling.
This 4.3-kilometre-long C- shaped posh boulevard tranforms into a sparkling necklace when it gets dark. That is a sight not to be missed. And when it is Diwali or any other festival/events, the skies around the marine drive gets illuminated with fireworks with their enchanting reflections falling on the sea making it a breathtakingly mesmerising sight.
Honestly speaking no amount of photographs or videos are good enough to give it full justice. It is a place to be visited to be really experienced.
Located at South Bombay( Mumbai ), Marine Drive is a bit far from the Bombay Airport ( 1-2 hours drive depending on traffic ), however its just 5 minutes walk from Churchgate station and quite near V.T station too ( 15 minutes ).
:: SOME AMAZING IMAGES I CLICKED ::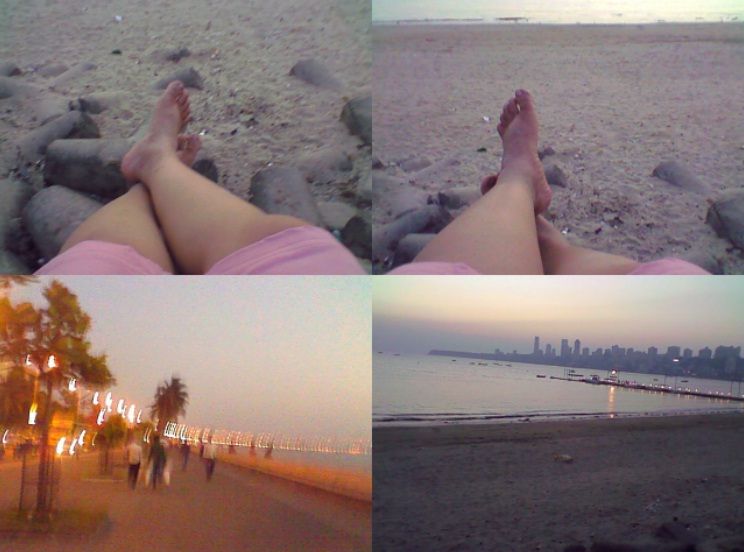 :: SOME AMAZING IMAGES I GOOGLED ::
:: WATCH AMAZING VIDEO OF MARINE DRIVE ::
Our Rating Scale is : 1 to 5 = ◕◕◕◕◕ - It was Amazing!
---