Located at the heart of the posh, corporate junction of Bandra-Kurla Complex, the restaurant 'Otto Infinito' stands tall and elegant, bringing the Mediterranean flavours from far across 4000 miles right to the Indian shores and into our plates.
Otto Infinito – 8 to the power of infinity - i.e Capturing the infinite range of the Mediterranean from morning 8 a.m. onwards.
THE DECOR - INTERIORS | EXTERIORS
The restaurant greets you with green palm trees as you enter which immediately reminds you of the charm of faraway mediterranean region. It is quite classy and looks very relaxed and welcoming. It is spacious inside with generous seating arrangements for the casual eaters, family or even those who like privacy in the different sections of the restaurants and decorated aptly to suit the various moods.
It also has a breezy seating arrangement outside, perfect for the grills and barbeque. I liked the pleasant light yellow mustard coloured surroundings with carefully chosen marble floorings and tiles.
Otto Infinito is a unit of KA Hospitality that aims at bringing to India world class restaurants, serving authentic cuisine. It truely lives up to its claims.
THE FOOD | THE DRINKS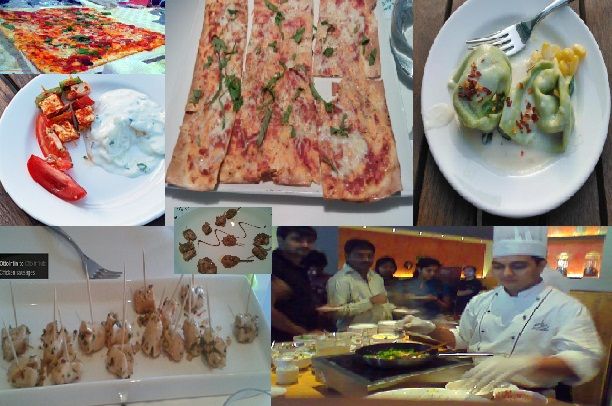 I was there for an event hence could taste only a limited set of menu. The chef of the restaurant rightly said that what they had served us was just a tiny fraction of what they really have to offer from around 8+ mediterranean countries. And that aint small by any means.
The pizza and chicken sausages/mishak starters were fabulous coupled with some wide variety of drinks e.g Flavoured pink pomegranate lemonades,Bergamot Cooler and Morrocan iced tea. ( They even have the alchoholic beaverages too, a variety of delicious desserts and a wide range of bread spreads to choose from as well. The food they serve keep changing from morning till night, however keeping its mediterranean theme intact! )
The Tortelleni counter right at the centre of the restaurant is the highlight of the place where the chef literally cooks in front of you and serves their yummy green and pink stuffed pastas and other delicacies. In the barbeque outside they serve some yummy paneer & tomato grills with exotic sauces.
With a friendly and eager to serve crew, your time spent at the Otto Infinito is guaranteed to be a pleasant and value for money one. I'll definately visit it again.
For More info visit :
www.ottoinfinito.com
UPDATE - The restaurant has recently revamped itself into Otto Cafe!
Our Rating Scale is : 1 to 5 = ◕◕◕◕◕ - It was Awesome!
For restaurant/hotel reviews use 'Contact Us' page above to drop an email with details.
( Images Courtesy : Me & IB )
---