Title :
RIP
Language :
English
Author :
Mukul Deva
Genre :
Fiction
Publisher :
Westland Ltd (2012)
ISBN :
9789382618195
Binding :
Paperback
Price :
Rs. 200 (
Buy from Flipkart.com
for Rs.128 ( 36% Off )
Pages : 286
The Book Summary :
India's literary storm trooper, Mukul Deva delivers yet another pulse-pounding, crackerjack of a thriller. Tethered on the edge of reality, RIP will keep you turning pages late into the night. R.I.P. The Resurgent Indian Patriots. Self- appointed guardians of a nation seething with anger at the endless scams and scandals rocking its very foundation. Vigilantes who vow to stop corrupt politicians and colluding civil servants. Even if it means killing them. Colonel Krishna Athawale and his team of Special Forces officers rally to protect the country from the enemy within. They call themselves the K-Team. And no one is safe from their deadly intent. Hellbent on stopping them is Raghav Bhagat, rogue para commando, gun for hire and Krishnas bete noir. Caught in the crossfire is Vinod Bedi, Special Director CBI. Reena Bhagat, a glamorous news anchor, embittered by her husbands betrayal. And two young boys, Sachin and Azaan, torn apart by the loss of a parent. It doesnt get bigger.
My Point of View ( P.O.V ) :
The book
R.I.P The Resurgent Indian Patriots
instantly caught my eye because of its stark cover. A syringe from top and a bullet from bottom, it surely promised lots of action and thrills. And as thought at the first glimpse itself, the book did not fail to deliver nor did it disappoint with its patriotic touch either.
Even though a fiction ( the author has categorically stated thus ), the book most of the times gives a picture of grave reality pertaining to present day politicians with a slight reference to the recent mass movement against corruption - although subtly, and other political events that one cant help but get the feeling that its all too real as we can relate to them easily.
The plot of the story mainly comprises of a vigilante group headed by Colonel Krishna Athawale and his team of comrades from his military days ( the K-Team - as incidently all of their names start with the alphabet 'K' ). Their main purpose is to seek justice and take down the corrupt leaders in power one by one, thereby cleansing the rotten system by themselves.
The targeting of the powerful corrupt politicians, the deadly assassination plans, the final execution or killing of the targets embroiled in the scams and even their hints of future strikes is so precisely written that you can almost visualise it as the story unfolds.
To counter them are two other groups whose purpose is to defeat their mission.
Written in fluid simple english ( although bit profane at times ),the book has come just at an appropriate time when the country is indeed seething in anger at the unabated corruption scandals & scams unfolding every other day, one after another, with those in power smug and nonchalant about it, leaving the youth of this country highly disillusioned and frustrated.This book will instantly connect with such youth who are fed up with this blatantly corrupt system and would want a quick solution to end the dirt even if that meant an instant death penalty for those tainted.
The book dabbles in a bit of romance too ( in between its 286 pages ) wherein a drama unfolds between Reena Bhagat - a "single mother" and Colonel Krishna Athawale - a "single father" which instantly reminds you of a typical bollywood movie and which was not required ( in my opinion ) in such a serious, hard hitting kind of book that R.I.P is. However that being said, the book does leave an impact on you with its action packed army feel. It is fast paced,gripping and you donot want to keep it down unless you've finished reading it.
RIP is indeed An intense experience which is entertaining as well.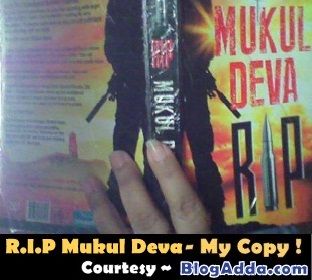 Positives :
I found everything in this book positive. It slightly reminded me of the vigilante movie combo of 'A Wednesday' and 'Rang De Basanti' wherein the protagonists decides to get justice by taking law into their own hands. However, the storyline of this book and the background of its characters is quite different.
Negatives :
None except that it is too realistic to be called a fiction.
Who will enjoy this? -
Everyone!!
Buy or Don't Buy? –
Definite Buy if you are a fan of Thriller Novels.
About the Author :
Mukul Deva has an army background ( which explains this army feel book ). He has Completed his education from La Martiniere College, Lucknow, the National Defence Academy, Pune, and the Indian Military Academy, Dehra Dun. Mukul was also commissioned in the SIKH LIGHT INFANTRY of the Indian Army in 1981.
He had an eventful Army tenure, which included a decade of operational service in India and overseas, which ended in an equally remarkable transition when Mukul turned his attention to the corporate battlefield - MSD SECURITY PVT LTD a venture which, in the ensuing decade, grew into a dynamic, professionally managed company.
Another twist in the tale followed when Mukul turned to his first love - writing. With FIVE successive bestsellers in five years Mukul is acknowledged as India's literary storm trooper and one of the pioneers of the Indian thriller novel.
His quotable words are :
'If you can imagine it, you can achieve it.'
( www.mukuldeva.com )
Our Rating Scale is : 1 to 5 = ◕◕◕ - I liked it.
---