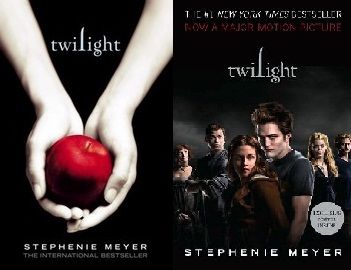 Title :
TWILIGHT
Language :
English
Author :
Stephenie Meyer
Genre :
Fantasy
Publisher :
Little, Brown Book Group
Imprint :
ATOM
Publication Year :
2007
ISBN-13 :
9781904233657
ISBN-10 :
1904233651
Language :
English
Price :
Rs.399
Binding :
Paperback
Pages :
464 Pages
Book Summary :
Twilight, the first novel in the Twilight series, narrates the story of seventeen-year-old Bella Swan whose life takes a dangerous turn when she falls in love with a vampire named Edward Cullen. Twilight is a vampire romance novel aimed at young adult readers. It is the first novel in Stephenie Meyer's Twilight series. It presents the story of Isabella Swan, or Bella as she is called. The story is presented from Bella's perspective. Bella is a shy and mature seventeen-year-old who leaves Phoenix, Arizona, to move in with her father Charlie in Forks, Washington. She joins Forks High School, where she quickly becomes the center of attention, especially among the boys. On the first day of school, she finds herself seated adjacent to Edward Cullen, who somehow seems to take an instant dislike to her. Edward then disappears for a few days. Surprisingly, upon his return, he becomes quite friendly towards Bella. Bella intuitively knows that there is more to Edward than what meets the eye. Moreover, his abnormal abilities, unusual physical features and strange behavior fuel her curiosity further. One day, Edward saves Bella's life in a mysterious way. This makes her even more determined to find out the truth about Edward. When she learns about the local tribal legends from her friend Jacob Black, she comes to the conclusion that Edward and his family members are not humans, but vampires who consume animal blood. As the days pass, Bella and Edward fall deeply in love with each other. Unfortunately, the arrival of a new vampire coven in Forks spells trouble for Bella. James, a vampire who is part of the new coven, becomes obsessed with her and wants to hunt her for sport. Bella's life is thrown in danger, twisting and darkening the plot further.This is a love story with bite.
Positives :
I found everything in this book positive. Romance between a human and a vampire, what a nice and interesting combo! In fact, with myself not really into fantasy stuff, after the original Vampire novel, I had been avoiding all the rest. Except of course when my hands fell on Twilight and I got hooked. I got sucked in and engrossed from the first page itself and kept turning its pages till the end. Even though the book is 464 pages long and much longer than the usual novels that I've read so far, Twilight was an easy read, written in a fast paced manner. The book doesnt have any heavy duty, fancy worded thinking literature, so its a relief for someone like me who mostly prefers light novels.
Of course, the movie made me love the novel even more as the characters fit so well, exactly as I had imagined them while reading the novel. A thums up!
Negatives :
None!
Who will enjoy this? -
Everyone, especially teenagers!!
Buy or Don't Buy? –
Definite Buy.
Title :
TWILIGHT SAGA COLLECTION
Publisher :
Little, Brown Book Group
Imprint :
ATOM
Publication Year :
2009
ISBN-13 :
9781905654697
ISBN-10 :
1905654693
Language :
English
Edition :
Export ed
Binding :
Paperback
Price :
Rs.1599
Pages :
2240 Pages
Deeply romantic and extraordinarily suspenseful, TWILIGHT, NEW MOON, ECLIPSE and BREAKING DAWN, buy the entire Twilight Saga Collection Box Set that fully captures the struggle between defying our instincts and satisfying our desires.
The set includes the following 4 titles :
1. Twilight
2. New Moon
3. Eclipse
4. Breaking Down
About the Author :
Stephenie Meyer is an American young adult author and producer, best known for her vampire romance series Twilight.She has written four novels as part of the Twilight series. They are Breaking Dawn, New Moon, Eclipse, and Twilight. She has written The Twilight Saga: The Official Illustrated Guide and The Short Second Life Of Bree Tanner as supplements to the Twilight series. She has also written a sci-fi novel called The Host, and a collection of stories named Prom Nights From Hell.It has earned her a huge fan following among young adult readers.Her writing is said to have been strongly influenced by her Mormon faith and by music.
The Twilight novels have gained worldwide recognition and sold over 100 million copies,with translations into 37 different languages. Meyer was the bestselling author of 2008 and 2009 in America, having sold over 29 million books in 2008, and 26.5 million books in 2009.Twilight was the best-selling book of 2008 in US bookstores. In 2008, she was named Author Of The Year by USA Today. She also earned the second spot on Amazon's list of bestselling authors of the decade. Stephenie Meyer graduated from Brigham Young University with a degree in English Literature and lives with her husband and three young sons in Cave Creek, Arizona.
Our Rating Scale is : 1 to 5 = ◕◕◕◕ - I really liked it!
---