Title :
F?@K KNOWS
Language :
English
Author :
Shailendra Singh
Genre :
Non-Fiction / Reference / Self-Help Book
Publisher :
Rupa Publications ( 2013 )
ISBN-13 :
9788129123886
ISBN-10 :
8129123886
Binding :
Paperback
Price :
Rs. 195 (
Buy from Flipkart.com
for Rs. 117/- ( 40% Off )
Pages : 256
The Book Summary :
What do you want from life? Are you on the right track? Are you truly happy? If your answer to these questions is F?@k knows!, then this book is for you.
Funny and candid, yet rich in insights on how to really live life on your own terms, this unconventional self-help manual is unlike any book around.
Find the answers to lifes most important questions with the help of uber-successful entrepreneur, Shailendra Singh, co-founder of Percept and inceptor of Sunburn. Told with sparkling, flavourful and in-your-face humour, this book will advise you on how to:
Find yourself (Because youre probably lost. Admit it.)
Follow your heart (Because if you dont then youll die unhappy, you stupid f?@ker.)
Achieve your goals (You know you want to.)
Live life like you give a f?@k (Because...why not?)
Candid and thoughtful, F?@k Knows will show you how to really live life on your own terms, to do what you want to do and not what you have to do just because your father said so!
My Point of View ( P.O.V ) :
When I read the summary of the book ( given above ) what struck me immediately was that, this is a book to reckon with. When I got it, thanks to BlogAdda's amazing Book Reviews programme, I was thrilled finally to be able to read it. It is a reference and self help book but written in most friendly and humourous way which makes it unique and different from other books of the same genre.
The book dealing with many sensitive issues gives a great insight as to how to live life your own terms ( which I do anyway ). The author has added his own personal experiences and little anecdotes and as such you instantly connect with what he is referring to. The author establishes a bond with the readers immediately with his witty, honest and humour touch, thus making the book an enjoyable read.
This world desperately needs a better sense of humour, and the book
F?@K KNOWS
definately contributes to that. Not a preachy kinda book, the author himself admits that he has touched about 50% of the "Practice what you preach" funda and intends to complete the rest of 100% now that the book is out.
If you are one who is hesitant to follow your heart, grab this book immediately and discover a new way to live your life to its fullest by being your true uninhibited self. Make your own damn Fuck-List and do what your heart says.
This whacky titled, candid, fun read book with a bright 'yellow' cover brimming with positivity and with an all important funny and lovable disclaimer, has certainly found a new fan in me.
I'd rate the book 4 out of 5 stars.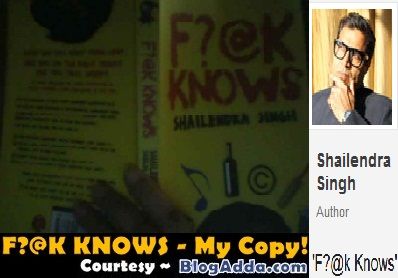 Positives :
Written in a very simple, lucid and easy manner ( in somewhat in-your-face bold language too, but isnt that the whole point anyway? ) the book mainly targets the young readers. Older ones will enjoy it equally too, especially the ones with a zest for life. It has a unique humourous style of delivering the serious message of 'living life your way' which readers will definately find enjoyable.
Negatives :
None!
Who will enjoy this? -
Everyone.
Buy or Don't Buy? –
A Must Buy!
About the Author :
Shailendra Singh has B.T.D.T. Been there. Done that. Some know him as a sports marketing guru, some as an advertising whizz or Bollywood producer, and many acknowledge him as a shrewd dealmaker. Hes conceptualized the most famous and long-lasting campaigns for Indias biggest brands, managed and helped adjust the jockstraps of Indias most respected cricketers, and launched the careers and egos of the countrys biggest celebrities. Hes opened a direct line of communication with Indias youth by creating massive music festivals, is emerging as Asias largest music promoter, and has produced over sixty Bollywood movies. He has worked on awareness campaigns for HIV/AIDS, cancer and piracy. He enjoys short trots on the beach, any sport that uses a ball, and sugar. This is his first, and hopefully not last, attempt at writing a book. "Happy is a state of soul that in my opinion you should seek for every second of your life" - Shailendra Singh
Our Rating Scale is : 1 to 5 = ◕◕◕◕ - I really liked it!
---