Title :
LOSING IT
Language :
English
Authors :
Dhruv Gupta, Prachi Gupta
Genre :
Non-Fiction, Health & Fitness
Publisher :
Pan Macmillan ( 2013 )
ISBN-13 :
9789382616030
ISBN-10 :
9382616039
Binding :
Binding Paperback
Price :
Rs. 250 (
Buy from Flipkart.com
for Rs.210/- ( 16% Off )
Pages : 220
The Book Summary :
You have probably tried losing weight at some point in your life, or at least thought about it. Well-meaning and well-intentioned articles, websites and 'experts' give out advice on losing weight through the latest research, 'super' foods or following 'magical' weight-loss techniques. This complicates the process and gives out conflicting information. Losing It is a coherent how-to that provides you with the pros and cons of healthy foods and foods which have 'healthy' claims attached to them, beverages and exercise. It gives you tips that are easy to tie into your daily life, resulting in long-term weight loss while helping you gain in nutrition and fitness.
Faced with stores full of choices and the demands of a busy life, how can you put together a balanced meal? What foods have empty calories and which ones really help you? Is brown bread good for you? Is banana fattening? What are the healthy choices you can opt for when eating out? Does going to the gym help? What's holding back your weight loss?
Losing It addresses your everyday burning queries and concerns simply, and is chock-full of tips and suggestions for you to lose weight effectively. Informative and user-friendly, this is a book that can accompany you in your bag or purse as easily as it rests on the bookshelf.
My Point of View ( P.O.V ) :
I wish I had got this book few years back when I really needed it, but as they say better late than never. Atleast now I dont have to keep looking at newspaper, magazines or website clips for the health and fitness tips. PanMacmillan sent me the book
'LOSING IT'
as their blogging contest winner, so I'm thrilled to have a copy of it in my hands. I'm glad that I have a wealth of information on good health now, thanks to this book.
The authors of this book are themselves well trained at fitness and are also founder of 'Fitho Wellness' - a revolutionary weight loss system, hence, who better to learn it from, than the masters themselves.
There are many books in the market, but this book is different mainly because the way it is written. Simple, easy to understand language, 17 short
'to-the-point'
chapters, busting age-old myths, clarifying whole lot of pre-concieved ideas/concepts and clearing confusions on its way. Every distinct chapter deals with a certain topic within basics of health/nutrition/eating-habits/diets/exercise etc many more
( over 100 ways to lose weight )
, which makes it an educational plus interesting read. Many facts of how to lead a healthy and fit lifestyle are explored. You'll get the do's and don'ts of effective weight loss. It also highlights people who have accomplished the mission impossible of losing weight and thus making it very possible!
The book doesn't drag or preach, rather it is fast paced, informative, easy, honest, realistic and logical.
I'd rate the book 4 out of 5 stars.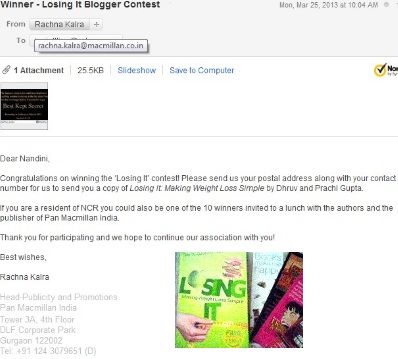 Positives :
A really helpful book. Highly recommended.
Negatives :
None!
Who will enjoy this? -
Everyone wanting to lose weight healthily and for long term health benefits.
Buy or Don't Buy? –
A Must Buy!
About the Authors :
Dhruv Gupta is the founder of Fitho, a revolutionary weight-loss system. He is also an Internet entrepreneur and fitness enthusiast. He studied engineering at the University of Michigan. After consulting to Fortune 100 companies in the USA, he moved back to India to start Fitho and help people be healthier. He has been featured on CNBC, Mens Health and Business Today and has written fitness columns for Hindustan Times, Mint-Wall Street Journal and Sports Illustrated.
Prachi Gupta is the CEO and co-founder of Fitho. She has been a national-level basketball player, and is a new mother. She enjoys being busy between work, her infant daughter and keeping fit. Her work at Fitho has been covered by NDTV, India Today, Hindustan Times, Femina and Cosmopolitan - http://www.losingit.fitho.in
Our Rating Scale is : 1 to 5 = ◕◕◕◕ - I really liked it!
---