A Travelogue :
Shillong is the capital of Meghalaya, one of the smallest states in India and home to the Khasis and is very near Guwahati city ( takes about 2-3 hours ). It is the headquarters of the East Khasi Hills district and is situated at an average altitude of 4,908 feet (1,496 m) above sea level, with the highest point being Shillong Peak at 6,449 feet (1,966 m). Shillong is the 330th most populous city in India with population of 143,007 according to the 2011 census. It is said that the rolling hills around the town reminded the European settlers of Scotland. Hence, Shillong is known as "Scotland of the East."
Read More -
Here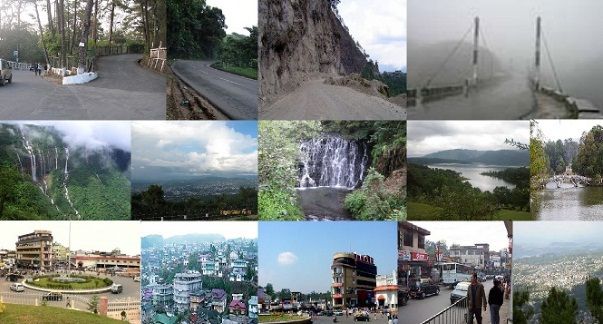 I had two amazing opportunities to visit this small place nestled amongst the lofty northeast hills. That the global warming is a fact, is evident from the stories my mother used to tell me about Shillong. She told me that when they were young, there used to be regular snow fall in Shillong which is now non-existent. My mother's sister's family ( after marriage ) lived in Shillong, hence, my mom a was regular visitor to the place and used to quite enjoy its pleasing climate compared to the hotter plains of Guwahati. She also said because of the climate, all the nephew/nieces who lived over there had unbelievingly rosy, pink cheeked complexion - which is common for most Shillong'ites. But all these had now changed, and it was a far more warmer place now. But Shillong did still have its hills, its enchanting water falls, its beauty and for those reasons itself, its a must visit.
Both times I went, had been when I was in high school. First time I went with my cousin's family. My uncle was posted there and one day they asked us to come along. It was rather funny because we had just simply gone to their house, and as they were headed for Shillong that day, they asked us to hop along. So off we went, my mom, my sister and me! We went in their office jeep and the journey was enthralling.
The jeep halted at our house, for us to grab two-three clothes hurriedly.
It was also quite an adventure for the various twists and turns the jeep took, as it meandered and navigated its way up the hills, as soon as we left Guwahati behind. We had to cross a steep, tricky turn which had our heart thumping with fear as it was rainy season then, and the roads very slippery. Somehow, we were still alive and enjoyed the mesmerizing views on-way till we reached the office guest house. We got some cool luxurious rooms in the guest house which had a very bright, beautiful garden in the front filled with blooming colourful flowers and it also had a view of the hills around. It was simply amazing. We even spotted the biggest caterpillar we had ever seen, in that garden. It was gigantic in size with long brownish spikes.
While my uncle attended bit of his office work, we i.e our cousins, aunt and my family roamed around Shillong streets in their jeep. We went to the central bazaar area which is filled with fruits vendors, and that had us buying local fruits by the baskets. We then went to Shillong Peak which is a really awesome place and the sight of the valley below is breathtaking. Unfortunately, we could not go to Cherrapunji/Mausynram which has the highest rainfall in the world, but we did catch up with many waterfalls and lakes on the way, which more than made up for it. We even visited some local family whom my uncle knew and got glimpse of the local culture too. It was quite an unique experience. I didn't quite want to return, but alas my uncle's work was done and we had to head back with heavy hearts the next morning.
The second time I went to Shillong was with my sister's music band. We went early in the morning in a bus. The troupe rehearsed a bit when we reached location and adjusted the cables, sound check etc, while my mom and me just sat around. In the evening, they did the show. At night, we all came back after a crowded concert. So in the second journey, we didn't go for any sight seeing. But the show, the energy, the audience and also the journey by bus to and fro was worth it. Worth mentioning here, Shillong has some really good rock bands and overall a great sense of music! It also has a great world-class golf course.
Hope I get to visit the place soon again, someday.
Lakes worth visiting in Meghalaya are :
Umiam Lake :
A beautiful lake north of Shillong, which resembles the 'Lochs', or lakes of Scotland, and is a must-see for all tourists. This lake is man-made and is better known as 'Barapani' (big water) for its sheer size. There is a water sports complex. There is a garden ( Lum Nehru park) by the side water sports complex. It is also a popular fishing destination of the locals. The Orchid Lake Resort lies on its bank.
Wards Lake :
Wards Lake is an artificial lake surrounded by a fairly large garden. Boating facilities are available in the lake. It has a wooden bridge at the middle. Lots of lotus plants with leaves are there on either side of lake. One can find lots of colourful fishes in the lake. A cafeteria is there to provide refreshment.A fountain dancing to the tunes of song is also there.
Our Rating Scale is : 1 to 5 = ◕◕◕◕◕ - It was Amazing!
( Images Courtesy : Google )
---