Title :
LOVE IS VODKA
Language :
English
Author :
Amit Shankar
Genre :
Fiction
Publisher :
Vitasta Publishing (2013)
Edition :
1st Edition
ISBN-13 :
9788192535449
ISBN-10 :
8192535444
Binding :
Paperback
Price :
Rs. 195 (
Buy from Flipkart.com
for Rs.149/- ( 23% Off )
Pages : 212
The Book Summary :
If love is all about freedom and honest expression then how can one associate it with loyalty? Being a love child; Moon, the protagonist is anything but a conventional teen. With a leading TV news anchor as her mother, an aspiring entrepreneur as her boy friend, the word LOVE baffles her. The whole idea of having one partner and love being eternal is beyond her comprehension. Life turns upside down when she falls for the CEO, who happens to be her mother's boyfriend too. Destiny further complicates things by blessing her with a big time modelling assignment and she becomes famous and popular overnight. A war starts waging between her head & heart on a lot of issues exposing her to various forms of love online & offline. Will she decipher the true meaning of love? Embark on an exhilarating rendezvous with Moon and discover love like never before.
My Point of View ( P.O.V ) :
At first when I began reading the book, I wasn't able to go beyond the first few pages. It was unlike anything I read so far and the language of the book made it seem as though it was written by some teenager. Then I went back to the blurb several times and saw that it was a story of a girl who was a 19 year old teenager. It was about her love life and the confusions & complications that she faces. It made little sense then, that perhaps the writer attempted to write the book exactly how a teenager's mind would work, and that finally explained the language of the book. And I was more at ease.
So, with this new realization I started to read again, keeping in mind that a teenager was telling the story. Read that way, the book certainly made more sense as I was instantly drawn into Moon's complicated world of love, confusions and what not. And I actually started enjoying the story as it unfolded. Some of the questions she kept asking through out the book reminded of my own teenage years when I would think of such similar stuff. Like, how on earth to love or live with the same person whole life. Why do we lose our freedom to do what we want, when we are supposed to be in a relation or in love. Why do we or our partner have to get bonded in the shackles of morality? Why we have to become answerable to someone else about our lives. Why can't we like someone else or be friends with someone of the opposite gender? What on earth is true love? Does it exist at all or is it just a myth. Or is Love 'Vodka', where only after several shots, do we finally realize the true meaning of 'love'?
Many times we think and are convinced that we are in love, but soon the novelty wears off and we realize that it was not love at all. Same situation Moon faced with her
aspiring entrepreneur
boyfriend, that made her drift away and get attracted towards other men. While one shockingly turned out to be a gay, the other was the much older,
successful businessman
boyfriend of her mother. The second, no doubt complicated her already confused life. But in due course of the book, all the various situations that happens
( i.e her success in modelling or the hacking incident )
, she had to finally let go of that 'love' too and her life takes off on a totally different route, and finally she falls in love yet again. The journey till she finally finds true love is really an enthralling read.
In the book, I also liked Moon's special relation with her long distance biological father whom she had never met
( but kept in touch online )
, and who met with his tragic end on the very day he was travelling to meet her. It was quite touching. It is a very today's story and her relation, interactions and even her rebellions with her powerful mother
( a leading broadcast journalist of top news channel )
who brought her up alone, is indeed worth reading and admiring. Many people esp those raised by single parents would totally identify with such 'child-single parent' relation & situations
( even for others it is a great insight )
.
Being a male himself, the author has done a tremendous job of narrating the story from a teenage girl's point of view, articulating just like a teenager. Really praise worthy.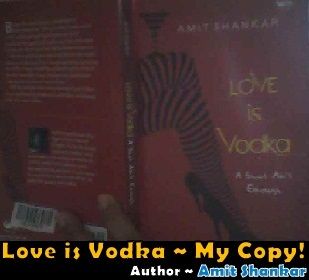 Positives :
Its a fun read, written fast paced in crisp & bold style. This book will actually surprise readers with its honest and blunt attempts by the author to burst some myths about 'love'. And most girls will identify with Moon's character completely. A unique and very entertaining book.
Negatives :
None!
Who will enjoy this? -
Everyone, especially the young generation/youth.
Buy or Don't Buy? –
A Must Buy!
About the Author :
Amit Shankar has written 2 more books prior to this one with titles Flight of the Hilsa and Chapter 11 capturing hearts of many people. He loves his writing space and loves to drink coffee too. He is passionate about music and if he hadn't been a writer he would have been a musician. He is also fond cooking and biking and is also passionate for a list of Gods; Clapton, Slash, Blackmore, Santana, Satriani, Vie and Stevie Ray Vaughan.
Our Rating Scale is : 1 to 5 = ◕◕◕ - I liked it!
---