Title :
ROMI AND GANG
Language :
English
Author :
Tushar Raheja
Genre :
Fiction
Publisher :
Pirates ( 2013 )
ISBN-13 :
9788192681009
ISBN-10 :
8192681009
Binding :
Paperback
Price :
Rs. 149 (
Buy from Flipkart.com
for Rs. 128/- ( 14% Off )
Pages : 237
The Book Summary :
Unruly and reckless, thirteen-year-old Romi is the hero of his universe. His great affinity for adventure and the unknown is shared by his gang - the rascal Sukhi, the deadpan Sunny, the naïve Golu and his blood brother, Kim. When legendary Kim disappears from Mauji, it is left to the four to conquer the maidan with cricket and the world with their wits. Of course, they must prepare for responsibility in between and, one day, go after Kim.
My Point of View ( P.O.V ) :
To start with, this book is not my usual genre of reviews. Besides that, I've not really been fond of the game of cricket, even though it is regarded as some kinda religion in our country. So, when you land up with a book not being your subject, nor your genre, what do you do? Yes, you got it right, you read of course!
Curious mind that I am, soon I found myself eagerly flipping through the pages of the book, which ironically does not look like a regular novel either. The cover has an oil painting art of sorts of the characters 'presumably' from the back
( running school children, with their typical school bags, uniform etc )
. The size of the book
( very unconventional )
, will remind one of reader's digest. The story itself is revolved around the game of cricket as I already gave a hint,
( a tournament to be specific and everything related to it )
, the 4 friends, their school life, teachers/parents etc. All characters are well carved and given reasonable footage in the story.
It is about 13 year old Romi and his 3 school friends, and their obvious love for the game. There's a big tournament, 'Eagle'
( the annual Inter-school Cricket Championship )
, which is eyed by Romi and dreams of playing it. For any sportsmen, tournaments are what they literally live for and the national team is what they finally want to be selected into, and Romi is no exception. He dreams of winning this big one too and chases that dream persistently. The children are at that particular age when they are not little kids, nor are they adults. They take you to that interesting age of newly discovering the 'firsts' of life. So, the book reminded me of my own teenage years a bit too, and I'm sure, those who love cricket will obviously be nostalgic when they read the book. There's one lad, Kim, who mysteriously left Romi's idyllic hometown of Mauji, and Romi must find him too
( though nothing much materialized eventually on that )
. Good thing about the book is, though Romi is leader of his 'gang' in school/cricket matches etc, he is not shown as an all rounder hero, who hits only sixes or is too smart, and has answer to every mystery/puzzle. The character is kept more real, and hence believable. The book covers Romi's growth and maturity as a person, coming of age of sorts.
The live cricket commentary that happens in the book, will definitely have the reader pray for runs and make Romi's team win
( deja vu Lagaan - the movie )
. The book also contains interesting sketches throughout the story, that will give a clear picture to the reader as the story is unfolding. They breathe life to the story.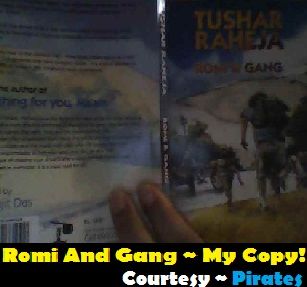 Positives :
Its a fast paced narrative, written in an easy to understand, simple manner. A childhood adventurous book, that's how I'll describe it.
Negatives :
Its not my genre. However, that's not really a negative point per se. Though, I'd have preferred an overall improvement in the language and a bit of grammer check.
Who will enjoy this? -
Everyone who loves cricket and childhood tales.
Buy or Don't Buy? –
A Must Buy for cricket fanatics!
About the Author :
Tushar's first book was the popular comedy, Anything for you, Ma'am. At the moment, he is a doctoral candidate at IIT Delhi in the field of Applied Probability. He can be contacted at tushar@raheja.org .
Our Rating Scale is : 1 to 5 = ◕◕◕ - I liked it!
---