Title :
KEYS
Language :
English
Author :
Santosh Joshi
Illustrations :
Santosh Joshi
Genre :
Non-Fiction/Self-Help
Edition :
First Edition
Publisher :
Santosh Joshi Foundation ( 2013 )
ISBN-13 :
9789351265313
ISBN-10 :
9351265315
Binding :
Binding Paperback
Price :
Rs. 280 (
Buy from Flipkart.com
for Rs. 235/- ( 16% Off )
Pages : 270
The Book Summary :
THE HLP WAY TO A REGRET - FREE LIFE
Unlock your highest potential to achieve your dreams. With KEYS you can open the door and take the first step into a new life. One without regrets of the past or fear of the future. You will realize that no matter what experiences you had in the past or what your present circumstances are, you still have immense potential to achieve your life goals. It is never too late to begin. This book introduces the HLP principle which will launch you towards them. It will help you heal and resolve your past memories which are pulling you back most of the time. It will encourage you to find your true calling and work towards it. It will also motivate you to plan your journey towards the ultimate destination, your dreams.
My Point of View ( P.O.V ) :
Few months ago, I had read and reviewed a self-help book - which was quite a blatant one at that, so this time I wanted to know how the subject was handled in this particular book. With plenty of such books thronging the market everyday, it is essential to pick the right ones. One, which can truly motivate and do not further confuse the reader. The name of this book is quite interesting - eye-catching one, if I may say so.
'Keys'
- that would open up the doors of obstacles, doors of challenges, doors of failures, doors of the lost 'self' or self-esteem
( and find true self in turn, which was lost somewhere in the grind or race of life )
. All these and more, with their appropriate keys i.e Keys to enrich your life, keys to find purpose of our lives or keys to simple seek inspiration to excel for better, keys to forgiving the past etc. The cover is quite sober too, with an apt image of a closed door - a door ready to be opened with the keys the book holds, within its pages, obviously.
The book is based on the HLP principle.
( Healing the past, Living the present and Planning the future. )
Do we tend to cling on to the past, remember the bad memories, and are still emotionally attached to them. Are we happy and peaceful with whatever we have in the present, do we make best use of the potential we got. Are we paranoid or anxious, insecure about what's going to happen to us in the future. The author asks us these questions related to the past, present and future. And the answers to these 3 phases of life, is what the book 'Keys' is all about.
The book is divided into 3 sections in an organized manner.
They are : 1st Key - Heal our past, 2nd Key - Live your present and 3rd Key - Plan your future.
These sections have further chapters each
( 8-10-9 )
exploring each in intricate details. When we go through each of these chapters, we'll find out many aspects of life, of ourselves, that we often tend to ignore or are simply not aware of. And explained the way that they are, each of the chapters makes for an interesting journey of self discovery, self healing and self motivation. The book first identifies and deals with the problems, that we face in relation to all these 3 phases of life, and then offers some ideal solutions too i.e the 'powerful tools'. These solutions or 'power-tools' are quite practical, but the author has also taken care of the spiritual aspect of life and our feelings. Thus, he has encouraged not just to follow the heart, but also build faith and relationships, also believe in miracles and develop our intuitions.
Truly insightful, the book explores vast possibilities in accomplishing successfully, our live's motives, goals and also our dreams. The fact that the author is a life coach himself and a past-life regression therapist, he has dealt with the subject marvelously, meticulously and in a matured manner. Indeed, whether it is the past, present or future - it's our varied emotions
( that we humans have )
, that really controls a major part of our lives. And many times, these emotions tend to be negative and prove a drawback to us. However, with this book we have the 'tools' to get out of the shackles of such negative emotions. To discover these power-tools, read the book. You won't regret, that's a guarantee.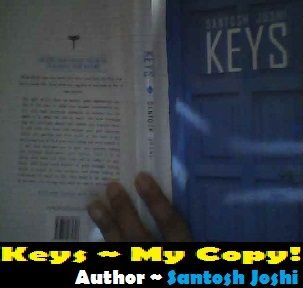 Positives :
It is a candid, considerate book written in simple, easy language. And with some really cool illustrations added in
( in the beginning of each chapter )
, it helps bring out the true meanings of what that particular chapter is all about. These illustrations made by the author himself, serves as a really nice, innovative engagement for the readers, and thus the message is easy to interpret and implement. A very sincere as well as a witty attempt, the book is highly recommended.
Negatives :
None.
Who will enjoy this? -
Everyone!
Buy or Don't Buy? –
A Must Buy!
About the Author :
Santosh Joshi is a Life Coach, Past Life Regression Therapist, a new age motivational speaker and an author.
Santosh holds a Bachelor Degree in Mechanical Engineering. He worked with big Indian and International conglomerates for over 17 years before taking up as a full time Life Coach and PLR Therapist. With the background of his experience in the corporate world, and a deep study of human behavioral patterns and responses to various emotional challenges and stresses therein being posed by today's testing lifestyles, Santosh has decided to dedicate his life to bring about positive changes and radical evolution in people as a mentor and counselor.
Santosh started his spiritual journey way back when he was a student. His interest in meditation and spiritual realms grew tremendously during all these years and his life transformed in multidimensional ways. He underwent several programmes and learnt more about life and our connection to the higher energies through intense meditation and healing sessions. During this time, he also learnt about his higher Life Purpose of spreading spiritual awareness in people in this life time, and decided to follow it with complete dedication.
Our Rating Scale is : 1 to 5 = ◕◕◕ - I liked it!
---