Title :
AMREEKAN DESI
Language :
English
Author :
Atulya Mahajan
Genre :
Fiction
Publisher :
Ebury Press (2013) / Random House
ISBN-13 :
9788184003956
ISBN-10 :
8184003951
Binding :
Paperback
Price :
Rs. 199 (
Buy from Flipkart.com
for Rs. 183/- ( 8% Off )
Pages : 318
The Book Summary :
Masters Of America is a novel that tells the story of two Indian boys who dream of living in America. Atulya Mahajan's debut novel Amreekandesi: Masters Of America is a story of two Indian boys with the same dream of making a career in America. With a touch of satire, the story relates how these Indian students meet in the US while they are searching for their fabled American Dream. The protagonists of this novel are Akhil Arora and Jaspreet Singh, who are fated to become friends in this foreign land.
These two characters come from different states in India – one is from Delhi and the other is from Punjab. Akhil Arora is portrayed as a young engineer studying in Delhi craves freedom from his overbearing family and wants to prove to them that he is capable of managing his own life. Jaspreet Singh comes from a small town in Punjab and calls himself Jassi. He wishes to live the American dream, akin to the movie American Pie. Jassi and Akhil meet in Florida and become roommates. While studying in the States, they take up jobs for survival. They become close friends and share their hopes and dreams with each other. Both of them are on extreme opposites as far as their perspectives are concerned. Akhil, is an ardent patriot and he wishes to return to India after spending a few years abroad. On the other hand, Jassi does not want to carry on with his Indian identity as it makes him feel embarrassed and uncomfortable. So, he has a plan to look for an American girl and settle down in America. While Akhil falls in love with Nandita, a girl he met on the flight; Jassi's dream of living an American life is shattered at every step.
In Amreekandesi: Masters Of America the author has included his witty insights and humorous anecdotes. While chronicling the classic experience of an immigrant, the author highlights the identity crises and survival in a foreign place. He highlights how people change when they live in a foreign land.
My Point of View ( P.O.V ) :
I always get interested in the Desis landing up abroad kinda stories, be it movies or books. Its always fun to know how their lives turn up in 'videsh'. So, when I came across this book titled Amreekan Desi, I got the instant feeling that there'd be something interesting inside. The colourful Book Cover adds to that feeling and sparks up the interest further. Two desis, entirely distinct from each other, both in their characteristics and backgrounds,
( and who weren't aware of each other's existence back in India )
, lands up in the land of dreams and freedom a.k.a USA - given the name 'Amreeka' in the book for that desi feel.
Akhil Arora from Punjabi Bagh, Delhi is a geek who is scholarly, has high academic aims, wants to fulfil them and reach a high position. He wants to prove to his family and neighbours
specially
, that his future is bright in the USA. Meanwhile Jaspreet/Jassi Singh from Ludhiana, Punjab is a laid back kinda character, and rather has aims with the ladies
( preferably those bikini clad babes )
instead. He wants to be in America just 'cos he thinks USA has it all which India lacks. He even starts imitating the American attitude/lingo after being selected, fancy jargons et all. Both are off to the Florida State University at America
( on different flights and unaware of each other )
to do their Masters in Science Degree. So, when a good boy and bad boy lands up in the same place, things are sure to get rolling. And what a rolling it was, with both mastering a lot more than simply their studies. Fate had led them to be room buddies and sharing expenses etc. Akhil is loyal family oriented guy and has definite plans to return to India eventually, while Jassi is the funnier dude, who has no such plans. He turned 'American' before he even set foot there, and has no intention for a reverse gear. He'd rather find an American chick and settle down there merrily, and in that pursuit, finds himself landing in all kinda troubles instead. The mushy relation sprouting between Akhil and Nandita, whom he meets on a flight,
( and who also shows interest in joining the same university too ),
is particularly interesting and those who love romance will find their fill here.
The story, the build up of the characters and their relations with one another is fantastically done by the author. The story is kept real and the characters down to earth. The author has sketched out perfectly the American life, right from its roots where the characters first land up, then go finding accommodation and roommates, also hunting for Indian groceries, their awe at the sight of the mighty Walmart and converting everything rapidly to INR with the typical Indian mindset. It seems the author has either researched or experienced the American life himself
( the latter more likely )
, to write so vividly, that we almost feel its all real and happening right before our eyes. He has also excellently portrayed the student's lives in America - the various reasons why they land up there. Some for studies, some want to try drugs, some to lust after the opposite gender, while others want to taste freedom. Also mentioned are the weekend trips that the students frequently make in the USA. Those planning to study abroad will find this book a heaven. Also others will find many examples faced in their own lives too, at various points, in the book. So, readers will easily identify with the story.
There are also some serious insights in the novel too viz cultural differences, immigrant issues, seeking self identity and surviving in foreign land. There's a point when Akhil comes to India for a break and the glaring differences between India and USA that hits him. A very poignant moment.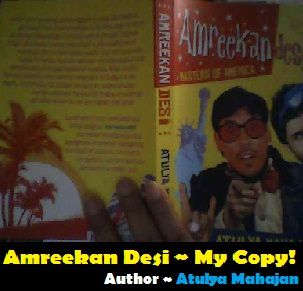 Positives :
A very engaging book written in chick style, full of humour. It is easy to read and very visual too. You simply won't get bored flipping through its pages. Every page narrated brilliantly, offers excitement. Highly recommended.
Negatives :
None major, except certain typos and overall length of the book.
Who will enjoy this? -
Everyone!
Buy or Don't Buy? –
A Must Buy!
About the Author :
Atulya Mahajan is an Indian author and is the creator of the Indian satire blog amreekandesi.com. Professionally a technologist in an investment bank, Atulya Mahajan went to the US in 2004 to complete his Master's degree. He worked there for five years and then returned to India. He started his blog while studying in the US and used it as a platform to share his experiences of people living in a foreign land. Besides this blog, Mahajan also works with the Crest Edition of The Times of India as a columnist and writes occasional humor.
Our Rating Scale is : 1 to 5 = ◕◕◕ - I liked it!
Book Source :
Readers Cosmos
---