Title :
FRANKLY SPOOKING
Language :
English
Author :
Sriramana Muliya
Genre :
Fiction
Publisher :
Harper Collins India ( 2013 )
ISBN-13 :
9789350297216
ISBN-10 :
9350297213
Binding :
Paperback
Price :
Rs. 299 (
Buy from Flipkart.com
for Rs. 275/- ( 8% Off )
Pages :
The Book Summary :
A chilling collection of spooky tales
This is an unsettling collection of tales that will draw out the fears that lie hidden in the deepest, darkest recesses of your mind. You encounter the dead in places you would never expect: the corridors of a swanky office, a busy shopping mall, a quiet classroom—or may be knocking at your door. Tales of horror, unexpected yet not unfamiliar, Frankly Spooking is perfect for those nights when the rains lash against your window pane and the lights go off.
My Point of View ( P.O.V ) :
When you have a flipkart voucher lying around and there's nothing of interest to buy with it, what do you do? Books - I already get them from many authors/publishers for review purpose, so why buy? Right? But still being a book lover, we do tend to browse books and just for the heck of it one particular day, I was browsing the spook genre, when I came across this book. Out of sheer curiosity, I clicked the purchase button, wondering what on earth would an Indian author write about supernatural stuff. Once I received it and read, I must admit - I wasn't disappointed at all.
For starters, I absolutely loved the cover of the book which has two flies in the front. Though quite a sober image, it does give an instant weird spooky feel
( I was reminded of dead bodies with flies hovering over it - go figure that )
. The book is an interesting collection of short stories - some just 1-2 page long
( i.e less than 1k words )
and some bit longer
( couple of pages )
. But what stands out is the content of the stories. It'll definitely creep out those faint hearted. However, let it be said they are not that scary which would render a person have nightmares or sleepless nights. Nonetheless, you are bound to get spooked - that's guaranteed. It has 30 stories in all
( all different from one another in plot, situations, characters etc )
, and it is really fascinating to think or wonder how the author's mind might have perhaps worked, while penning the diverse catalogue. The stories leaves you with lot to imagine and you definitely end up wanting more.
Weaved from day to day or mundane situations, each story
( very gripping )
though small, do not fail to leave its mark. Unpredictable and unusual, highly recommended if you love spooky stuff. I'd love to read more from the author.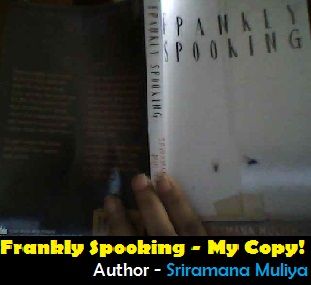 Positives :
A very unique way of story telling
( sketch story pattern )
, that kept me hooked till the end. The language is simple, lucid style which is easy to comprehend, making it a very refreshing and crispy read.
Negatives :
None! Though I wish few of the stories were a bit longer.
Who will enjoy this? -
Everyone!
Buy or Don't Buy? –
A Must Buy!
About the Author :
Sriramana Muliya works as a technical editor with Cisco Systems. Besides writing fiction, Sriramana also likes to blog and has been blogging for the last ten years. He is an avid movie buff and loves watching quality cinema. Sriramana lives in Bengaluru with his wife and daughter. Find him at : imsri.blogspot.in
Our Rating Scale is : 1 to 5 = ◕◕◕ - I liked it!
---