A Travelogue :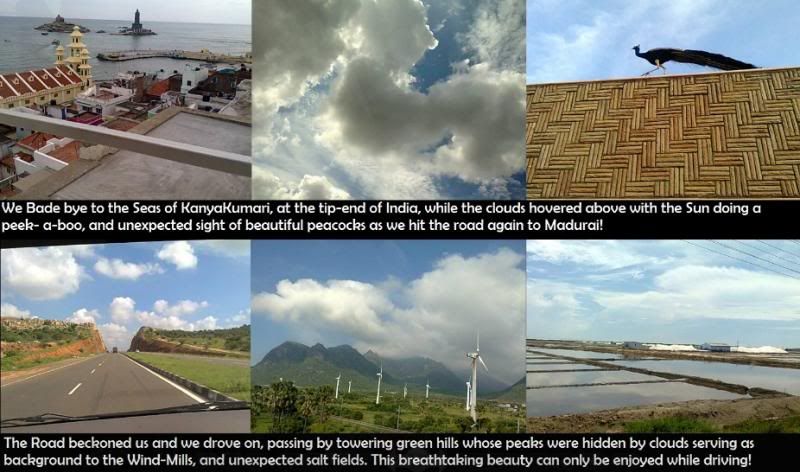 My whole life I've craved to go abroad on a world tour and visit all the exotic destinations around the world. I've never been much interested in places within India,
( although I've visited couple of them )
, but my main priority has always been to land in foreign shores.
South-India was a big no-no for me for a long time, and never in my itinerary – at least in this lifetime. But as fate would have it, I was invited by
ZeeTV
and Indiblogger, to travel as a blogger to Chennai for a movie promotion activity. This was an honour I couldn't refuse, and soon I found myself packing my bags and literally travelling to the unknown.
While the scheduled journey up/down to Chennai - Bombay was by train & plane, it was the unexpected and totally unplanned road journey to KanyaKumari – Madurai that had me enthralled.
KanyaKumari is in the southern-most tip of India, where the Bay of Bengal, Arabian Sea and the Indian Ocean meets. It is an once-in-a-lifetime experience, which changed my previous perceptions about the place. I was totally besotted by the seas and didn't want to leave the place. But good things do come to an end. However, there were more good things coming our way, as we totally enjoyed the four hour ride to Madurai.
While lofty green hills along the sides of the road left us awestruck, the miles and miles of Wind-Mill fields made us feel as though we were passing by some fairy-land where the mills spun happiness and cheered on the travellers. The sight was picturesque and one of the best I've ever seen. We halted and had refreshing coconut-juice on the sides of the broad national highway. The roads are very clean and this was definitely one of my most amazing road trips which I'll forever cherish.
Having discovered bits of South-India now, I've thrown away my previous notions. I look forward to discovering the rest of India too with an open mind. Cos' I've realized, India is truly beautiful and best travelled by road.
Pin It Now!
¸¸.•*¨*•♫♪¸¸.•*¨*•♫♪¸¸
VOTE My ApolloExpeditions Entry
Here
( Images Courtesy : Mine
)
---