Title :
THE ALMOND TREE
Language :
English
Author :
Michelle Cohen Corasanti
Genre :
Fiction
Publisher :
Prakash Books ( 2013 )
ISBN-13 :
9788172344870
ISBN-10 :
8172344872
Binding :
Paperback
Price :
Rs. 295 (
Buy from Flipkart.com
@Rs. 266/- ( 9% Off )
Pages : 352
The Book Summary :
This beautifully written and compelling novel is a tale of two brothers, one full of anger and hate, the other trying to build a bridge through scientific endeavour. Gifted with a mind that continues to impress the elders in his village, Ahmed Hamid struggles with the knowledge that he can do nothing to save his friends and family. Living on Occupied land, his entire village operates in constant fear of losing their homes, jobs and belongings. But more importantly, they fear losing each other. On Ahmed's twelfth birthday, that fear becomes reality. With his father imprisoned, his family's home and possessions confiscated, and his siblings quickly succumbing to hatred in the face of conflict. Ahmed begins an inspiring journey using his intellect to save his poor and dying family. In doing so he reclaims a love for others that was lost through a childhood rife with violence, and discovers a new hope for the future.
My Point of View ( P.O.V ) :
After a long time I'm reading and reviewing an international book, so let me just say 'WOW'! And whatta subject too its based upon! I think ever since I've come to this world, the only one issue I've heard and seen most consistently in the news is the Palestine-Israel conflict
( of course after our own Kashmir )
. Reading history, watching news, hearing opinions of various world leaders - we think we know the crux of the issue very well, but we don't realize that maybe there's a story out there crying to be told, that we've not heard so far, that has been suppressed
( by influence of the powerful media )
. So, that brings us to the curiosity behind the reason, for me wanting to read this book for quite a while.
The story is a heartful tale that'll make you emotional, although the situation may not be affecting you even remotely, as it is happening quite far away. It brings forth the sufferings endured by the people of Palestine, at the hands of the Jews. But the story doesn't necessarily put the Jews in bad light.
The protagonist Ahmed, makes through his college with the help of his teacher. They've lived the lives of refugees in their own country. Life's hard, but he doesn't give up or bow down to anyone, and is resilient throughout. He makes it to USA too, before getting a scholarship to study in Israel, because of his hard-work as well as natural talent and intelligence. After education, as a researcher, he then proceeds to draw global attention to the burning political issue in his home-land and tries raising funds for his fellow Palestinians. There is also his lovely relation with Nora, who unfortunately dies. He marries Yasmin later, a girl much younger than him just to please his parents. All characters in the story are well sketched, hence very believable.
The story gives an interesting glimpse of the Arabic culture too, that is sure to intrigue the reader, along with a good mix of history and the 'truth' happening in that part of the world. The story simply touches you. I liked the fact that, through this book we get to learn so many things that we have been generally unaware of
( i.e the true plight of the Palestinians )
.
The book ends on a positive note, thereby leaving a motivated feel to it. Maybe books like this will ultimately help bring about a peaceful solution, that both rival sides needs so desperately, which violence have so far failed to ensure. The book has a very important message within it. The fact that a Jewish-American author is writing about this delicate issue and putting readers into the shoes of the Palestinians, makes it all the more endearing and a worthy read. You know for a fact that nothing is exaggerated or lectured upon.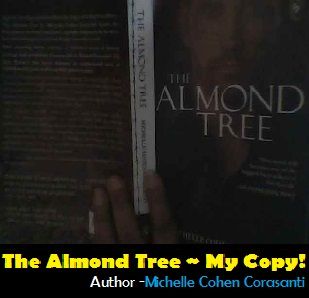 Positives :
A very captivating and poignant story, that is sure to move you. The writing style of the first-time author is excellent and the flow+narration is good. It'll definitely keep your interest from first till the last page. Highly recommended, a well researched realistic book not to be missed.
Negatives :
None!
Who will enjoy this? -
Everyone!
Buy or Don't Buy? –
A Must Buy!
About the Author :
Michelle Cohen Corasanti has a BA from Hebrew University in Jerusalem and a MA from Harvard University, both in Middle Eastern Studies.She also holds a law degree. A Jewish American, she has lived in France, Spain, Egypt and England, and spent seven years living in Israel. She currently lives in New York with her family. The Almond Tree is her first novel.
Our Rating Scale is : 1 to 5 = ◕◕◕ - I liked it!
---