Title :
THE OTHER SIDE
Language :
English
Author :
Faraaz Kazi, Vivek Banerjee
Genre :
Fiction
Publisher :
Mahaveer Publishers ( Oct'2013 )
ISBN-13 :
9789350880760
ISBN-10 :
9350880768
Binding :
Paperback
Price :
Rs. 150 (
Buy from Flipkart.com
for Rs. 115/- only ( 23%Off! )
Pages : 320
The Book Summary :
A slow rasping sound made me turn. I jumped back, the cell phone leaving my hands and smashing against the concrete floor. Someone was seated on the chair, rocking back and forth. Through the fallen light, I could see those hands placed on the arms of the chair, two gruesome wrinkled limbs with ugly boils plastered over the black skin. The red bangles on its wrists shone in my eyes, momentarily blinding me. That thing and I call it a thing because I could sense it wasnt human as no human could have such a hideous form, as vile an existence as the one seated opposite to my horrified self.From a honeymoon in the hill that goes horribly wrong to an obsessed lover who wants his first love in life and in death; From a mentally deranged man who collects body parts of various women to stitch together his dream girl to a skeptic who enters a mansion of horrors to win a bet and much more, this book is filled with scenarios that are guaranteed to give you goosebumps and sleepless nights.The Other Side is a collection of thirteen tales of the paranormal; a world that our eyes refuse to see, our ears deny hearing and our senses ignore the feel of. This is a book for someone who is brave enough to take up this invitation to journey through uncharted waters along with the authors, who were inspired by some bizarre experiences to pen down this work where the lines of reality have been blurred by the footsteps of imagination.Each story takes you on a tour de force of unadulterated horror and draws upon the deepest fear in the human mind- the fear of the Unknown!
My Point of View ( P.O.V ) :
I absolutely love horror stories
( often try writing some of it myself too - check my other blog ;-)
. So, when I get a book on my favourite genre to review, I'm just too elated. I can barely wait to read the same. It won't be wrong to say - I devour horror books. I relish the spine-chilling, bone-numbing, blood-curdling and hair-raising creeps they give, and simply want more.
The Other Side is a collection of horror stories -
an anthology
, touching upon almost every realm of the paranormal. Absolutely loved the foreword by Faraaz Kazi in the book
( not to be missed )
, that sets the spook-ball rolling. The Prelude chapter and the Epilogue adds more to the thrill ride that awaits inside. Since every story is different, your reactions as a reader are different too. Some are scary, some not so. Some predictable, while some are unexpected and outright brilliant. But they'll all creep you out, that's for sure. 13 stories
( closely connected to India )
and 13 different types of creeps
( exploring the wide range of fears & anxieties of a human mind of the unknown )
, along with some superb illustrations to enhance the stories and give you company - you don't wanna miss that now do you? There's something for everyone. Even non-horror fans will enjoy it, that's guaranteed. The stories are a mixture of fact and fiction, history and legend/folklore - all making it a delicious dish of spooky concoctions - a plateful of it, mind you. The thrills and chills will keep you glued throughout the book and after finishing it, you'll indeed look around your surroundings carefully esp to check if someone is hiding behind the curtains.
A word of Caution : You may want to think twice before reading it all alone at night ;-)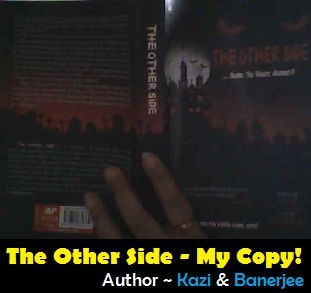 Positives :
Priced right, the book is a delight for paranormal lovers. Gripping till the end, the stories are well-woven plots that are well-written too, in an easy flowing language. Highly recommended for spook lovers. A total paisa-wasool book.
Negatives :
None!
Who will enjoy this? -
Everyone!
Buy or Don't Buy? –
A Must Buy!
About the Author :
The recipient of the YCOF national Excellence Award and the winner of the National Debut Youth Fiction Award 2013, Faraaz Kazi is an Indian author primarily into mainstream romance. Also called as The Nicholas Sparks of India. A certified soft-skills trainer and a three-time post grad, Kazi operates his own academy in Mumbai and is the Founder and CEO of Digi Imprint Solutions, a social media agency for personal and corporate brands. He also consults for a few public relations firms and publishing houses. He is fondly referred to as The Young Marketer and operates a revolutionary blog with the same name and writes for major media houses.
Kazi is a fellow member of the esteemed Film Writers Association of India. Truly Madly Deeply his debut mainstream romance novel is the only Indian book to be nominated in seven categories of the Goodreads annual readers choice awards, apart from being the first Indian novel to win the Best Debut (Romance) during the same awards and is also the only Indian book in the Top 100 YA Global Fiction list. He is a voracious reader and counts singing as his second love.
Our Rating Scale is : 1 to 5 = ◕◕◕ - I liked it!
---