Title :
SITA'S CURSE - The Language of Desire
Language :
English
Author :
Sreemoyee Piu Kundu
Genre :
Fiction ( Erotica )
Publisher :
Hachette India ( 2014 )
ISBN-13 :
9789350097809
ISBN-10 :
935009780X
Binding :
Paperpack
Price :
Rs. 350 (
Buy from Flipkart.com
@Rs.224/- ( 36% Off! )
Pages :
344
The Book Summary :
Sita's Curse is a contemporary erotica drawing from classical Indian erotica. Meera Patel has struggled under the weight of a dead marriage. Struggling between her own sexual needs and the inexistant affections of her husband, she tries to hide her feelings and desires, managing to survive on her memories and fantasies alone for fifteen years. However, she cannot take the pain of her lusty, sensual body going to waste as her husband refuses to make love to her. She knows her body deserves to be worshipped, and one day in Mumbai, she finds a chance to let that happen. The cataclysm that ensues changes her life forever, and she has to fight off orthodox hypocrites of Indian society if she needs to be happy with herself.
My Point of View ( P.O.V ) :
Hmmm...to start with, this is a genre I don't come by very often. The title of the book is quite interesting, so is the cover and you're naturally curious to read what's inside. The blurb of the book does give certain hints though. As mentioned already, the book is genre 'Erotica' - so read on only if you're okay with it. Since, I was reviewing the book I had to go through it anyways :-)
The story is of Meera, the protagonist. It is about her life and desires, her sexuality and sexual appetite. Well, with a husband years older than her and not that sexually active, and a marriage which is as good as dead, Meera looks elsewhere for satisfaction of her desires and fulfillment ~ both physical and mental. And though she does it with a whole lot of men in the book, does she finds it or still craves for more? The story is divided into two parts - taking us to Meera's childhood spent in Gujarat and after marriage, in Bombay
( after 15 years of being trapped in an unsatisfying marriage, how she finally breaks free )
.
The first part also introduces us to Meera's very close relation with her twin brother Kartik, that leaves a deep impact in her life. This relation may not be palatable for all
( as Kartik starts developing more than brotherly feelings for her )
, however, it forms an integral part of the story especially when Meera longs for someone like Kartik, long after he has passed away. She considers her relationship with her twin most perfect and him her soul-mate. She tries to find him in every man that she has relationship with, in the book. The book is very descriptive; be it the characters, the story line/plot or even the intimate scenes. And mind you, there are many of those in the book, very vivid. The prologue of the story itself starts with a masturbation scene, wherein Meera pleasures herself as her entire family is pounding at the door.
There are some interesting characters lined up in the book, having important role to play in the narration and of course in Meera's life. Be it the Guruji who comes to 'heal' her, but ends up having sex with or Yousuf whom she meets via an internet sex-chat site. And yes, they end up having sex too; first virtual and then real. The book touches upon the fateful day of June 26th, when entire Bombay city was flooded. Two men of her life vanishes that day, only one comes back. Who are they? Do read to find out ~ it is one of the most interesting scenes in the book.
That it is not just mindless erotica, but has a strong story too
( exploring a woman's cravings for love, emotional and sexual fulfillment, freedom etc )
to back it up, make the book very readable. As you've guessed from the title, the story refers to the Ramayana several times, though I'm yet to fully understand its overall relevance to the story. Is it the feminist streaks in the story pointing out at the hypocrisies of a male dominant society or overall position of Meera's life somewhat depicting Sita's ordeal in the past? Well, read it and find out for yourself and let me know about it as well :-)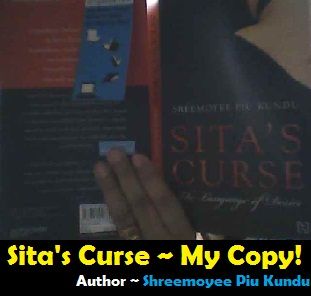 Positives :
Narration is strong and very descriptive, that the person reading it can actually visualize the story as it unfolds. The story is as bold as it gets, one of a kind.
Negatives :
None...except maybe some parts
( esp sex-scenes )
that gets repetitive, making it bit monotonous and some typos here and there.
Who will enjoy this? -
Recommended read, but for adults only!
Buy or Don't Buy? –
Buy, if you're okay with this genre.
About the Author :
Sreemoyee Piu Kundu is an Indian erotica writer. She also wrote under the pseudonym of Aranyani. A former Lifestyle editor and PR head, she has also written: A Pleasant Kind of Heavy and Other Erotic Stories, You've Got The Wrong Girl and Cut! She is currently working on her next work, a political tragedy entitled Rahula.

Our Rating Scale is : 1 to 5 = ◕◕ - It was okay.
---