Title :
PRIVATE INDIA
Language :
English
Authors :
Ashwin Sanghi & James Patterson
Genre :
Fiction
Publisher :
Random House India ( 2014 )
ISBN-13 :
9780099586395
ISBN-10 :
0099586398
Binding :
Paperpack
Price :
Rs. 350 (
Buy from Flipkart.com
@Rs.224/- ( 36%Off )
Pages :
480
The Book Summary :
When a series of seemingly unconnected murders rock the city of Mumbai with the macabre rituals and artefacts found around the corpses, Private India, a leading investigation agency takes the case. Santosh Wagh, the head of the organization, has only one mission. He needs to stop the killers before they strike again. However, in a city of over 13 million people, he finds that the clock is ticking too fast. He finds himself pitted against underworld dons and a Godman who isn't what he seems. However, the worst is yet to come and Private India itself may be threatened with a revelation that could destroy the entire organization.
My Point of View ( P.O.V ) :
A really thick book I got to read after quite sometime ~ that was my first thought when the book arrived before my eyes and 250 copies given exclusively to bloggers for review piqued my interest no end. I heard Ashwin Sanghi's name, but hadn't so far read any of his books, so I got more curious at the hype around this particular book, not to mention the famous international co-author scribing it too. The blurb indicated that its a thriller, and very soon I found myself lost in its pages
totally engrossed
.
From the first few pages itself
( which is tad bit slow at first )
, the suspense had me hooked, till the very end as the plot kept building intriguingly. At first when I saw the cover, I had thought the book is on terrorism
( that does find mention here )
, but its more a crime thriller. The story plot is set in Bombay, and take you on a whirl-wind trip chasing a series of murders, supposedly by a serial killer following a 'ritual' and certain symbols left in each body
( the pile that keeps increasing after the first murder of a foreign national )
.
Santosh Wagh, as the director of the detective agency 'Private India'
( part of the global agency Private Worldwide, an investigating agency founded by Jack Morgan.)
is on the prowl to catch the culprit. He has some helpers along with him in the investigations
( assistant Nisha Gandhe, tech geek Hari and forensics expert Mubeen )
. Meanwhile, Santosh has his own demons to overcome, particularly his self-blame in the demise of his wife and child in accident, and drowning himself in his addiction for alchohol to get over that despair quite
unsuccessfully
. As a result, he often arrives drunk in the place of investigation
reeking of alchohol
, but nonetheless he is a genius in his job and is quite determined and successful at what he is after. With sleek action, drama and pacy suspense, twists and nail-biting turns ~ both the authors and their distinct styles makes the book a heady combo not to be missed. I thoroughly enjoyed reading it. At times the language
( particularly Sanghi style )
, made my eye-brows jut upwards. The ending of the book is superbly executed, giving it a decent finish and you feel time well spent
( remember its over 450 pages?! )
the last few pages being the real deal with adequate doses of nail-biting thrilling moments culminating in a great climax.
There are some parts in the books which could've been better executed
( eg better character build up esp the ones that kept popping up, some random bollywood type stuff/characters that also made appearances which didn't impress much )
, and some sub-plots could've been avoided too. But the other brilliant parts more than made up for these lapses. The book is divided into short chapters
( 116 )
, hence, given the size of it ~ it is easy to follow through with each chapter leading to the next drama that unfolds. And course the typical Sanghi mythological bit
( for which he is already famous for )
, makes the story very interesting and leads up as a series of clues in finally finding the connection between the murders, that in turn leads to the killer. The Bombay setting of the plot has my all too familiar landmarks making their entry in the book as well. All in all, it is a great book for thrill lovers. Won't be surprised if a movie is made out of it.
After this book I'm more curious to read from both the authors. This is a great book to introduce the famous Private series in India.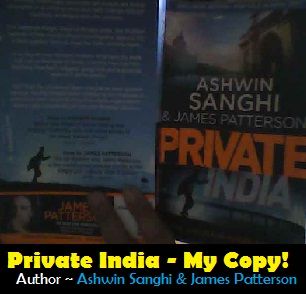 Positives :
Gripping tale, easy language, smooth flow and adequate humour makes it an enjoyable read. Highly recommended.
Negatives :
The book could've been more compact/shorter maybe with some re-edits.
Who will enjoy this? -
Everyone! esp those who love this genre.
Buy or Don't Buy? –
A Must Buy!
About the Author :
Ashwin Sanghi is an Indian writer and entrepreneur. He has also written: Chanakya's Chant and The Krishna Key. He is also known by his pseudonym: Shawn Haigins. A graduate of the Yale School of Management and St. Xavier's College, he has since been awarded several acclaims for his work. His second book has been optioned for a movie by UTV and is expected to begin production soon. He currently lives in Mumbai with his loving family.

James Patterson is a bestselling American writer. He is best known for Along Came a Spider, Jack & Jill, When the Wind Blows and Step on a Crack among over 100 others.

Our Rating Scale is : 1 to 5 = ◕◕◕ - I liked it!
---