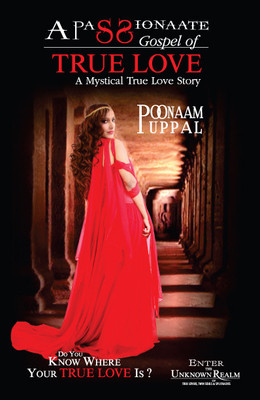 Title :
A PASSIONATE GOSPEL OF TRUE LOVE - A Mystical True Love Story
Language :
English
Author :
Poonam Uppal
Publisher :
Levaanah Publication ( Oct 2013 )
Edition :
2nd
ISBN-13 :
9788192105109
ISBN-10 :
8192105105
Territorial Rights :
Wordwide
Binding :
Paperback
Price :
Rs. 595 (
Buy from Flipkart.com
@Rs.400/- ( 32% Off! )
Pages :
1084
The Book Summary :
So, do you believe in love? Someone asked me once, and I replied, I feel, I am here, on this earth, just to teach the world, 'Love', the essence of True Love and how to create sensational union with your Split half, Twin soul, True Love and discover the ultimate , passionate , esoteric 'Ancient Art of True Love'?.Author Poonaam Uppal. My answer obviously startled the person. However, this is the only truth I have learnt in my painful obscure odyssey from 'Designer to Divine'. Thousands of years ago in an enchanted land of magic and miracles, two divine lovers were pulled apart by an evil curse of a soul. An ancient scripture is buried in the mysterious, cabalistic Himalayan valley. These obscure, occult, esoteric, alchemist writings of 'Ancient Art of true love' are waiting to be unraveled by the coming generations. In this mystical true love story lead character Moh Lal Rai has one pointed aspiration to become an avant-garde Fashion designer. Destiny deceives her desires landing her in USA .During a fashion show in Las Vegas she experiences violent vibration followed by a thunderous broadcasting prophesizing her future,'Moh Soon in 1997 you will meet your true Love on this earth'. Dragooned by powerful longing to meet her ancient lover Moh became a solitary traveler in the abyss of unfathomable space and time to a bizarre realm of happenings, visions, premonitions, deja vu, and startling past birth revelations and she unwillingly embarks on a baffling journey of pain and passion through the hidden pathway to the ancient world. She crosses the boundary of human existence and enters the unknown paranormal realm of 'Ardhanareshwar' where she accidentally unlocks the, extinct, cryptic most guarded secret 'Ancient Art of True Love'. In a cruel game plan of higher compelled, commanded and controlled by the powerful Maa Durga, Love Goddess now unravels the lost esoteric, occult secret to the world and she loudly announces, declares; promulgates 'True Love' as the only religion of the future. Author quotes 'True Love' is a Rare Occurrence of Hearts This occurrence happens once in a million years therefore Love Goddess urges that every soul must unite with their twin soul, split half and true love and unravel the secret mathematical Droodle Union of twin Souls and Split halves, A Passionaate Gospel of True Love is a mystical, arcane true Punjabi love story and an invitation to enter the paranormal realm of 'Ardhanareshwar' in the arcane Himalayan valley. Do you know where your True Love is?
My Point of View ( P.O.V ) :
Well...well...I just received this book. Its 1084 pages long. A detailed review coming up
hopefully
( its too huge ) soon...stay tuned :-)

My Copy ;-) Meanwhile, do grab a copy and share your thoughts with me!


Positives :
stay tuned....
Negatives :
stay tuned....
Who will enjoy this? -
stay tuned....
Buy or Don't Buy? –
stay tuned....
About the Author :
Born on a rainy, stormy midnight on 7th June in the scenic, romantic lush green Jabalpur, the Central Province of India, writer and romantic novelist Poonaam Uppal now lives in the City Beautiful Orlando, Florida in the United States. She is a Graduate in Bachelor of Arts and later she studied Fashion & Textile designing. Later she did her Fashion Illustration from Indiana, USA. Fashion Designer by profession Poonaam Uppal had no intention to become an author but writing this mystical true love story was her spiritual responsibility, which was known to her by the higher forces in year 2003.After which, compelled by Maa Durga she had to quit her fashion business in the USA and pen down her True Love saga in her vacation home, Chennai at the 'Bay of Bengal'. Chennai is the same spot from where the final chapter in the history of mankind 'The End of the World' would begin. Now 'The Love Goddess' Poonaam Uppal unravels the lost, ancient, esoteric, occult knowledge of 'Ancient Art of True Love' to the world.

Our Rating Scale is : 1 to 5 = -
---
---