Title :
HIFI IN BOLLYWOOD
Language :
English
Authors :
Rishi Vohra
Genre :
Fiction
Publisher :
Jaico Publishing House ( January 2015 )
Edition :
1st
ISBN-13 :
9788184956481
ISBN-10 :
8184956487
Binding :
Paperpack
Price :
Rs. 299 (
Buy from Flipkart.com
@Rs.215/- ( 28%Off )
Pages :
264
The Book Summary :
An aspiring filmmaker. The dizzying heights of Bollywood. And a strained father-son relationship. Rayhan Aroras long cherished dream is to be a filmmaker in the Hindi Film Industry but his formidable father has other plans, a successful financial career in Corporate America and a marriage of convenience with Vanita, a medical student in the US. In a final act of desperation, Rayhan abandons his promising life in California and secretly returns to Mumbai to work as an Assistant Director in Bollywood. The characters he encounters along the way become part of his journey of self-discovery - a self-proclaimed local goon with a penchant for acting, a powerful local politician who wants to marry Rayhans part-time domestic help, who in turn covets stardom, an angst-ridden, homosexual film director, ego-ridden film stars with twisted agendas and the mysterious Viola who captures his heart. HiFi in Bollywood takes the reader from the streets of Berkeley to the film studios of Mumbai, from red-light areas to police stations and from reality to dreams and back to reality again!
My Point of View ( P.O.V ) :
I had quite liked Rishi's first book, which became a best-seller
( if I'm not wrong )
. So, when he approached me for a review on his 2nd one, I immediately agreed. I loved the title immensely
( its explanation is inside the book )
, and had an idea what the story would be like - especially its setting, location etc. In any case, I'm little partial towards books set in Bombay/Mumbai backdrop. I liked the 'doodled' kinda cover a lot, its just perfect. So, would the first impression of the book last till the end? I was very eager and immediately started doing what I do best - reading!
Our hearts aspire to do something, but our parents expects us to do something else altogether. I connected with Rayhan
( the main character )
, on this very point. Like many other Indians, Rayhan nourishes a secret dream to be a bollywood director, but is sent off packing by his father to USA, to pursue studies & career in finance. Well, like an obedient son, he respects his father's wishes and tries to fulfil the same. But when his father tries to fix his marriage too
( to Vanita )
, Rayhan then rebels - but without really telling anything to his father. Instead, he
secretly
heads to bollywood, to fulfil his long cherished dream. And of course, it is easy to dream but when one is actually on the ground - reality strikes. Success didn't come easy for Rayhan and till the time it did come - the story is about that and everything in between
( struggles, failures, compromises etc and things like casting-couch, star tantrums )
.
In his last story, all the characters were etched really well, in comparison however, in this book, this aspect is a bit feeble/weak
( except for the protagonist and his father )
and could've been better. The author may have subtly included his own story via Rayhan, considering the similar background he has, like the main character. Ending was quite good, with some really nice twist. Overall, I liked the book
( call it bit bias towards bollywood or bombay )
; it is entertaining and would certainly recommend it for a light and very engaging read. The message in the book definitely stands out - no matter what, go ahead and chase your dreams.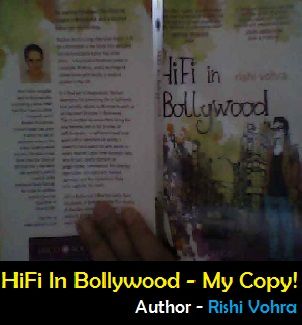 Ah! The name is 'Nandini'. Well, nevermind :| Thanks for the autographed copy anyways and good luck :-)


Positives :
Well narrated and written in simple lucid style language, the book is smooth in its flow and has humour, seriousness, romance, drama, thrill as well as a good message. Quite enjoyable.
Negatives :
Predictable story. It needed more depth and emotions at certain places. Some typos at few places.
Who will enjoy this? -
Everyone esp bollywood lovers!
Buy or Don't Buy? –
A Must Buy!
About the Author :
Rishi Vohra relocated back to Mumbai after completing a Green MBA from San Francisco State University and a Masters Diploma in Environmental Law, prior to which he had an extensive career in the Indian Entertainment Industry. HiFi in Bollywood is his second novel, after Once Upon the Tracks of Mumbai. Visit him here: www.rishivohra.com

Our Rating Scale is : 1 to 5 = ◕◕◕ - I liked it!
---