Title :
RAMAYANA THE GAME OF LIFE - SHATTERED DREAMS
Language :
English
Authors :
Shubha Vilas
Genre :
Fiction
Publisher :
Jaico Publishing House ( 2015 )
Edition :
1st
ISBN-13 :
9788184955316
ISBN-10 :
8184955316
Binding :
Paperpack
Price :
Rs. 350 (
Buy from Flipkart.com
@Rs.300/- ( 14%Off )
Pages :
402
The Book Summary :
Shattered Dreams is the sequel to the national bestseller, Rise of the Sun Prince, in the new spiritual and motivational series Ramayana- The Game of Life. Twelve joyful years have passed in Ayodhya since the wedding of Rama and Sita at the end of Book 1. Now, in Shattered Dreams, Shubha Vilas narrates the riveting drama of Rama's exile. Through tales of Rama's unwavering and enigmatic persona, the book teaches us how to handle reversals positively; through Bharata's actions, it teaches us to handle temptation; and through Sita's courage, to explore beyond our comfort zone. This complicated family drama provides deep insights on how human relationships work and how they fail. With Valimik's Ramayana as its guiding light, Shattered Dreams deftly entwines poetic beauty from the Kamba Ramayana and the Ramacharitramanas, as well as folk philosophy from the Loka Pramana tales, to demonstrate how the ancient epic holds immediate relevance to modern life. Experience the ancient saga of the Ramayana like never before!,Power of the Powerless,When Losing Is Winning,Test of Intentions,) A Forest Weeps,Ayodhya Parts with Life,Accepting Difficulty with Dignity,Boons Become Curses,The Ego Maniac,In Hope and In Despair
My Point of View ( P.O.V ) :
I had read the first part of this book, and quite liked it. So, was naturally looking forward for the second part. And not before long, it landed in my hands too
( sent by the author himself )
. The second book smoothly takes over where the first one left off, and this one too has the footnotes in the bottom of the pages filled with various wisdom, philosophies, lessons and explanations. This makes the reading experience quite enriching, as these add value to our own lives and can be applied in our lifestyles or work place as well.
The first part had Rama's childhood years mainly, this part starts off with how Dasaratha got his name from Nemi
( and the nightmare he had - in the beginning of the book )
and all events like Rama's coronation as king of Ayodhya till his exile and all the drama that unfolds in between
( mainly connected to Manthara and Kaikeyi - their scheming, wishes, plans etc )
; and Bharata's agony on learning what all had happened in his absence. Lakshman and Sita joins Rama in this exile and also explanation of Sita's attraction for the golden deer is given, how she was being warned of it repeatedly
prior
. The book also has interesting information about Ravana, how he i.e Dasagriva was born, with qualities of both the best races - rakashas and brahmana. The character sketch is vivid, giving spotlight to each in details as well as the lesser known subjects too, that are given ample importance. You can almost visualize the epic as it unfolds, scene by scene, with its good descriptions. That the effort and research the author must have done, I had observed in the 1st sequel too, and in this book also one doesn't get disappointed as the flow is maintained throughout. Loved it totally. Now waiting for 3rd part eagerly :-)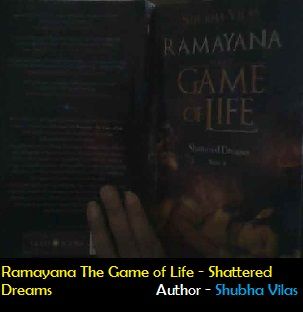 Positives :
Written beautifully in simply lucid style language, this is one volume that one must definitely have in their reading shelf/library. It'll appeal to all age groups. Highly recommended.
Negatives :
None.
Who will enjoy this? -
Everyone!
Buy or Don't Buy? –
A Must Buy!
About the Author :
Shubha Vilas is a motivational speaker and a spiritual seeker. He helps top-level management in corporate firms through leadership seminars. He draws on the ancient spiritual texts like The Bhagavad Gita, Mahabharata and Ramayana, to help individuals deal with contemporary dilemmas of life.

Our Rating Scale is : 1 to 5 = ◕◕◕ - I liked it!
---