Title :
TMS - THATS MY STORY
Language :
English
Authors :
Vinay Mashalkar
Genre :
Fiction
Publisher :
Leadstart Publishing Pvt Ltd ( Aug 2014 )
Edition :
1st
Imprint :
Frog Books
ISBN-13 :
9789384226442
ISBN-10 :
9384226440
Binding :
Paperpack
Price :
Rs. 145 (
Buy from Flipkart.com
@Rs.123/- ( 15%Off )
Pages :
173
The Book Summary :
Falling in love is a beautiful feeling. There is an enigma in that feeling, which can take a person to a different world. So many things have been said and written about love, but it still has its mystic charm that attracts people to read some more love stories. TMS is one such simple, but beautiful love story of an IT guy named Vikram, working in Bangalore. It talks about his job, his friendship, his booze parties, his frivolous lifestyle and above all, his love and the emotions that a person goes through when he falls in love. Its a beautiful journey of friendship, love, breakup, destruction, recovery and miracles. Read and walk the path of this beautiful journey with Vikram, Meghna and Aditi.
My Point of View ( P.O.V ) :
With every other IT guy/gal these days turning to write a book
( and perhaps aspiring to become the next Chetan Bhagat )
, the market is littered with such books of IT pass-outs. So, when I first saw this book, my thoughts were - ah! not another one. I applied just to see if the book could prove me wrong, and
really
prove to be different than all others out there. I quite liked the cover of the book - it gives an 'arty' kinda feeling. But as I began reading, the casual colloquial style of writing didn't impress me much nor did its dragging pace. Nevertheless, I read on, and finished it quite soon too - it is quite a short book.
The story is interesting enough
though
, but I feel, with some more effort it could've turned out much better. Infact, in certain parts I wanted more depth, but the author seemed to be in a hurry. It does get a little better in the middle/second part onwards; so, that's a relief of sorts. The characters in the book are kept simple and one can easily identify with them as the story progresses. The story being primarily of the trio Vikram, Meghna and Aditi, with a host of others. There are certain amount of twists and turns
( though not much )
, so it keeps the curiosity and interest level 'on', the entire time. Good thing about the book is the overall story in it
( though must add, its nothing extraordinary )
; the newly passing out from institute-and-hunting-jobs backdrop may appeal to some, as it'll make readers nostalgic about their own days right after graduation; their times spent with friends, relationships built, the ups and downs in it etc. The end is good, though I'd have preferred a more elaborate kinda ending and not abrupt, as it did. Will recommend only for light reading, as literary seekers may not find it to their taste.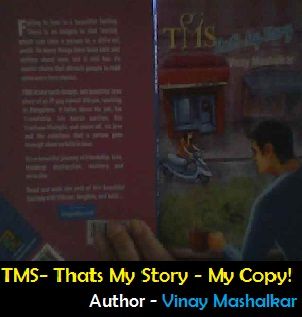 Positives :
Written in easy, and lucid style simple language, the story is relatable.
Negatives :
Cannot be considered a literary piece, at times it seems too random. Will suggest some re-edits especially the typos/grammar.
Who will enjoy this? -
Those wanting to read a light romance.
Buy or Don't Buy? –
Buy, but don't expect too much from it!
About the Author :
Vinay has completed his B.tech in Electronics and Communica­tion and works in the Chip Designing Domain. He loves reading books and aspires to become an author. This work is his first attempt to achieve that dream. He also likes listening to music, watching movies, and docu­mentaries on philosophy. He likes nature and its vivid faces that reflect in the form of beaches, lush green landscapes, and mountains.

Our Rating Scale is : 1 to 5 = ◕◕ - It was Okay!
This review is a part of the biggest
Book Review Program
for
Indian Bloggers.
---