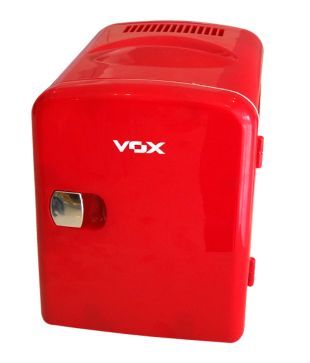 Product Name :
VOX PORTABLE MINI REFRIGERATOR FOR HOME AND CAR
Colour :
Red outside, White inside.
Model :
SUPC - SDL026599474
Quantity :
1
Price :
Rs. 2799 (
Buy from Snapdeal.com
)
Product Summary :
The VOX Portable Mini Refrigerator for Home and Car is a compact 4-litre refrigerator that goes with you wherever you go so that your favourite chilled beverages are always at your disposal! Ideally designed to accompany you on long commutes in the scorching heat, it is a highly convenient solution to carry home-cooked food, water and cold drinks while on the move. The VOX Portable Mini Refrigerator may also be used at home as a back-up refrigerator for stocking additional batches of water and beverages. It is powered by a robust and inventively designed brushless motor that ensures prolonged shelf life. Also, the refrigerator is pretty energy-efficient as it does not consume more than half a unit per day, thus keeping your power bills in check. The onboard Folding Handle of the refrigerator makes it perfect for outdoor use. Also, the lightweight plastic outer body, coupled with a sturdy aluminum inner built, makes it absolutely durable as well as quite portable. It comes with a convenient adjustable shelf that lets you stack all your beverages and foodstuff as per individual requirements, thus allowing customized usage. The refrigerator is 100% CFC and HFC (Hydro fluorocarbon) free, thus keeping your food hygienic and fresh for a protracted duration. The wonder appliance executes both the functions, viz cooling and heating, thus being a fairly versatile one! Key Specifics - Brushless motor for long life | It consumes approx. half unit in a day | Folding Handle suitable for outdoor use | Outer body is made up of Plastic & inner body is made up of aluminium | Optional use for AC or DC 12V power supply | Red/green light shows hot/cold status | Adjustable shelf for cold storage of varied beverage and foodstuff | Folding Handle suitable for outdoor uses | 100% CFC and HFC (Hydro fluorocarbon) free | Does Cooling as well as Heating | With transparent door | Inner dimension of the product is 21*14*14 cm ( outer (mm) 28cm Width (mm) 18.5cm Depth (mm) 24.5cm)| AC & DC cord is 1 meter long | Ideal for car, home, hotel, bar, boat, office, etc
My Review ( P.O.V ) :
We all have our large refrigerators in our homes don't we? But when we travel, can we carry those around with us? No, right? They are too bulky. That's when we start looking for mobile or portable versions to get a respite from the sweltering heat outside. But there are hardly any worthwhile mini portable options out in the market, baring a few non-credible ones. Some are grossly expensive too. And some so called mini bar-refrigerators are still quite bulky to carry, though they may be smaller in size than a regular fridge, as none of them comes below 47-50ltrs. Recently, I came across this very cute mini-refrigerator, in an online shopping portal and its really mini as I found out when it arrived. With the beginning of spring/summer, when Bombay starts getting terribly hot, I've started using it - the last few weeks. Though, its still early, I must say I'm loving it so far and hoping fervently that it won't stop working. I'm little skeptical about electronic goods, that too from lesser known company or brand, hence, the apprehensions. But so far, it is behaving good, and I'm happy. Though it has heating option too, I'm mainly using the cooling option. It has indicators for both the options - green for cooling, red for heating. As I said, its quite small, so one can't keep lots of things in it as with regular refrigerators. For now I've tried keeping packets of peas, corn, butter, lemons, tomatoes, bread slices, pickles etc.
( see the picture )
. Its more of a cooler and not a freezer, but the cooling is quite good too. One can easily use it to carry food from home-to-office in it or store medicines. It promises to be energy efficient, so I'm waiting to see my next electricity bill, to give a verdict on that. It is easy to clean and maintain. It comes with a 1 year warranty via purchase from
Snapdeal
, so go for it :-)
Positives :
Stylish, affordable and does it job. Highly recommended.
Negatives :
None so far.
Who will enjoy this? -
Everyone.
Buy or Don't Buy? –
A Must Buy!

Our Rating Scale is : 1 to 5 = ◕◕◕ - I liked it!
---