Title :
KIDNEY - A Drop In The Backdrop Of Swachchh Bharat Abhiyan
Language :
English
Authors :
R. K. Raj
Genre :
Fiction
Publisher :
KALPaz Publication ( January 2015 )
ISBN-13 :
9789380222646
ISBN-10 :
9380222645
Binding :
Paperpack
Price :
Rs. 290 (
Buy from Flipkart.com
@Rs.223/- ( 23%Off )
Pages :
346
The Book Summary :
After attending an international conference on health well-being and environment in Montreal, Canada, Inder dreams of working with you materialised. His paper, 'Orphan nephron's observation: Red kidneys are Blue to Green the environment, relating the role of ragpicker in the society to that of kidneys in human body, brings him in vicinity of an international environmentalist who manages for him to be part of the conference. However, he finds the same old ground realities ready to welcome him as soon as the aircraft hits the runway at Delhi airport. Death of his mentor, Ranchit, in a road accident makes him seeing organ donation as noble attempt in renewing human lives. He expects an integration of undeclared environmentalists or ragpickers, toiling millions who experience isolation at every step and living in seclusion, into the teeming millions of India. Being human, he strives and struggles to be recognised and/or accepted as a human being.
My Point of View ( P.O.V ) :
When I first held the book, it seemed like some college text-book. Especially with the cover picture, it can easily pass off for some science or medical text book, with a title that is commonly used for an important organ in a human body. On opening though, a story
( fiction )
begins unwinding that starts off in foreign shores at first and culminates in the landfill areas of India. The story is realistically written, though I must say I found the language too ordinary - as in not very impressive. But, since the book attempts to tell a story very important, in today's time
quite an unusual one at that
, the errors can be overlooked. The almost 346 pages of the book will definitely take you on a different journey; into a world we tend to ignore mostly, even though we know very well that it exists. The story is essentially based around rag-pickers of the society, who so often picks up our garbage
yet
we are so indifferent to them or their existence. In real life, we'd hardly pause to think about the lives they live or the challengers they face. This book, however, brings us closer to them. The book also, through its protagonists, highlights many other issues that one often faces in our society, making it an eye-opener of sorts. One realizes the glaring gap that exists, between the two worlds co-existing side by side in India - one that of the filthy rich and the other that of the filthy poor. The book is very engaging and the author has made a tremendous effort to vividly describe the plot, situation, characters etc.
The significance of the term 'Kidney' in relation to the book would be the similarities of the function that a 'kidney' does in keeping our body-system clean and working, so does these rag-pickers who contribute in a great way to the society by collecting our garbage everyday, sending them to govt's waste managements, while themselves live in polluted landfill areas - with the threat of life threatening diseases always lurking around. Though the language of the book is not that great
( as in rich literary piece )
, the attempt to write such relevant story gets my full marks.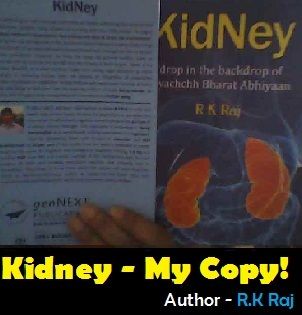 Positives :
The topic and message of the book is very relevant and relatable.
Negatives :
Language needs polishing up esp edition in certain parts.
Who will enjoy this? -
Everyone!
Buy or Don't Buy? –
A must Buy!
About the Author :
A close watch and keen observations enabled R K Raj to write this novel, now, in your hands. He drew his inspirations to pen down this story when he witnessed a ragpicker searching food in the garbage of a colony around midnight. This inspiration is embodied in 'Being Responsible' as a commitment to bring improvement in ragpicker's lives by presenting them with choices of education and skill development as 30 per cent of the royalty from this book is dedicated to create funds for the same. An engineer and strategist by academic training, R K Raj is a certified PMP from PMI and a senior member of IEEE. Hailing from Agra, he is an amateur at Delhi and Mumbai marathons regularly, and presently lives in Vasundhara, Ghaziabad. To know more about him, please visit www.rkraj.corn | facebook.com/rkraj | twitter.com/RK_Raj09
facebook.com/Kidneyby RKRaj

Our Rating Scale is : 1 to 5 = ◕◕◕ - I liked it!
---