Title :
THREE JOBLESS FREAKS
Language :
English
Authors :
Bijendra Kumar
Genre :
Fiction
Publisher :
Blackbuck Publication ( March 2015 )
Edition :
1st
ISBN-13 :
9781634156233
ISBN-10 :
1634156234
Binding :
Paperpack
Price :
Rs. 180 (
Buy from Flipkart.com
)
Pages :
280
The Book Summary :
In summer 2005, 3 boys began their job hunt. In the beginning they did everything which was not require and then anything required. Later one day, a boy of heroic abilities amongst them was offered job by a renowned company and then suddenly he disappeared. One from the other two made a phone call to the chief justice of Patna High Court. And revealed that one of his friends had gone missing and the reason why he had called him was that the boy had only his contact. Why an engineer gave up his career on the night of his triumph? Why a boy kept secret about himself with his friends he loves most? And why a chief justice had to investigate this case?
My Point of View ( P.O.V ) :
The cover doesn't give away much as to what's inside the book, though the title may give a brief hint of it. Moreover, the design is quite simple, nothing too flashy and one might easily give it a pass. But hold on, if you haven't given it a pass yet, it can be quite an interesting read, I assure you that. Mainly directed at younger people
( freshers )
, more precisely new pass-outs who may find themselves in similar situation as the protagonists in the book. The book has its share of humor, drama, emotion as well as enough suspense and thrill, so one can be assured of a really good time flipping through its pages, till the end. The book also has some nice message within it, that one can apply in the their life as well, especially when one too is on a similar job-hunt situation. For instance ~ being patient, calm etc. The author has built up the characters and the plot pretty well. I liked the overall simplicity in the narration.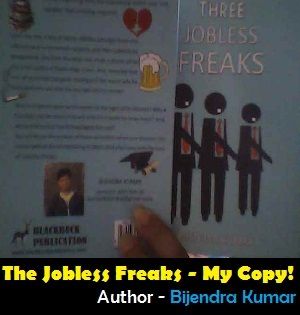 Positives :
Written in simple language, the book is sure to hold your interest till the end.
Negatives :
None, except perhaps some re-edits.
Who will enjoy this? -
Everyone!
Buy or Don't Buy? –
A Must Buy!
About the Author :

Our Rating Scale is : 1 to 5 = ◕◕◕ - I liked it!
---