Title :
BRUTAL
Language :
English
Authors :
Uday Satpathy
Genre :
Fiction
Publisher :
Westland ( 2015 )
ISBN-13 :
9789385152344
ISBN-10 :
9385152343
Binding :
Paperback
Price :
Rs. 250 (
Buy from Flipkart.com
@Rs. 165/- ( 34%Off! )
Pages :
340
The Book Summary :
Two journalists find themselves in grave danger when they uncover links between a present day massacre and an incident which had occurred eight years ago. 'You are in real, real danger' - a school teacher gets a creepy warning in his mailbox. Seven days later, he massacres eleven of his own students. Two months later, he is gunned down in broad daylight by an obscure militant outfit. Justice served. The nation pacified. Case closed - the police say. But, two crime reporters think otherwise. Seeking redemption through this case are Prakash and Seema, ace journalists in their professional lives, but broken individuals in the darkness of their personal hells. As they dig deeper into the mystery, they are led into the ominous forests of Bandhavgarh where an eerily similar massacre had occurred eight years ago. They never see it coming what hits them next. One by one their leads start turning up in body bags and they are chased by assassins at every corner. Soon they would realize that they are pitted against evil powers pervading the business and political DNA of the country, with an unbelievably sinister agenda. Always one step ahead of them, there is no place to hide for the two journalists. The only way is to fight back. But, to do that, Prakash and Seema will first have to survive.
My Point of View ( P.O.V ) :
Of Late, I've been doing lots of things that barely gives me the time to sit peacefully, let alone read a book, but alas, I've found a little time and decided to finish the long pending lists of books that were piling up for review. Brutal is one such book, and I picked it up ( of the lot ) as it looked quite interesting at first glance itself. I'm always up for some thriller, and the good words about the book by another author ( a thriller writer himself ), right on the cover of the book, sparked up my interest instantly. The fact that it is a crowd-voted & curated book, was another factor. Indeed, its publishing concept is unique and one of a kind. Hope it brings great many books into the fore, in times to come. About the book, I loved the way the author kept my eyes glued to its pages via its many intriguing twists and turns, as the protagonists ( who have their own set of demons to tackle ), went about trying to solve a complex murder mystery. The story has sub-layers in it, but its all woven well which makes it a rich reading experience. For a debut, the author has done a neat job - so full marks on that. The amount of research he must've done, shows. The story is very believable and characters etched well. The book is divided into 3 separate parts and I feel certain parts towards the end
though
could've been done away with, to make the book more compact and impactful. All in all its certainly a good thriller! Grab the book if you haven't yet. PS : I'll add more into the review.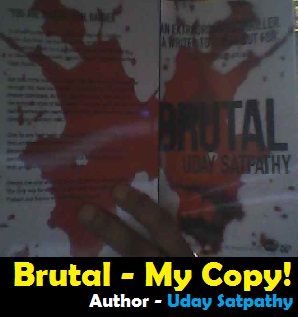 Positives :
A well written, fast paced and gripping thriller, not to be missed.
Negatives :
None.
Who will enjoy this? -
Everyone!
Buy or Don't Buy? –
A Must Buy!
About the Author :
Uday Satpathy is an Information Technology expert in the world of Healthcare and Life Sciences. He has a degree in electrical engineering and an MBA from one of the top B-schools of the country. Brutal, his first novel, was born out of his love for thrillers with intricate plots. He is a movie connoisseur, a cricket fanatic, a quizzing enthusiast and a travel freak. As if that was not enough, he has a special place in his heart for cooking as well.

Our Rating Scale is : 1 to 5 = ◕◕◕ - I liked it!
---